Invest360 is a forex broker based in Bucharest, their aim is to offer an outstanding trading environment that will help boost their clients trading experience, they aim for low cost, high functionality trading. In this review, we will be looking into the services being offered to see what they really do offer and so you can decide if they are the right broker for you.
Account Types
It seems that there are four different accounts to choose from when signing up with Invest360, let's look at a brief outline of each one.
Mini Account: Minimum trade size of 0.01 lots, leverage up to 1:100, stop out level set at 30% and spreads on EURUSD starting at 1.5 pips.
Standard Account: Minimum trade size of 0.03 lots, leverage up to 1:200, stop out level set at 30% and spreads on EURUSD starting at 1.2 pips.
Gold Account: Minimum trade size of 0.05 lots, leverage up to 1:400, stop out level set at 20% and spreads on EURUSD starting at 1 pip.
Platinum Account: Minimum trade size of 1 lot, leverage up to 1:500, stop out level set at 10% and spreads on EURUSD starting at 0.8 pips.

There is no other information provided but as we go through the review we will outline the differences in each account.
Platforms
There are a number of different platforms available, we will briefly outline some of the features of them.
Activ8: Activ8 is a powerful platform that includes everything a Forex trader needs, no matter whether a beginner or a pro. It provides powerful tools and rich capabilities such as complex charting and analysis as well as order execution from the very beginning.

Sirix: Sirix WebTrader provides users with all the same functionality and usability seen on the standard native MT4 desktop platform solution, but with the added flexibility of platform accessible from any web-enabled PC. When using the Sirix WebTrader, you have the option to trade using one-click trading, seamless social trading, black and white in HTML 5, and advanced charting.

MetaTrader 4: Trade using the always popular desktop MT4 platform. Providing full functionality and ultra-fast execution, MT4 has cemented itself as the most popular system for Forex trading across the globe. Benefit from full charting capabilities, use custom indicators and delve into the world of automated trading using a wide variety of Expert Advisors.
Leverage
The maximum leverage available depends on the account that you use.
Mini: 1:100
Standard: 1:200
Gold: 1:400
Platinum: 1:500

Leverage can be selected when opening up an account, should you wish to change it on an already open account you will need to get in contact with the customer service team with the request.
Trade Sizes
Each account has a different minimum trade size, we have outlined them for you below.
Mini: 0.01 lots (known as micro lot)
Standard: 0.03 lots
Gold: 0.05 lots
Platinum: 1 lot

The increments that the trades go up are unknown apart from the mini account which goes up in increments of 0.01 lots. The maximum trade sizes are also unknown, however, we would recommend not trading in sizes larger than 50 lots, as the bigger a trade becomes the harder it is for the markets or liquidity provider to execute the trade quickly and without any slippage.
Trading Costs
When looking through the site we did not see any mention commissions so it seems that all four accounts use a spread based system and there are no added commissions when trading. Swap fees should also be taken into account, these are interest charges that are incurred for holding trades overnight, they can be both negative or positive and can usually be viewed from within the trading platform of choice.
Assets
Invest360 have broken down their assets into a number of different categories.
Currencies: USDJPY, GBPUSD, EURUSD, EURJPY, AUDUSD, EURCHF, AUDJPY, USDCAD, NZDUSD, USDCHF, EURGBP, AUDCAD, CADCHF, GBPCHF, GBPJPY, NZDCHF, NZDCAD, USDHKD, AUDCHF, NZDJPY, USDSGD, CHFJPY, CADJPY, EURCAD, EURAUD, AUDNZD, EURTRY, GBPAUD, GBPNZD, USDCNH, USDDKK, GBPCAD, USDTRY, EURDKK, EURNZD, EURNOK, EURHUF, EURPLN, EURSEK, USDCZK, USDHUF, USDILS, USDMXN, USDNOK, USDPLN, USDRON, USDZAR. USDRUB, EURRUB, USDSEK, XAGUSD, XAUUSD, XAUEUR, BTCUSD (Bitcoin)
Commodities: Cocoa, Copper, Cotton #2, Feeder Cattle, Heating Oil, Live Cattle, Lead, Nickel, Palladium, Platinum, RBOB Gasoline, Rough Rice, Soy Beans, Tin, Zinc
Indices: CAC, Dax, Dow Jones, FTSE, SUG11, COFFE, COPP, CL, Brent Crude Oil, WTI Crude Oil, Natural Gas, SP, Nasdaq, Corn, Wheat,m DJXX, EBUND, TN10Y
Stocks: Too many for us to list, but they include Asian shares such as Southwest Securities, BTG HOTELS, China Television Media and, Beijing GeoEnviron.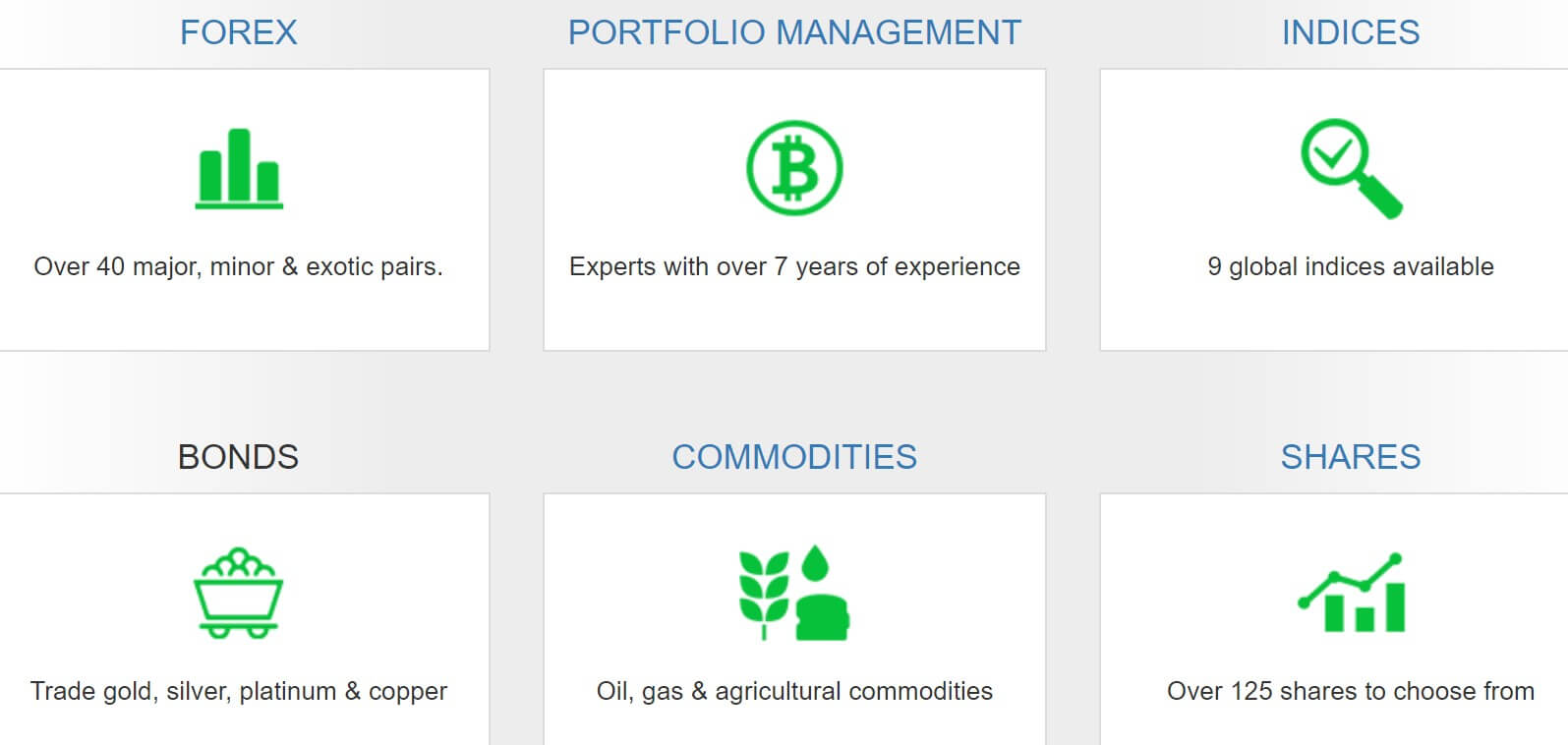 Spreads
The starting spreads are based on the account that you are using, the Mini account has spreads starting at 1.5 pips,m the Standard at 1.2 pips the Gold at 1 pip and the Platinum account has spreads starting from 0.8 pips (on the EURUSD pair).

The spreads are variable (also known as floating) so this means that when the markets are being volatile, the spreads will often be seen higher. It is also important to note that different instruments and assets have different starting spreads, so while EURUSD may start at 1.5 pips, other assets like GBPJPY may start slightly higher.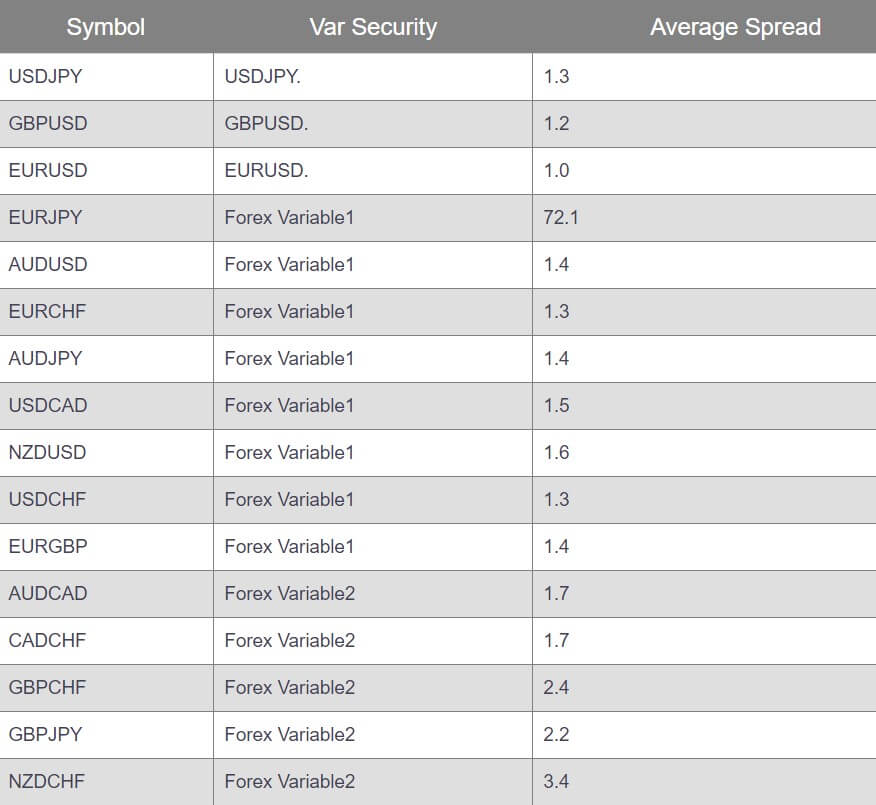 Minimum Deposit
Unfortunately, we do not know what the minimum deposit amount is, we are positive that there are different requirements for each of the accounts but currently we are not clear on what they are.
Deposit Methods & Costs
There is no actual information about deposits available on the website, we notice some images at the bottom of the screen indicating that Bitcoin, Wire Transfer, Skrill, Neteller, Visa, MasterCard, BPay and POLi are all available, but there is no information regarding this or any potential fees that there may be.

Withdrawal Methods & Costs
Just like with the deposits, there is no information on withdrawals either, the same methods are known to us based on the images but nothing else. It is a real shame that this information is not available. Invest260 want to be using our money, yet they do not tell us how we can send it, or how we can receive it, not to mention thy have not told us what the costs are, potential clients will most likely be instantly put off by the lack of this information.
Withdrawal Processing & Wait Time
Processing times for withdrawals are also unknown so we cannot comment on this section of the review.
Bonuses & Promotions
There is a bonus of up to 30% available when you deposit, this is valid for the first and all subsequent deposits. Bonus funds can be withdrawn after fulfilling a trading volume requirement but the requirement is not stated and so it is not known to us, we cannot comment on the profitability of this promotion.

Educational & Trading Tools
There is a lot when it comes to education on the site, we will briefly go through each section. Firstly we have technical analysis, analysis is posted regularly to provide you with ideas on where the markets may be going. The fundamental analysis page is just a block of text detailing what fundamental analysis is rather than providing any. The economic calendar on the site currently states that it is coming soon. A section titled education just relays some basic info on how to trade. The video tutorial section just continuously had a loading symbol for us so we could not view any of the videos to test. Finally, there are some calculators for finding pivot levels and profit.
Customer Service
The customer service team at Invest360 is available between 07:00 GMT+2 and 20:30 GMT+2 from Monday to Friday. You can get in touch using a telephone number to speak to someone you can also use the same number on WhatsApp. Finally, there is an email address you can use should you wish to get in contact that way.

Demo Account
There doesn't seem to be a demo account on offer, or at least we could not find any information about one. This is a shame as demo accounts allow potential new clients to test out the trading conditions and servers while it allows current clients to test out new strategies without risking any of their capital. This is an area that should be invested in and demo accounts should be made available.
Countries Accepted
The information about which countries are accepted and which are not is not present on the website, so if you are interested in joining, be sure to get in contact with the customer service team to check if you are eligible for an account or not.
Conclusion
Invest360 have a lot of vital information missing from the website, the main culprit being the deposit and withdrawal methods as well as any costs, without this information it is hard to trust a broker to deal with the money in a proper manner, also not knowing how we can get out money out and how much it will cost us is enough for us to ignore everything else and to recommend that you avoid Invest360 for the time being.