Hot Forex is a brand of HF markets Group, which is regulated by several entities, including the FCA, DFSA, CIF, CySEC, FSC, FSCA, and FSA. This particular branch of the company is located in St. Vincent & the Grenadines and has won more than 30 Industry Awards. To throw out a few statistics, the company has attracted more than 1,500,000 clients, employees more than 200 people, and has more than 9 years of experience in the Forex market. This broker offers an in-depth and transparent look at their conditions on their website, with six specialized account types available. Overall, there is a lot of information to consider if you think that this broker may be right for you.
Account Types
This broker offers six main account types: Micro, Premium, Zero Spread, Auto, PAMM, and HFCopy. PAMM accounts are available as Premium or Premium Plus. The accounts seem to come with more differences than similarities, with minimum trade sizes being one of the only things that all sic of the accounts have in common. Since these account details vary so widely, we have included a description and list of conditions for each account type below.
Micro Account
Micro account holders are able to trade all of the available assets with the highest leverage offer and zero commission fees. This account type limits the maximum trade size to 7 Standard Lots and gives traders the ability to choose between MT4 and MT5. Traders are also eligible to earn bonuses when trading from this account type. An Islamic version of this account is available.
Minimum Deposit: $5
Leverage: 1:1000
Spread: From 1 pip
Commissions: Zero
Premium Account
Those opening a Premium account will also have access to all tradable instruments, zero commissions, and spreads starting from 1 pip. The leverage cap is lower on this account type, while trade sizes are larger than those on Micro accounts. Traders will have the ability to trade on either MT4 or MT5 and bonuses are applicable. An Islamic version of this account is available.
Minimum Deposit: $100
Leverage: 1:500
Spread: From 1 pip
Commissions: Zero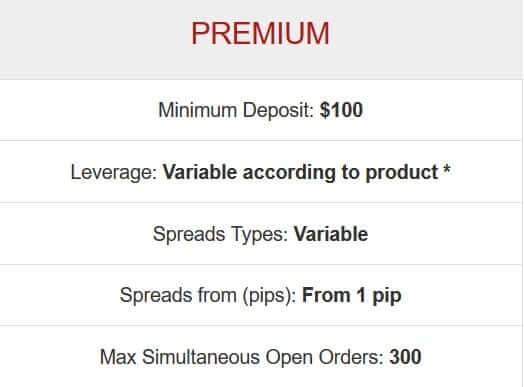 Zero Spread Account
On Zero Spread accounts, the spread starts from 0 pips on Forex pairs and commission fees are applicable. All tradable instruments are available with a maximum trade size of 60 lots. This account type is only available on the MetaTrader 4 platform and bonuses are not available. An Islamic version of this account is available.
Minimum Deposit: $200
Leverage: 1:500
Spread: From 0 pips on Forex
Commissions: Yes (See Trading Costs)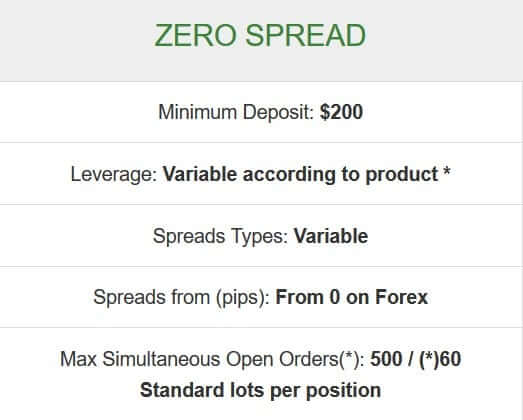 Auto Account
Auto accounts give investors the opportunity to subscribe and automatically copy the trades of any Signal Provider, with paid Signals being subject to a one-month performance verification period. This account type is only available on the MT4 platform and offers access to all tradable instruments with a maximum trade size of 60 lots. Spreads start from 1 pip and the account is commission-free. An Islamic version of this account is available.
Minimum Deposit: $200
Leverage: 1:500
Spread: From 1 pip
Commissions: Zero
PAMM Account (Premium or Premium Plus)
PAMM accounts are available in two categories; Premium or Premium Plus. Both share the same minimum deposit and trade sizes, but the Premium version is commission-free with spreads starting from 0.0 pips, while Premium Plus account charges commissions at $10 round per $100,000 USD traded with spreads starting from 0.3 pips.
Minimum Deposit: $250 on Both
Leverage: 1:300 on Both
Spread: From 1.1 pip on Premium/From 0.3 pips on Premium Plus
Commissions: Zero on Premium/$10 round turn per $100,000 USD traded on Premium Plus
HF Copy Account
The HFCopy account is available for both Followers and Strategy Providers. Providers are able to charge performance fees of up to 50%. Unless otherwise specified by the company, the number of followers is limited to 100-200 people per Strategy Provider.
Followers are able to deposit funds and begin copying the trades of their favorite Service Providers. This is the only account type to limit tradable instruments to Forex, Gold, and Bitcoin. The account has spreads starting from 1 pip and no commission fees.
Minimum Deposit: $500 for Strategy provider/$100 for Follower
Leverage: 1:400
Spread: From 1 pip
Commissions: Zero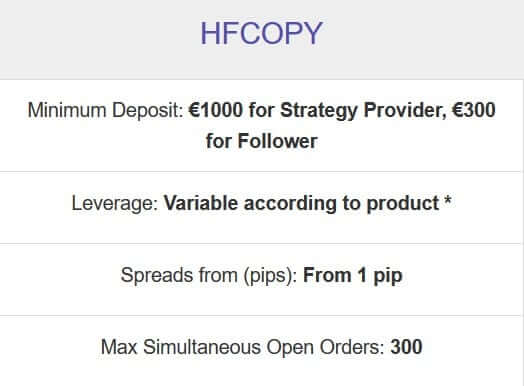 Upon opening a live account, traders will need to submit a proof of identity and proof of address document. Approval time can take up to 48 hours and any deposits will be pending until accounts have been completely verified.
Platform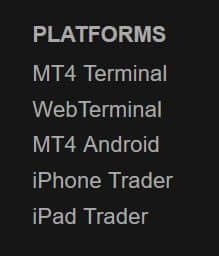 This broker features both the MetaTrader 4 and MetaTrader 5 platforms, but the chosen account type can limit one's options. Micro and Premium account holders are able to choose between either platform, while Auto, Zero Spread, PAMM, and HFCopy account holders can only trade from MT4. MetaTrader 4 has been highly praised for its user-friendly interface and variety of tools and resources. The platform provides everything a professional trader could need, including 9 different timeframes, support for Expert Advisors, 50+ built-in indicators and tools, and more.
MT5 builds on the success of its predecessor and brings more tools, timeframes, and technical indicators to the table, in addition to a few newer features. Both accounts are highly accessible and available through a variety of methods, including Desktop, Mac, Linux, Android, iPhone/iPad, and WebTrader, which is a browser-based version of each platform. MT4 also features MultiTerminal, which allows traders to manage several trading accounts at one time. Note that bonuses are only available when trading from the MT4 platform.
Leverage
Leverage options differ significantly, based on which account type has been chosen. The highest option of up to 1:1000 is available on the Micro account type only. This amount could certainly allow one with a small amount of capital to maximize their potential earnings, but inexperienced traders should be careful of choosing an option this high, as it can also cause a swift loss of those funds. The Premium, Zero Spread, and Auto account types all come with a leverage cap of 1:500, which is still significantly higher than average. On HFCopy accounts, the maximum leverage can be set at 1:400. The lowest leverage option would be up to 1:300 on PAMM accounts. Note that the account's leverage may be adjusted by the company if the account's equity is over $300,000.
Trade Sizes
All accounts require a minimum trade size of 0.01 lots or one micro lot. The Micro account allows a maximum trade size of 7 Standard Lots with 150 open positions. On the Premium, Auto and HFCopy accounts, the maximum trade size is 60 Standard Lots with 300 positons opened simultaneously. The Zero Spread account also has a maximum trade size of 60 lots but allows for 500 positions to be opened simultaneously. The maximum trade size is not specified for PAMM accounts and the maximum number of open positions allowed is 500. Most of the accounts share the same margin call and stop out levels, although these levels differ on the Micro account type. Those levels can be viewed below.
Margin Call/Stop Out Levels
Micro Account: 40%/10%
Premium, Zero Spread, Auto, PAMM, HFCopy Accounts: 50%/20%
Trading Costs
This broker profits from commissions, spreads, and swap fees.
Commissions: Commission fees are not applicable on Micro, Premium, Auto, and HFCopy accounts. Commission costs on the Zero Spread account are $6 USD round turn per 1 Standard Lot traded on Majors. On other assets, the commissions are $8 round turn per 1 Standard Lot traded. For PAMM accounts, there are zero commissions on Premium and there is a commission fee of $10 round turn per $100,000 traded on Premium Plus.
Spreads: Zero Spread Accounts have variable spreads starting from 0 pips on Forex. On Premium, Auto, and HFCopy accounts the spread starts from 1 pip. Premium PAMM accounts have spreads that start from 1.1 pip and Premium Plus offers spreads starting from 0.3 pips.
Swaps: Swap values may be adjusted daily based on market conditions and rates provided by the Price Provider applicable to all open positions. Triple swaps are applied every Wednesday. Islamic account holders will pay a carrying charge in exchange for swaps when holding positons overnight for longer than a 7-day period.
Assets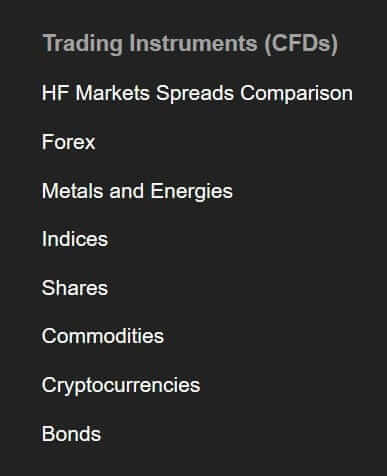 This broker offers Forex, Metals, Energies, Indices, Shares, Commodities, Cryptocurrencies, and Bonds as tradable instruments. This selection certainly provides a larger variety of assets to choose from, although those operating HFCopy accounts will be limited to trading Forex, Bitcoin, and Gold only. Taking a more in-depth look at these instruments, we found 15 majors and 34 minors, combining to form a total of 49 FX options.
Metal and Energy options include Gold, Silver, UK Brent Oil, and US Crude Oil. Eleven indices and 56 Shares in companies like Apple, Google, and Facebook are available. Commodities include Palladium, Platinum, Cocoa, Coffee, Copper, US Cotton No.2, and Sugar#11. Cryptocurrency options include Bitcoin, Litecoin, Ethereum, and Ripple. Three bonds are also available, bringing the grand total of tradable instruments to more than 130 options.
Spreads
Spreads with this broker are variable, meaning that they will fluctuate with the market. On Zero Spread accounts, spreads start from 0 pips on Forex options. The account's page didn't go into further detail, so we can't say what the typical spreads are on other instruments. The Micro, Premium, Auto, and HF Copy accounts spreads all start from 1 pip. On the Premium Plus PAMM account type spreads start from 0.3 pips while starting spreads on the Premium PAMM account start from 1.1 pip.
Minimum Deposit
This broker keeps their deposit requirements within an affordable range, with the lowest requirement being only $5 to open a Micro account. The Premium account requires a deposit of $100, while Premium and Zero Spread accounts set the requirement slightly higher at $200. On PAMM accounts, the broker requires a $250 deposit. If you're a Strategy Provider on an HFCopy account you'll need to deposit at least $500, while Followers are only required to deposit $100. We're used to seeing deposit requirements in the thousands with brokers that offer multiple account types, so it's great to see more affordable options available here. This makes it possible for all types of traders to choose the account type with the conditions they like best, without having a large deposit requirement restrict those choices.
Deposit Methods & Costs
Accounts can be funded via Wire Transfer, UnionPay, Visa, MasterCard, Maestro, Bitcoin, Bitcoin Cash, Bitcoin by Skrill, Crypto Payments, FasaPay, Neteller, Skrill, and WebMoney. There is a minimum deposit requirement of $50 for Union Pay and $100 for Wire Transfer and Crypto Payments. The company does not charge fees on deposits and covers bank fees on Wire Transfers for any deposit of $100 or more. Any trader depositing less than $100 will have to cover any applicable bank fees, so it may be worth meeting that deposit requirement to avoid paying the fee.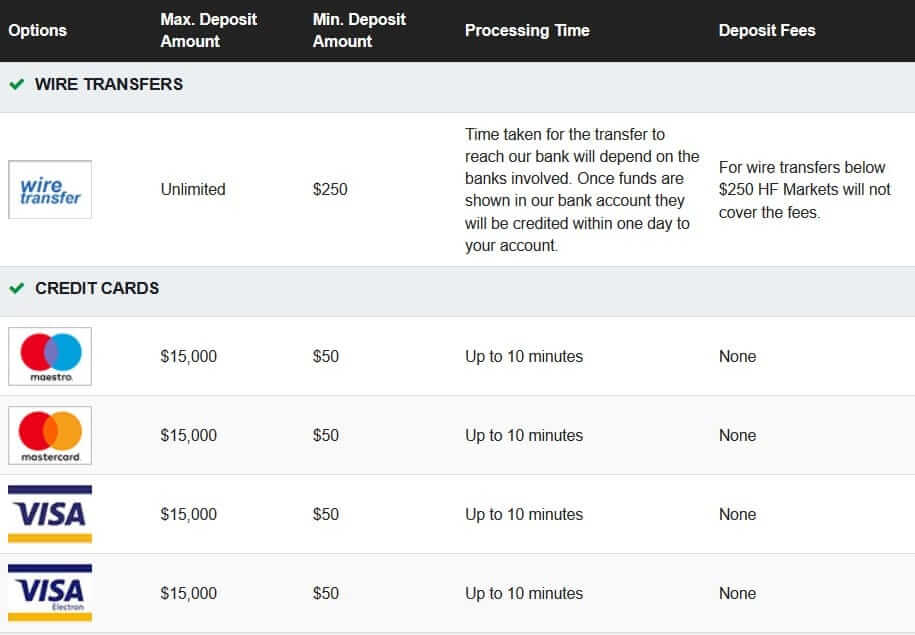 Most of the funds are credited instantly or within 10 minutes, with a wait time of up to 24 hours on Union Pay and a 2-7 working day waiting period on Bank Wire Transfers. All compliance documents must be uploaded and approved before any deposits can be credited to the trading account. To avoid the hassle, we suggest waiting for complete verification before making a deposit, just in case there are any issues.
Withdrawal Methods & Costs
All funding methods are available for withdrawal. Only the initial deposit amount can be withdrawn back to a credit card while remaining profits would need to be withdrawn via Wire Transfer. The company does not charge any withdrawal fees, although banks may apply their own charges to withdrawals by Wire Transfer. As always, it would be wise to check with your bank to see if these fees are applicable.

Withdrawal Processing & Wait Time
Withdrawals submitted before 10:00 am server time are processed the same business day, between 7:00 am and 5:00 pm. FasaPay, Neteller, Skrill, and WebMoney are credited instantly once processed. It can take up to 24 hours to receive Crypto payments and 1-3 business days to receive Bitcoin withdrawals. Union Pay has a wait time of 2 – 5 business days. Wire Transfer and cards have the longest waiting period of between 2 – 10 business days.
Bonuses & Promotions
This broker is currently offering three bonuses, a Loyalty Program, four ongoing contests, and free merchandise. Since there are so many opportunities to cover, we have separated them below and provided an overview of each. Terms and conditions can be viewed for each bonus or promotion by selecting the corresponding offer under the 'Promotions' section of the website.
Bonuses
100% Supercharged Bonus (Premium and Islamic Accounts): Provides the ability to earn daily cash rebates of USD $2 per lot in withdrawable funds directly to your trading account. Valid on all deposits of $250 or more. The maximum bonus amount that can be earned is $500,000 USD.
30% Rescue Bonus (All Accounts): This bonus protects from periods of drawdown and can be used as a "stop loss" or margin and cannot be withdrawn. The maximum payout is $7,000 USD. The bonus only applied to deposits of $50 or more. On Micro accounts, the maximum leverage allowed when using this bonus would be 1:500.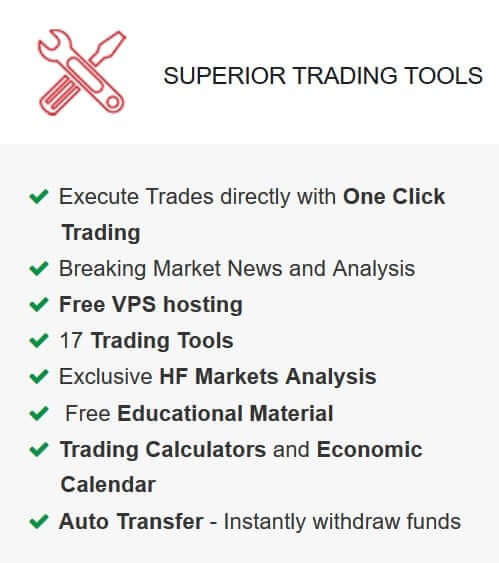 100% Credit Bonus (Micro, Premium, and Islamic Accounts): The bonus only applied to new deposits or internal transfers of $100 or more and can be withdrawn if volume requirements are met. Once those requirements are met, clients will need to email support at support@hotforex.com to claim the bonus. Maximum payout is $30,000 and must be claimed within three months of the time that the terms are completed.
Loyalty Program: There are four different levels; Red, Silver, Gold, and Platinum. Traders will qualify for levels based on how many active trading days there are. The higher the level, the more HotForex bars are paid out. Bars can be exchanged for cash, with 35 bars being equal to 1 USD, or for trading rewards, with 1100 bars amounting to one month of Silver VPS, a 1-hour private session with a HotForex Market Analyst in exchange for 2,500 bars, or 3-month access to Silver VPS in exchange for 3,100 bars. Each level and its payout have been listed below.
Red Level: Earned by signing up for any account type. Earn 6 bars per Standard Lot traded.
Silver Level: Earned by accumulating 31 active trading days. Earn 8 bars per Standard Lot traded.
Gold Level: Earned by accumulating 62 active trading days. Earn 10 bars per Standard Lot traded.
Platinum Level: Earned by accumulating 105 active trading days. Earn 12 bars per Standard Lot traded.
Contests
DEMO Contest: Each round lasts one month with 1st place being a cash reward of $2,000, 2nd place being $1,000 USD, and 3rd place being $500 USD. Daily updated rankings can be viewed on the promotions section of the website. Any winnings are applied to the client's live account.
Traders Awards 2019: Each month, the trader with the greatest gain will win a Crystal Obelisk, a $1,000 USD cash prize, and entry into the HotForex Hall of Fame.
HotForex Gadget Giveaway: Clients will need to follow the company on Facebook and Instagram in order to be notified about the next upcoming contest. Potential rewards include GoPRO Hero 7, IPhone XS, PlayStation 4 Pro, Amazon Fire HD 10 Tablet, Amazon Echo Plus Speaker, and AKG Y50BT Bluetooth Headphones.
VIP Partners Rewards 2019: First place pays out in the form of a free trip to Cyprus to meet the broker, including first-class tickets, a limousine ride, a professional course, a five-star hotel stay, tour of the island's top attractions, and VIP gifts. Traders will need to make $350,000 worth of net deposits and trade 3,500 lots in order to qualify. 2nd – 5th place includes smaller rewards with a smaller deposit and trading requirements and includes rewards like the Apple MacBook Pro or cash equivalent, iPhone 11 Pro, and more.
Educational & Trading Tools
This broker offers E-courses, Video Tutorials, Webinars, Events, and How-to Videos under the 'Education' section of their website. Taking a more in-depth look at these resources, we found that many of the videos and courses were suited for beginners, although there were also offers that would benefit more established traders as well. Webinars can be sorted by skill level for beginners, intermediate, and expert traders and the website provides the name, date, time, and ability to register for upcoming programs. When it comes to trading tools, we found a wide selection on the website and all of those options have been listed below.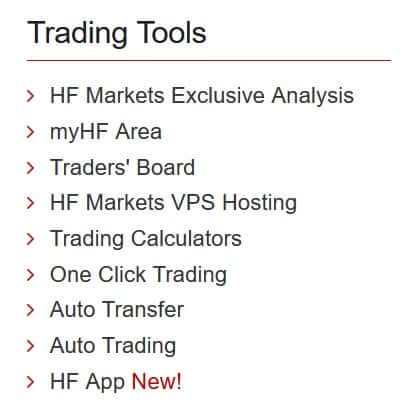 -HF App
-VPS Hosting Service
-Premium Trader Tools (Mini Terminal, Session Map, Alarm Manager, MT4 & MT5 Indicator Package, and more)
-AutoChartist
-Calculators (Risk Percentage, Multitarget, Pivot Points, Pip Value, Position Size, Swaps, Risk and Reward, and Fibonacci)
-Exclusive Analysis
-Economic Calendar
-Forex News
-Auto Trading & One-Click Trading
Demo Account
This broker provides the ability to practice risk-free trading with virtual currency from a demo account. The HotForex demo has been designed to closely simulate a real trading environment and ensures a seamless transition to a live account. Demo accounts provide unlimited usage and are supported on the MT4 and MT5 platforms. The maximum demo balance goes up to $100,000, although we'd suggest a lower amount if you're looking for a more realistic experience.
Customer Service
Support can be contacted 24 hours a day Monday through Friday via LiveChat, phone, email, or by filling out a contact form on the website. There are a few separate emails and both toll-free and international phone numbers are provided, so you'll want to ensure that you are contacting the correct branch of support based on your location. The company is also active on Facebook, Twitter, Instagram, YouTube, and LinkedIn. Some promotional opportunities seem to be linked to the company's social media accounts, so it would be worth following or subscribing in order to be notified when there are any new offers. All contact information has been listed below.
Email:
Customer Support: Support@hotforex.com
Execution Desk: tradingdesk@hotforex.com
Affiliate Support/Sales: partners@hotforex.com / affiliatesales@hotforex.com
Introducing Brokers: ib@hotforex.com
White Label Partnership: whitelable@hotforex.com
Arabic Speakers: arabic@hotforex.com
Chinese Speakers: cn@hotforex.com
Korean Speakers: kr@hotforex.com
Farsi Speakers: iran@hotforex.com
Spanish Speakers: +57-1794-0916 (Columbia), +55-11-3042-5633 (Brazil)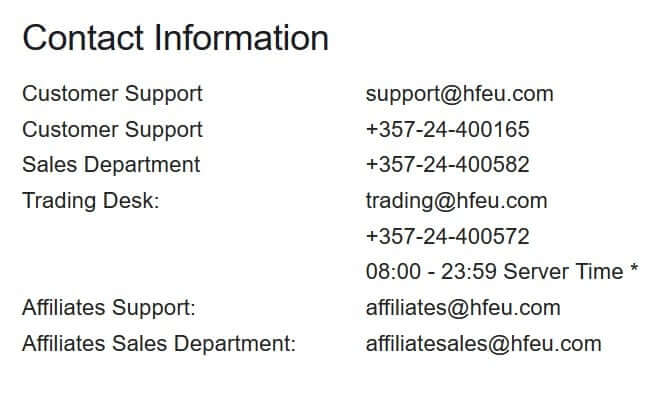 Phone:
Global Customer Support: +44-2033185978
Fax: +44-2035141444
Russia: +8-800-100-6322
China: 4001-200742
Brazil: +55-2139581441
Taiwan: 00801-14-8970
India: 000-800-100-7060
Indonesia: 001-803-017-9110
Nigeria: +234 7063705519
Turkey: +90-850-39022146
Address: Suite 305, Griffith Corporate Centre, P.O. Box 1510, Beachmont, Kingstown, St. Vincent & the Grenadines
Countries Accepted
This broker claims not to offer service to residents of the United States, Canada, Sudan, Syria, or North Korea. We sometimes find that brokers don't enforce these types of claims and this broker's location in St. Vincent & the Grenadines means that it is even more likely they could be less restrictive. To check, we attempted to register for an account from our US-based offices but quickly ran into a roadblock due to the fact that the US and other US-based options, like the Minor Outlying and the Virgin Islands are missing from the list of selectable countries. This rules out the US completely. Upon checking further, we also found all other listed countries to be missing from the list as well. On the bright side, this proves that this broker is serious about sticking to their regulator's requirements, so if you are located in an acceptable country, you know that this broker is the real deal.
Conclusion
Hot Forex is an affordable and regulated FX and CFD broker that offers the ability to trade with high leverages on more than 130 tradable instruments, including cryptocurrencies. This broker is affordable, with deposit requirements ranging from $5 to $500 on the most expensive account type. Conditions differ based on which of the six account types have been chosen, with some options being commission-free and others offering lower starting spreads. You'll find PAMM accounts, Auto accounts, and HFCopy accounts included in the mix.

Overall, trading conditions can be advantageous from certain account types, but it is up to the trader to determine which account is best for their personal trading strategy. Accounts can be funded via Wire Transfer, Cards, and several E-wallets, with no fees charged on deposits or withdrawals, however, withdrawal times can be lengthy for some of the methods. Support is easy enough to get in touch with and is available 24 hours a day, Monday through Friday. The website also features several extras, including demo accounts, a wide variety of educational and trading tools, and several different bonuses, contests, and promotions.