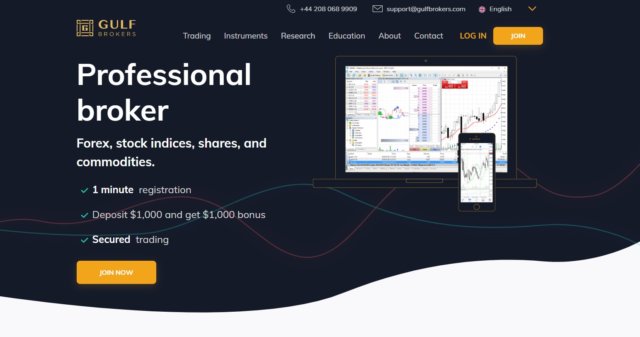 This firm's mission and objectives revolve around providing superior customer services to its account holders. Gulf Brokers have a decentralized business model that enables them to immediately make decisions when they work with traders and manage other technical or administrative aspects. For a start, opening an account is quick and easy, which highlights the broker's efficiency. So does their customer service team that works with traders around the clock.
Moreover, representatives are available in multiple languages while their website has over 10 versions for each one. Just as importantly, Gulf Brokers also prioritize technology and fast order execution. As an instance, they use sophisticated platforms and offer their own app (MyGulfBrokers) that traders can use to manage their accounts.

Meanwhile, Gulf Brokers offers great educational courses and other trading tools that experienced users and beginners will both appreciate. Certain aspects, however, can be undesirable. If you regularly transfer funds in or out of your account, for example, analyze whether their transaction processing time and fees suit your needs. While Gulf Brokers certainly offers advantageous features, some of their negative aspects can carry a different weight from one trader to another, depending on their strategy and methodology.
Nonetheless, account holders have access to the best platforms on the market, an expanded list of forex pairs, and, above all else, a luxurious bonus. In fact, this firm may award traders up to $100,000 in bonuses when they deposit funds. Even those who have a smaller balance will still get a promotion and bonus that is generous in comparison to other companies in the industry.
What are Gulf Brokers' pros and cons? Can their features and support help you improve as a trader? To find out, read this article and get all the details that you need to know.
Account Types
Gulf Brokers offers one main type of account, but traders can also choose to have Islamic features. The two of them are nearly identical, with the only difference being that the Islamic account doesn't incur any interest charges. Every month, Gulf Brokers will charge all account holders a $10 maintenance fee.
Minimum Deposit: NA
Spreads: From 3 pips
Commission: NA
Opening an account doesn't take more than 48 hours. To do so, traders need to submit a copy of their ID and proof of address documents. The US dollar seems to be the only option for default currency. However, even if you live in a country that doesn't use the USD, deposits can be made in the equivalent value in your local currency.
Platforms
MetaTrader 5 (MT5) is one of the most popular and advanced trading platforms in the world. When compared to its also widely used older version, MetaTrader 4 (MT4), MT5 provides users with a larger amount of charting features, technical indicators, and order execution tools. Customer service is available in multiple languages and can assist you regardless of your account or country's main currency. MT5 offers over 80 technical indicators, different charting timeframes, and a state-of-the-art strategy tester. The platform's app can be installed on desktop devices and smartphones (both Android and iOS).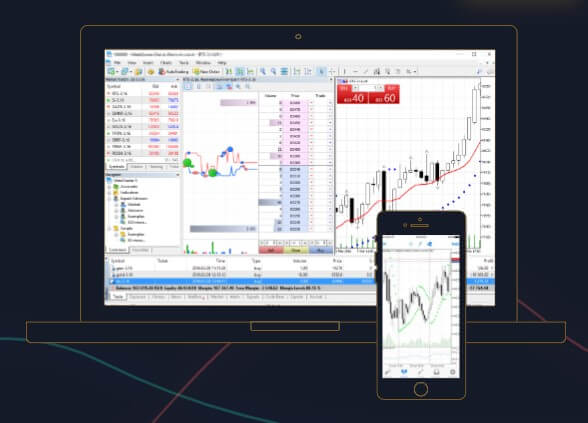 Just as importantly, traders can follow an updated and timely newsfeed from anywhere in the world, alongside utilizing MT5's detailed fundamental analysis reports and research findings. To download MT5, you would have to visit the platform's website (through desktop browsers) or find the platform's app in the Google Play/Mac Store (on your phone). Users can trade forex pairs, CFDs, commodities, indices, and other financial instruments through MT5.
Leverage
Traders get up to 500:1 in leverage, which applies to all currency pairs. The broker doesn't mention anything, as far as their website goes, about indices, commodities, and share CFDs' leverage.
Trade Sizes
Major and exotic currencies all have the same, industry-standard 1 lot size of 100,000 in the base currency. The smallest permissible trade size is 0.01 lots.
Margin Call: 50%
Stop-Out: 30%
Keep in mind that Gulf Brokers's margin call notification can only be seen when you log into the trading account. The firm advises clients to regularly check their trades and portfolio alerts. Otherwise, if their balance further falls to 30%, all positions are automatically closed. In many instances, brokers would liquidate your biggest losing trade(s) to bring back your balance to the margin requirement. Gulf Brokers, however, doesn't do so at the margin call level. Instead, traders have to deposit additional funds or exit positions manually to avoid reaching the stop-out.
Trading Costs
There are several expenses that you should be aware of. First, a daily swap fee is incurred when trades are kept open overnight. On Wednesdays, the swap is tripled. The Islamic account doesn't incur these interest expenses. However, many brokers charge portfolios with Islamic features a fixed, non-interest related amount on overnight trades. Commissions on forex pairs aren't listed on Gulf Brokers' website, the same applies to commodities and indexes. Stock CFDs, however, come with a commission of 0.5% the position's volume, with a minimum of $20 fee per trade.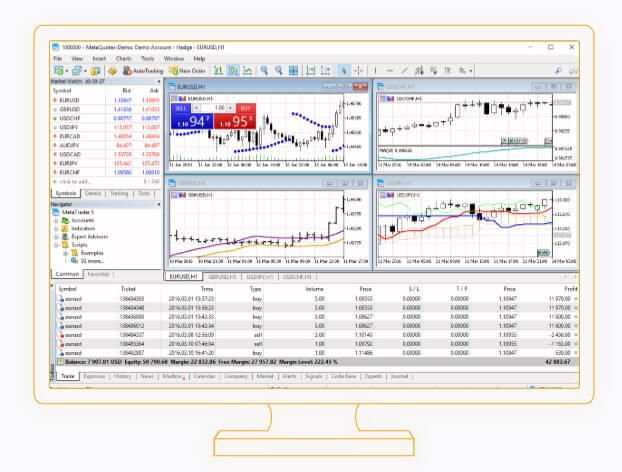 Gulf Brokers will also charge for the spread, which starts at a relatively high 3 pips. This past April, the firm also introduced a monthly account maintenance fee of $10 (or its equivalent value in the trader's currency). Having said that, only those who haven't had any trades, deposits, or withdrawals for over 1 month incur this expense.
Assets
You can trade more than 60 currency pairs, including exotics (such as Danish Krone, offshore Chinese Yuan, and Czech Koruna). Moreover, there are 14 indexes of markets from across the world, alongside 15 commodities and the CFDs of stocks that are traded in 5 different countries. This selection is one of Gulf Brokers' strongest offerings because not many other firms can match it.
Spreads
The spreads, on the other hand, are very high. In fact, you will find that most brokers have a spread that is no more than 3 pips, especially when it comes to major currencies. Gulf Brokers' lowest spread, on the other hand, is 3 pips. Some major forex pairs even have it as wide as 20 pips, which is the case when it comes to the AUD.NZD and EUR.NZD.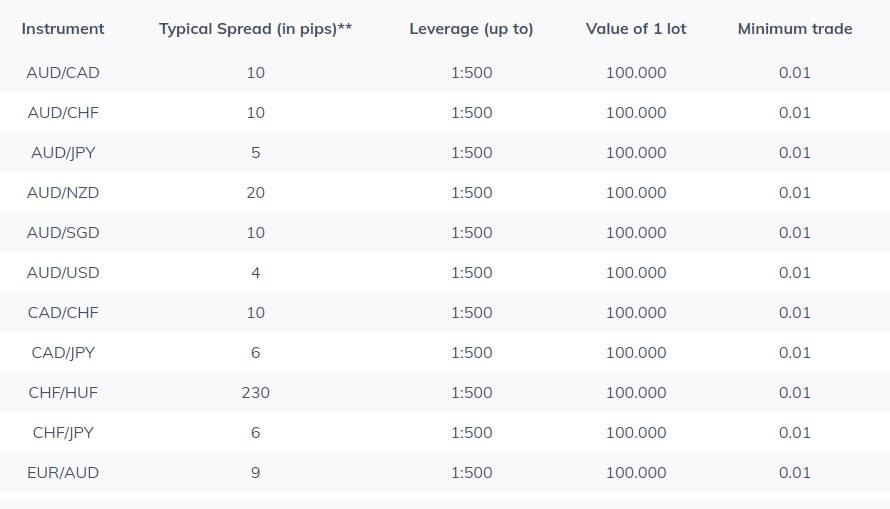 Minimum Deposit
Gulf Brokers doesn't offer details about minimum deposits, which may suggest that they don't have one. After all, many brokers will let you open an account as long as you have the minimum needed to trade the smallest permitted lot size. Either way, those who are interested should contact Gulf Brokers to inquire about their deposit requirements and the minimum or maximum amount of funds that can be transferred in a single transaction.
Deposit Methods & Costs
You can deposit money and directly transfer the funds from your bank account. In addition, Gulf Brokers accept deposits via debit and credit cards. However, if for any reason a transfer didn't go through (such as a trader having insufficient funds or an inactive debit/credit card), Gulf Brokers may levy a $200 chargeback fee. Apart from that, nothing is specified about transaction costs. In any case, almost every broker on the market doesn't charge users for depositing funds, but an account holder's bank might.
Withdrawal Methods & Costs
To initiate a withdrawal, traders can either do so through their account portal or by sending an email to Gulf Brokers' customer support team. Keep in mind, however, that you can only withdraw funds through the method that you used to deposit them. For example, if funds were deposited via Visa or MasterCard, then they can only be withdrawn into the same debit or credit card. When it comes to profits, you can wire transfer them from your Gulf Brokers account to your bank. The website doesn't include information about withdrawal fees.
Withdrawal Processing & Wait Time
When a trader whose bank or country's currency is different than the default one on their Gulf Brokers account, withdrawals will be converted through applying the same day's exchange rate. As an example, assume that a trader in the United Kingdom who withdraws money from their USD-denominated account on June 1st. Gulf Brokers will convert their funds into British pounds (GBP) based on the exchange rate on June 1st.
Generally speaking, all withdrawals are processed within 24 hours or less. At times, the broker may ask for additional information, such as when a trader fills out the transfer form the wrong way or forgets to upload certain documents. Needless to say, withdrawals may take a longer time to process when this happens.
Bonuses & Promotions
One of Gulf Brokers' main advantages is that they offer lucrative bonuses and a variety of promotional programs. First, they will match any user's deposit (at a minimum of $1,000) with the exact same amount in trading capital. For example, if you fund your Gulf Brokers account with $5,000, they give you another $5,000 that you can trade with. The maximum bonus per person is $100,000, which is incredibly sizable and generous.

However, the funds can't be withdrawn out of the account immediately. Beforehand, your traded lots must be half the bonus's value. Going back to the above example, in order to withdraw the $5,000, the trader must first open and close 2,500 lots (half of $5,000). Nevertheless, we find this bonus to be incredibly advantageous and only a few (if any) of Gulf Brokers' competitors will offer similar ones.
Moreover, account holders can participate in the Affiliate Program and Introducing Brokers promotions. Amongst the brokerage industry, these types of offerings will normally pay you commissions when you refer other traders to a firm. Considering how strong Gulf Brokers' bonuses are, interested traders may find it worthwhile to ask customer service about the details of the Affiliate Program and Introducing Brokers promotion.
Educational & Trading Tools
Gulf Brokers have an array of educational materials and they offer the highly resourceful MyGulfBrokers app. The software enables traders to place orders, open/close positions, and transfer funds. This platform has its own website that account holders would use to login. Uniquely, not many brokerage firms provide you with their own platform. Most would rely on MetaTrader or another third party software.
As far as Gulf Brokers' educational tools are concerned, this firm has a series of online courses that show traders how they can place orders, manage their risk, and more. The classes seem to revolve around mobile and remote retail trading, specifically when it comes to the large risk and rewards, alike, that are associated with individuals participating in the markets. Alongside the general course, each part of the informative series tackles commodities, forex pairs, and other tradable instruments.
Customer Service
Gulf Brokers' client support department operates 24 hours a day during the week (Monday through Friday). Most likely, these services can be accessed in multiple languages, especially because their website has 10 different versions (including Arabic, Portuguese, Russian, and Spanish, alongside English).
Phone: +44 208 068 9909
Email: support@gulfbrokers.com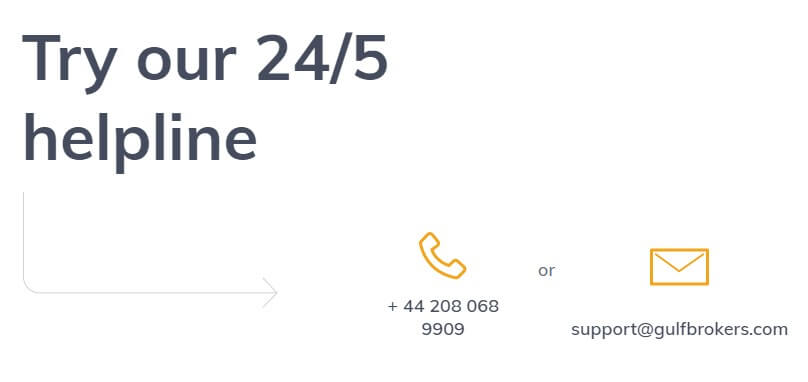 Demo Account
Opening a demo is very easy, even more so than a live account. All you have to do is fill out a simple form on the website. Demo accounts, which are free, allow traders to learn about the markets, practice their techniques, and test different strategies while risking paper (fake) money. In turn, this helps them become well-prepared when they exchange their actual funds in live market environments. Similarly, if you're an experienced trader who is new to MT5, the demo gives you an opportunity to familiarize yourself with the platform's tools and functionalities, especially if you are transitioning from the MetaTrader 4 (MT4) version.

Countries Accepted
While Gulf Brokers is registered in Seychelles, an island nation off the eastern coast of Africa, they serve clients from around the world. However, their website doesn't note any country restrictions.
Conclusion
When we look at Gulf Brokers' features, their bonus stands out as one of the firm's most lucrative and powerful offerings, especially because an individual trader can be awarded up to $100,000. Not only does this broker provide account holders with this highly generous bonus program, but they also pay commissions for referrals.
Similarly, Gulf Brokers' currency selection, in terms of the available 60 forex pairs, is only matched by a few other firms in the industry. While they offer one account type, traders have the option of opening a swap-free Islamic portfolio. Perhaps most noteworthy, this broker's educational courses are especially useful to beginners. Traders can also use the firm's online platform, MyGulfBrokers, to manage their portfolio, a role that brokers traditionally reserve for third parties (such as MT4 and MT5). However, using the MetaTrader platform is also an option.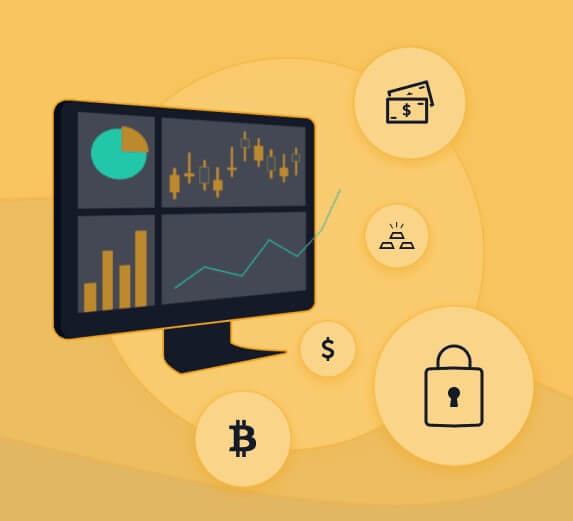 On the downside, meanwhile, transferring funds through this firm can be restrictive. You can only withdraw money by using the same method to deposit it. Gulf Brokers accepts both debit/credit cards and bank wires, but crypto traders and e-wallet users' options are limited. Another negative aspect has to do with their undesirably large spreads. In fact, while many of Gulf Brokers' features are amongst the best in the industry, their spreads are on the other scale of the spectrum. They start at 3 pips. If you rely on using a lot of buying power and leverage, this broker goes both ways. Their 500:1 leverage is competitive, while their 30% stop-out level is very flexible.
Lastly, Gulf Brokers' customer support is available 24 hours a day and they serve traders from different countries, but it is always a good idea to check if they are available in your location. Certain government regulations on financial instruments may limit that. To conclude, Gulf Brokers' strongest offerings are plenty, ranging from a generous bonus to their highly reliable software and platforms. Their spreads and inflexible transfer processing mechanisms, on the other hand, may cause traders to look the other way. At the end of the day, however, the weigh of each pro and con depends on how you trade, the strategies that you deploy, and the amount of funds and/or buying power that you plan on utilizing.