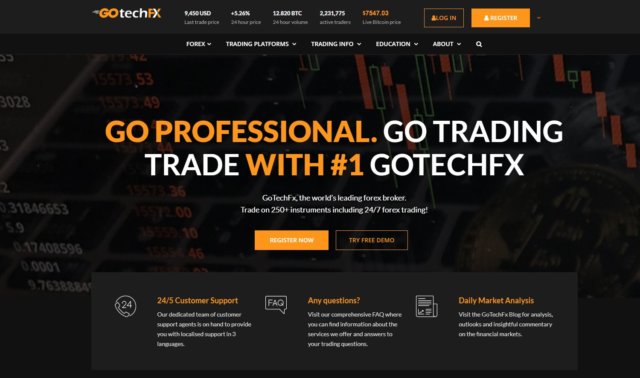 GoTechFX combines digital consumption with the financial profession, especially by focusing on the best of both worlds approach that includes technology and reliable trading tools. Their account types have several types of features that different traders can benefit from, alongside lucrative cash bonuses and access to a variety of assets. Moreover, their margin calls give you plenty of flexibility while trades can choose between fixed and floating spreads. Lastly, but certainly not least, this broker doesn't charge any commissions, but their website offers little information about transfer costs. Is GoTechFX the right broker for you? Read this article to find out.
Account Types
Alongside the main type, traders can also open a Platinum or Islamic account. The latter has the exact same features as the main account, but the Islamic one doesn't incur interest fees.
Minimum Deposit: $250 or 250 euros. $25,000 or 25,000 euros for Platinum
Spreads: From 1.5 pips (floating) and from 1.9 pips (fixed)
Commission: A percentage or fixed amount (varies).
You can choose between the USD and EUR as the default currency. GoTechFX doesn't mention much about the Platinum Account, apart from the minimum deposit and access to more features (without any other details). The broker does invite interested traders, however, to contact their customer service team for inquiries. Commissions vary and depend on specific situations (such as referrals, account type, …etc.). Opening an account is easy and can be done online through the website. You can even access the dashboard and take a look at the different tools before depositing any money.
Platforms
GoTechFX account holders will trade through MetaTrader 4 (MT4). Even though the platform is not as advanced as its modified version, MetaTrader 5 (MT5), it is still very valuable and popular in the forex world. Additionally, GoTechFX has other available platforms, including WebTrader, Social Trading, and Activ8. MT4 can be downloaded from the platform's website, while WebTrader and Social Trading only require you to create an account (no software or app downloads are necessary).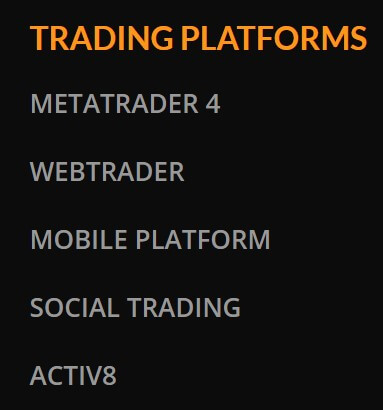 One of the main benefits that come with using MT4 is that traders can work with professional advisors who will actively guide them through the platform's features and help users manage their accounts. Given that MT4 is one of the best forex trading platforms in the world, you can trade different currency pairs and assets once you create an account. WebTrader also offers the same level of accessibility to different financial instruments.
In addition to this, there is a very large amount of useful technical indicators and advanced charting tools on both MT4 and WebTrader. For that matter, MT4 allows you to execute trades directly from the chart, especially because of its fast and accurate pricing models. WebTrader also offers advanced charting tools and traders can deploy over 30 different technical indicators. MT4 is available on all devices, but WebTrader is only accessible on desktop browsers.
The Social Web Trading platform offers users a live news stream that contains other investors' trades. In turn, you can evaluate how others are performing before deciding to buy or sell a currency pair. Just as importantly, you can also emulate successful trades and identify losing instruments or approaches to avoid learning that lesson the hard way. Activ8, on the other hand, is useful for those who prioritize technical analysis, advanced charting features, and an efficient platform that quickly executes orders.
Leverage
Buying power is 400:1, which is closer to the higher range when compared to the rest of the brokerage market. All currencies have the same leverage, with certain exceptions. The lowest are USD.RUB (Russian ruble) and EUR.RUB at 20:1, followed by USD.CNY (Chinese yuan)'s 50:1 leverage. In pairs where the Israeli shekel is quoted (i.e., the second currency) against each of the US Dollar, British Pound, and Euro, buying power is only 100:1. Leverage for the other financial instruments that GoTechFX offers (such as commodities) is not listed on the website and traders have to get that information from their Account Manager.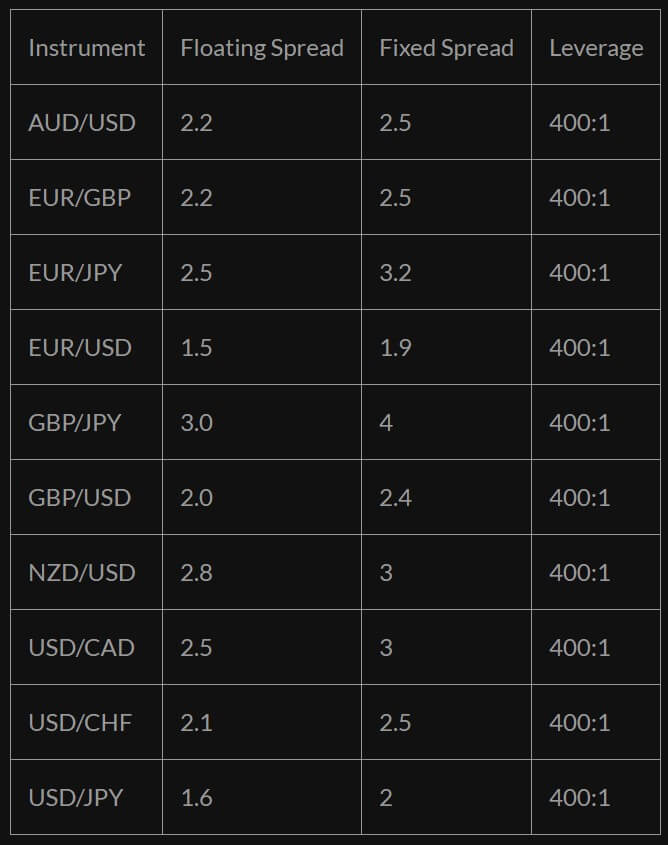 Trade Sizes
Forex pairs have a minimum of 0.01 lots per position. The maximum trade size is not mentioned, but GoTechFX does categorize account holders into 'Pro' and 'Retail'. The latter might have their trade sizes restricted and leverage limited to 30:1. Margin requirements are also at 3.33% for Retail and 0.25% for Pro. Again, this is one of the areas where you need to contact the broker's customer support team to get more information, especially if your trading strategy heavily relies on buying power.
Margin Call: 50% the margin level
Stop-Out: 3% the margin level
When your balance reaches the margin call level, GoTechFX will require you to either exit some trades or deposit more funds. Otherwise, they will start closing your positions, beginning with the one that has the largest losses and going downwards until your account's funds meet the required margin level. At the stop-out, which could be reached very quickly if traders use a lot of buying power during volatile conditions, the broker will liquidate all of the trades.
Trading Costs
GoTechFX doesn't charge any commissions, but traders have to pay the spread fees. Swaps also apply, where account holders incur interest expenses on positions that are kept open overnight. On Wednesdays and Thursdays, the broker's swap fees are triple what they generally are per night. During the weekend, however, you only pay one night's worth of interest charges. Keep in mind that the larger the volume of the position is, the more expensive the swaps are. This is something to watch for on Wednesdays and Thursdays, especially if the issuing central bank of the currency that you're holding makes major interest rate decisions or changes.
Assets
There are 61 currency pairs, including all the major ones. Traders can also access a verity of exotics, such as the Chilean Peso, Polish Zloty, Norwegian Krone, Hungarian Forint, and South African Rand. GoTechFX provides traders with additional assets, namely commodities, stocks, and indices. If these financial instruments are key to your strategy, contact the broker directly and ask them about the available ones, their spreads, leverage, and other information that you find important.
Spreads
GoTechFX has two types of spreads: Fixed and floating. The former doesn't change and is ideal for those who want to avoid paying larger than expected spread fees. However, the floating one can provide you with more favorable and tighter bid/ask differences. The main risk, of course, is that the spread is higher during volatile market conditions. Amongst brokers, in general, spreads tend to vary and will range between 1 and 3 pips. Some have them down to the fifth decimal or a point/fraction of a pip.
GoTechFX, meanwhile, tends to offer higher than usual spreads. The lowest fixed rate is 1.9 pips (EUR.USD). All other forex pairs have a spread of 2 pips or more and only six of them are below 3 pips. Similarly, the floating spread is about 1.5 pips for EUR.USD and 1.6 pips for USD.JPY, the remaining currencies are above 2 pips or higher. Most of the major pairs' fixed and floating spreads are no more than 7.5 and 7 pips, respectively. That number is still large, nonetheless, as far as the industry is concerned. Exotic currencies, because of their low value per unit and more volatile nature, have very wide spreads.
Minimum Deposit
You have to transfer no less than $250 or 250 euros to open an account. The maximum allowed per deposit is $5,000 via credit card and unlimited via bank transfers.
Deposit Methods & Costs
Debit or credit cards and bank wires are the only two ways for you to fund your account. There is no information provided by the broker about deposit processing times. In general, card deposits tend to be instant and bank wires can take a few days. However, you should always double-check by contacting customer support.

Withdrawal Methods & Costs
The only two options are bank transfers and debit/credit card withdrawals. Transactions with your card don't have any fees, but only the first bank withdrawal of the month is for free. The minimum amount, per credit card transfer, is $50. Bank wire transactions can't be less than $100, but the GoTechFX website doesn't mention anything about the transfer charges associated with using this method.
Withdrawal Processing & Wait Time
You can withdraw money by filling out an online transfer request form. GoTechFX generally processes transactions within 3 days, but your bank might take longer (sometimes up to 7 more days).
Bonuses & Promotions
GoTechFX will reward you with a percentage of your account's balance in trading capital. First, the money can be used to buy/sell forex pairs and other financial instruments. However, account holders cannot withdraw the bonus until they trade a certain number of lots. More specifically, they need to trade the rewarded amount divided by 4. For example, let's assume that GoTechFX's bonus is 10% and a trader deposits $10,000. They receive the $1,000 (10% of $10,000) reward. To be able to withdraw it, account holders must trade at least 250 lots ($1,000 divided by 4) in total during their first 60 days with GoTechFX.
This is almost 9 weeks (including Saturday and Sunday) or about 44 market days. CFD trades don't count towards the bonus. The amount is also limited to 100:1 in leverage. Nonetheless, if you are interested in knowing more about the deposit requirements and bonus percentages, take advantage of GoTechFX's 24-hour customer service team and get in touch with them.
Educational & Trading Tools
When compared to the at-large brokerage industry, GoTechFX offers top tier educational content and tutorials. Moreover, they can function as useful resources during live trading sessions. For example, their list of economic indicators outlines the definitions and importance of different macro events, including unemployment data releases, interest rate changes, and GDP announcements.
Beginner traders can advantageously use it when they read real-time economic calendars or go through analytical articles. This is even more handy when used alongside GoTechFX's 'Order Types' list. Similarly, the broker also offers an introductory article/written guide about the main technical analysis patterns, indicators, and strategies.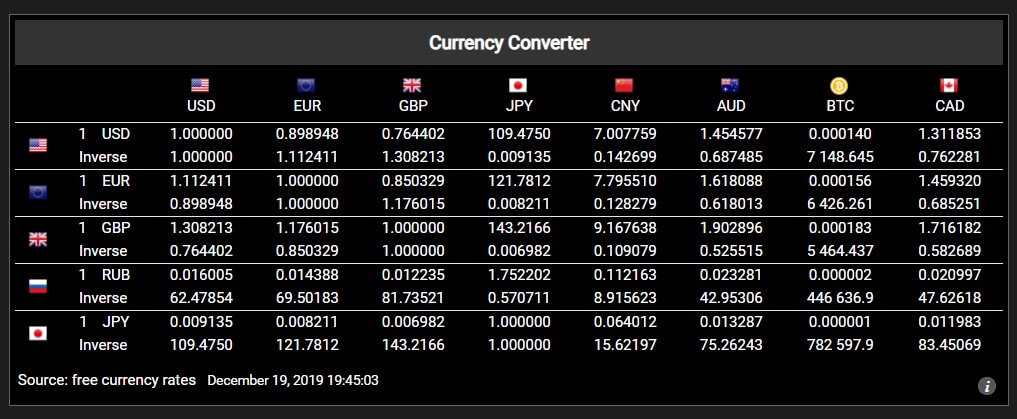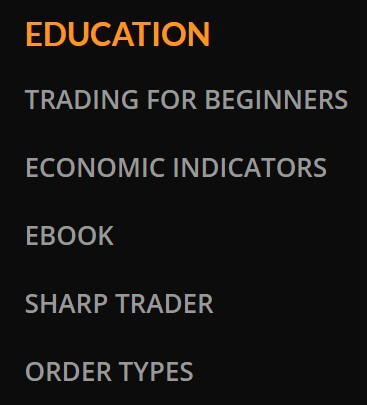 Lastly, the 'Sharp Trader' program is an entire website that is dedicated to educating readers about day trading. More specifically, its wide range of video content covers the details that are related to analyzing daily fundamental events, reading short-term technical charts, and utilizing different practical tools (economic calendars, calculators, …etc.). In fact, GoTechFX offers these exact resources to its account holders.
First, the trade calculator helps while you consider a potential trade. After putting in your default currency, the desired leverage, and whether you want to buy or sell a forex pair, the calculator gives you the required margin and reveals hidden costs that many traders forget about, such the swap and spread fees. GoTechFX also offers a daily economic calendar of major data releases from around the world.
Customer Service
There are several ways to contact the broker, including an online form that you can fill out. GoTechFX can also be contacted via email, phone, live chat, and video calls. The customer support team is available 24 hours a day during the week. When contacting them, traders can also pick their preferred language amongst a host of available ones.
Phone: +441134013533
Email: support@gotechfx.com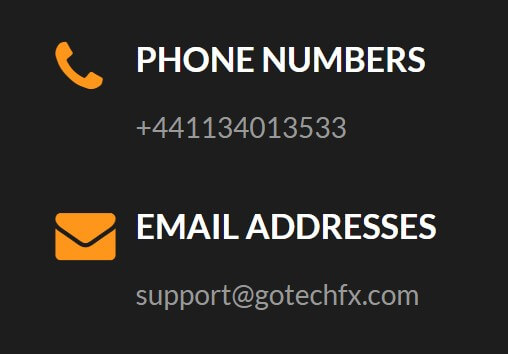 Payment paperwork and documents are sent to their office in Azerbaijan (for those who want to transfer funds via traditional mail). Their headquarters are in Majuro, the capital city of the Republic of Marshall Islands.
Demo Account
If you are still learning about the markets or never used MT4 in the past, a demo account is a good place to start. Through trading fake or paper money, you can test new strategies and experiment with MT4's different trading tools before putting your actual money on the line. Demos are managed through the platform's website or on WebTrader, but you open one on GoTechFX's. The demo account is exposed to the exact same conditions as the real one, including live market quotes and spreads.
Countries Accepted
GoTechFX is not available in the United States or France, but it can be accessed by traders in the United Kingdom, Canada, Belgium, China, Hong Kong, Germany, and almost all other countries. The broker is headquartered in the Republic of the Marshall Islands, located at almost the midpoint distance between Hawaii and Australia.
Conclusion
While their transfer processing methods have their own restrictions, GoTechFX's different account features and minimum deposit give traders plenty of flexibility. You can also open an Islamic account or, if you have $25,000 or more, upgrade to the Platinum one. Moreover, this broker gives you a 10% bonus on your deposit, an offer than many traders find desirable.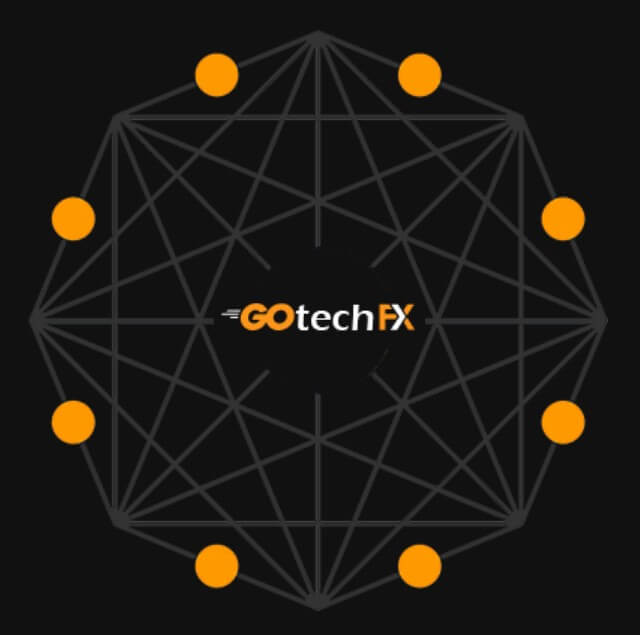 Other advantageous features the GoTechFX account holders enjoy include a relatively large number of forex pairs (over 60), a generous 400:1 leverage, and a very low 3% stop-out level. In addition, only a few firms in the industry can match this broker's highly resourceful and cost-efficient trade calculator. If used the right way, you can identify and limit otherwise unnoticed expenses, including interest fees on overnight positions and undesirable wide spreads.
Traders who are new to the markets can use the different educational content, glossaries, practical guides while utilizing this calculator and GoTechFX's daily economic calendar. Meanwhile, customer service is available around the clock and can be contacted in many ways, which is another positive aspect of using this broker. Last, but certainly not least, they allow you to trade through the MetaTrader 4 platform, which is arguably the most popular one in the forex market. Its technical indicators and sophisticated tools, when combined with what GoTechFX has to offer, can take traders a long way.