FXPremax is a global online forex broker based in St. Vincent & the Grenadines. The company offers leveraged trading as high as 1:1000 on FX, metals, CFDs, and cryptocurrencies. Founded by a group of industry professionals in 2014, the company has since devolved a business model that is aimed towards providing an effortless experience. That business model allows clients to open an account, deposit, and start trading immediately, with rapid access to the best liquidity pools, fast execution speeds, and instant deposits/fast withdrawals. Although the registration process is convenient, most traders understand how crucial it is to study a broker more closely before opening a live account. Stay with us to find out everything you'll need to know about this option.
Account Types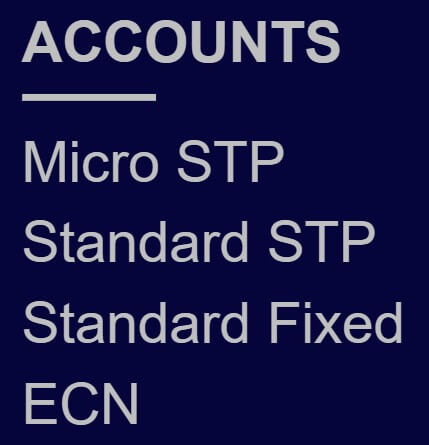 FXPremax offers five separate account types: Micro, Standard Fixed, Standard STP, ECN, and Crypto. Swap-free versions of each account type are available upon email request. Most of the accounts provide access to 74 currency pairs plus Gold and Silver, with no minimum deposit requirements. The Crypto account asks for a $1,000 deposit and features 36 crypto pairs.
Aside from the Crypto account, all accounts will allow traders to select leverage as high as 1:1000, so long as the account's balance is below a specified amount. Spreads start from 1.9 pips on the Micro and Standard STP accounts, are fixed from 3 pips on the Standard Fixed account, and start from 0 pips on the ECN account. Traders will only pay commission fees on the ECN account type, with no fees charged on any of the other accounts. Account details have been provided below.

Micro Account
Minimum Deposit: $1
Leverage: Up to 1:1000
Spread: From 1.9 pips
Commission: None
Standard Fixed Account
Minimum Deposit: $1
Leverage: Up to 1:1000
Spread: Fixed from 3 pips
Commission: None
Standard STP Account
Minimum Deposit: $1
Leverage: Up to 1:1000
Spread: From 1.9 pips
Commission: None
ECN Account
Minimum Deposit: $1
Leverage: Up to 1:1000
Spread: From 0 pips
Commission: 0.005% from the amount of the transaction
Crypto Account
Minimum Deposit: $1,000
Leverage: 1:1
Spread: NA
Commission: None
Platform
Like many other forex brokers, FXPremax offers the highly-popular MetaTrader 4 platform. This is the most commonly offered option among forex brokers, due to its high demand, user-friendly interface, and variety of built-in features that make the trading process convenient. Just to name a few of those features, traders will have the ability to write custom indicators, access to 30 technical indicators, 9 timeframes, market watch, Expert Advisors, etc.

Those trading on MT4 will find the program to be powerful in that there is no lagging effect, even if one is running multiple operations on their device. Traders will also find that hedging, scalping, and other strategies are all supported. At the bottom of the broker's website, traders will find a link to download the MT4 platform. MT4 can also be downloaded on iOS and Android devices, or accessed through the browser-based WebTrader.
Leverage
Those trading on the Crypto account will only be able to use a leverage of 1:1, a realistic option considering that the account focuses solely on crypto pairs. Micro accounts holding a balance of less than $10,000 can use leverage as high as 1:500. Traders can also request leverage of 1:1000 on those accounts through the trader cabinet, but only if the balance is below $10K. Once the account balance reaches that amount, the leverage would be reduced 100 times. For example, leverage set at 1:500 would be reduced to 1:5. Note that those rules only apply to the Micro account.
The remaining account types (Standard Fixed, Standard STP, and ECN) allow for a leverage of up to 1:1000 for accounts holding a balance up to $10K, 1:500 for accounts with a balance of $25K, 1:200 for accounts with a balance up to $100K, and 1:100 on accounts with a balance above $100K. Traders should find all of these leverage options to be extremely flexible and much more significant than many of the competitor's offers. A word of warning to those that aren't used to trading with extremely high leverages – doing so can be extremely risky and may result in large losses.
Trade Sizes
All five accounts support the trading of micro-lots. The Micro account supports a transaction size of 20 micro lots, while both Standard accounts and the Crypto account allow for a maximum trade size of 20 standard lots. The ECN account's maximum trade size depends on the market's available liquidity. The number of open trades allowed on the Micro and ECN accounts is unlimited, while the Standard accounts and the Crypto account all allow for 100 simultaneously opened trades. If the margin call level is reached, traders will need to deposit more funds or close out some open positions in order to avoid stop out. Once the stop out level is reached, open positions will be closed automatically by the system. Margin call and stop out levels have been listed below.
Margin Call: 60% on Micro, Standard Fixed, & Standard STP; less than 100% on ECN; 100% on Crypto
Stop Out: 30% on Micro, Standard Fixed, & Standard STP; below 50% on ECN; 99% on Crypto

Trading Costs
FXPremax profits from spreads, swaps (overnight interest charges), and commission fees, in the case of the ECN account type. The ECN account charges commissions at a rate of 0.005% from the amount of the transaction, while the other accounts offer a commission-free experience in exchange for a higher spread. Overnight interest charges would be credited or debited based on current rates on applicable positions that are left open past market closing time. The long and short swap rates for each instrument can be viewed on the "Instruments" section of the webpage. Those charges can be avoided if the account is set to swap-free, with accounting charges taking the place of traditional swap charges.
Assets
Micro, Standard, and ECN account holders will have access to currency pairs, metals, CFDs, and energies. Although the broker advertises 74 currency pairs as being available, their products page only lists 65 options. Available metals include the most popular options Gold and Silver, while energies cover US Oil, UK Oil, and Natural Gas. In total, 14 cash indices are available as well. Those that choose to open a Crypto account will have access to an impressive 36 crypto pairs, including the most popular pairs BTCUSD, BCHUSD, ETHBTC, LTCUSD, and many other well-known pairs, in addition to some lesser-known options.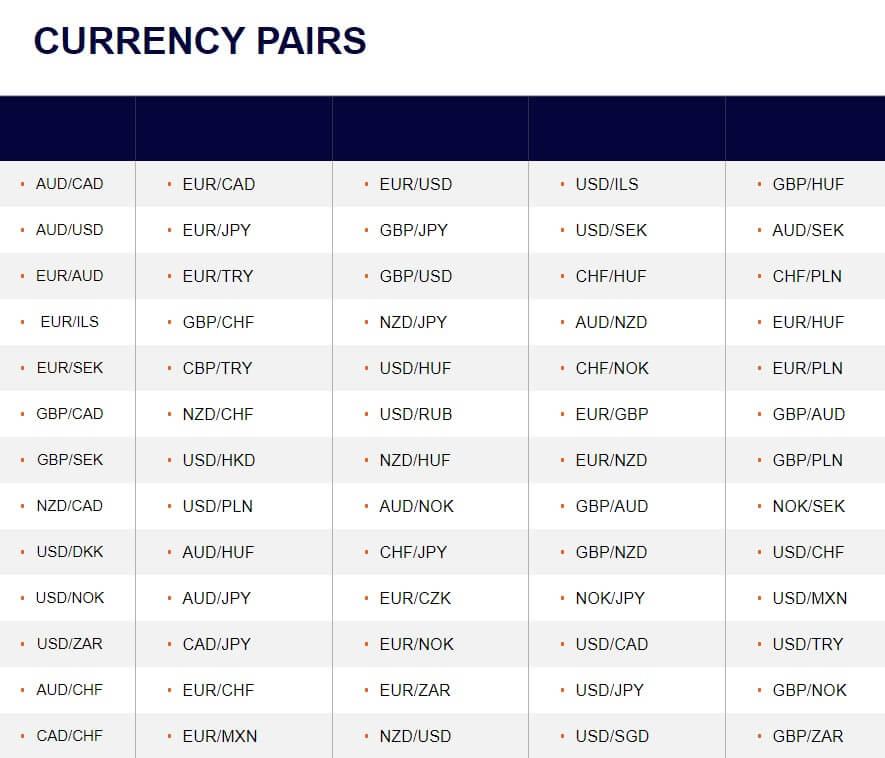 Spreads
The account pages do not detail the spreads charged on each account type, but traders will be able to use a link that is available on the webpage to check those charges for themselves. We checked those pages for each account type in order to gain a better idea of what type of spreads traders will see. Starting with the Micro account, the lowest spread we observed on currency pairs was 1.9 pips, while the maximum was 3.5 pips on the pair EURNZD. Options on other instruments varied more widely, from 1 pip on NAS100 to a high 45 pips on the more volatile Gold.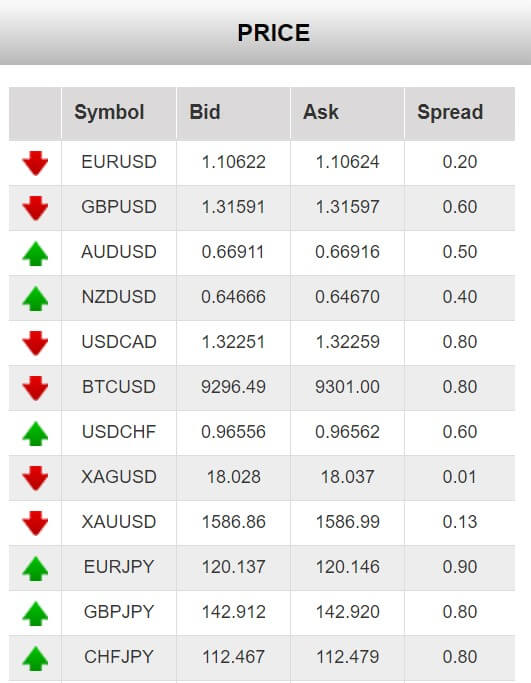 The Standard STP account, which has floating spreads, shares the same exact spreads with the Micro account. Those that wish to open the Standard Fixed account will find those fixed spreads to be higher than average, from 3 – 10 pips on currency pairs. On Gold, the spread was doubled from the amount on the other account types. Spreads on the ECN account depend on the market and start from 0 pips. The website doesn't provide an overview of this account type.
This is also true for the Crypto account, so there is no way to study those ranges in more detail. Keep in mind that the spreads we observed were not live and the broker did not specify whether these were the minimum charges or the average spreads. This, coupled with the fact that most of the spreads are floating, could result in fluctuations.
Minimum Deposit
Those that decide to open an account through FXPremax will have the advantage of choosing from four account types that have zero deposit requirements. The Mini, Standard Fixed, Standard STP, and ECN accounts all fall into this category. The low requirements make it less intimidating for new traders to sign up, and the fact that so many account types offer this allows those traders the ability to choose an account based on preference, rather than affordability.
Traders should note that the maximum balance allowed on the Micro account is $10K, so another account option would be better if you're planning to make a large deposit. Those that would like to open the broker's specialized Crypto account would need to deposit at least $1,000.
Deposit Methods & Costs
Accounts can be funded through bank wire transfer and Visa/MasterCard, in addition to a variety of e-wallets, including Neteller, Skrill, OkPay, UnionPay, FasaPay, and Thailand local deposit. Deposits can be made in USD, EUR, RUB, and JPY. Bank wire deposits are credited within 3-5 business days and all of the remaining methods are deposited instantly. There are no commissions charged from the broker's side on incoming deposits through any payment method.
Withdrawal Methods & Costs
All of the available deposit methods can be used for withdrawals and the broker doesn't state any conditions that force withdrawals to be made back to a certain method. Typically, there is a requirement that withdrawals must be processed back to the original payment method, so traders shouldn't be surprised if this condition does come up. Commissions are not charged when withdrawing through electronic payment methods. Bank wire transfers will likely be charged a fee on the bank's behalf, with typical fees ranging from $25 to $50. Bank wire withdrawals can only be made in USD, otherwise, currency conversion charges may apply as well.
Withdrawal Processing & Wait Time
Withdrawals to a card or any e-wallet will be processed within 24 hours and it can take 3-5 business days for withdrawals to be processed back to bank wire. Once funds have been sent, the broker doesn't mention exactly how long it can take for those funds to show up in the client's account. E-wallet withdrawals would likely be credited almost instantly once processed, while we estimate it could take additional business days to receive bank wire withdrawals, depending on the bank.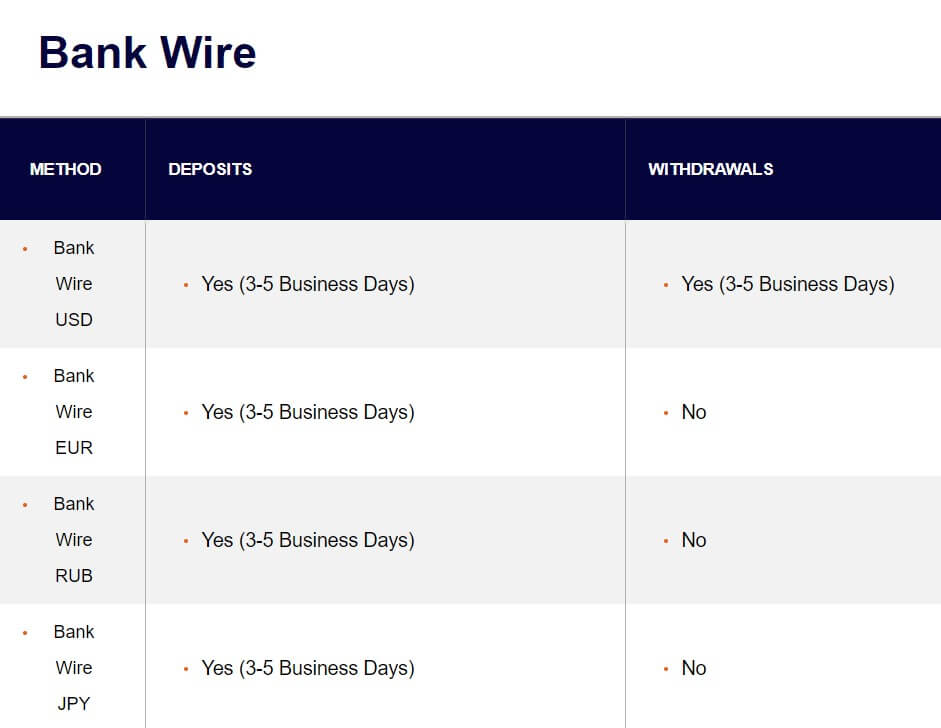 Bonuses & Promotions
The broker is currently offering multiple bonuses and cashback opportunities. All available offers have been detailed below.
Deposit Bonus: $200 deposit bonus is credited per each $1,000 deposit that is made. The bonus can be received an unlimited number of times.
Trading Bonus: $100 USD bonus is applied for every 100 standard lots that are traded. This bonus is fully withdrawable and can be received an unlimited number of times.
Cashback: Rebate amounts are credited on the basis of 0.5 pips for majors and 0.8 pips for exotic pairs. After reaching a certain volume, the earned amounts will be credited to the trading account. Micro account holders earn the least, ECN accounts the third-highest, Standard STP accounts the second-highest, and Standard Fixed accounts earn the highest amounts.
100% Bonus: Traders simply need to open an account, verify the account, and deposit funds in order to earn this bonus. Deposits between $100 and $6,000 are eligible. The bonus expires one month after being credited to the MT4 account.
Interest Profit: Traders will receive $50 interest every month under the condition that a deposit of at least $5,000 must be made to the account and maintained throughout the entire month. If the account does drop below this level, the amount won't be available for that month but can be earned the following month.
Educational & Trading Tools
The FXPremax Academy is made up of multiple educational videos of various lengths. In total, there are 21 videos available in this section that detail some of the most crucial knowledge that is required by those that are just getting started in the world of forex trading. Video tutorials do seem to be easier to understand than articles or other mediums, so this could be very beneficial to those that are just getting started. The website also offers multiple tools, including Technical Analysis, a margin calculator, an economic calendar, and Copytrade.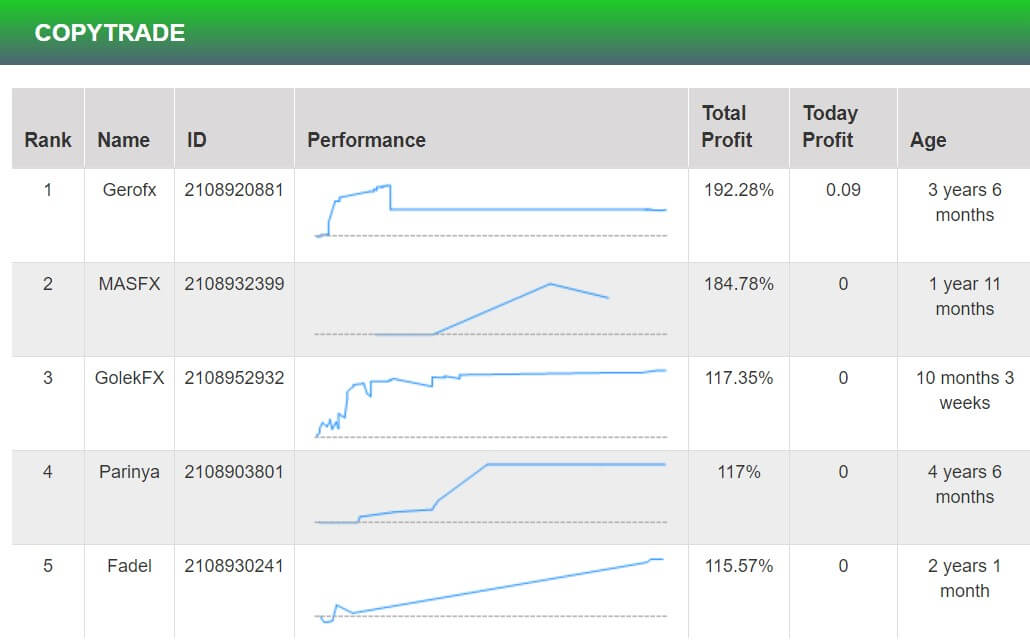 Demo Account
Demo accounts are an invaluable tool in the world of forex trading, as they allow traders to gain the full live account experience without depositing any funds or taking any real risk. Most brokers understand how beneficial these accounts can be to their potential and existing clients. Fortunately, this broker is no different. In fact, FXPremax offers five separate demo accounts, modeled after each of their live accounts, which provides a more personalized experience. Traders will also have the ability to choose leverage from 1:1 up to the broker's maximum 1:1000 cap and to type in any amount as a starting balance. All of these details show that FXPremax is offering a better, more personalized demo experience than many other brokers.
Customer Service
Support can be reached instantly through LiveChat and Skype, or via email or direct phone call. While we did attempt to contact an agent on LiveChat, we were left waiting for more than ten minutes with no response. The website stated that agents were online and we were first in the queue, so it seems as though this instant contact option may not always be so convenient. Traders should note that there are separate email addresses for general inquiries, customer support, and finance. The broker also provides four different phone numbers based on office locations in the UK, Hong Kong, Russia, and Malaysia. All contact details have been listed below.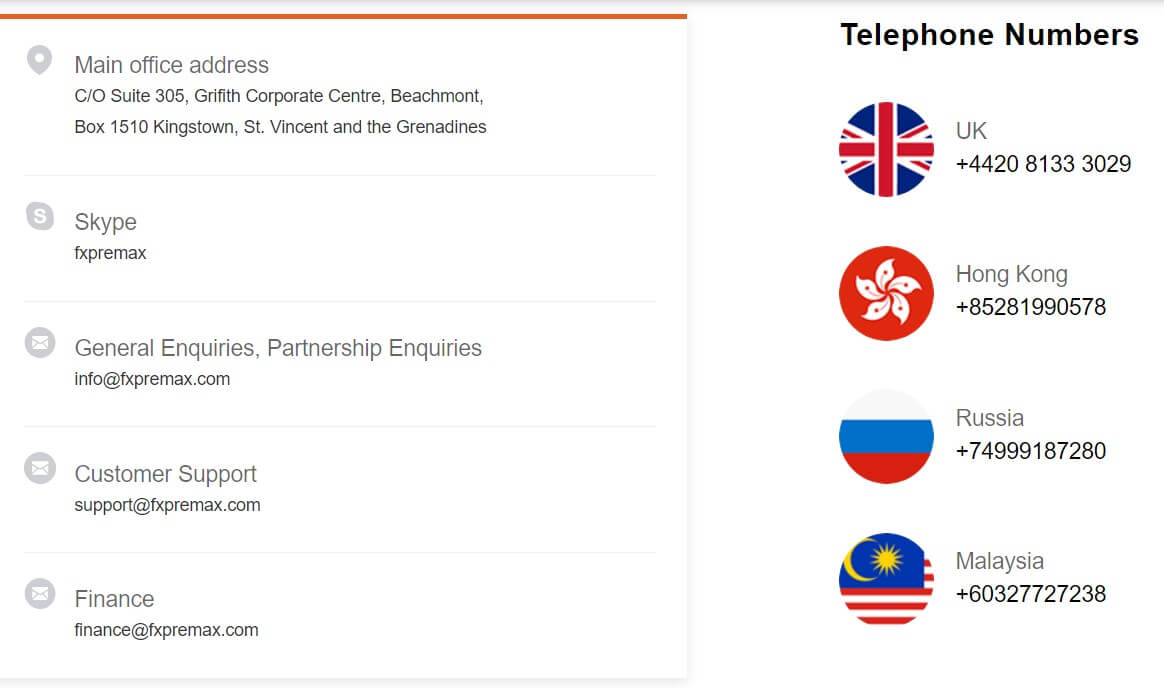 Skype: fxpremax
Email:
General: [email protected]
Customer Support: [email protected]
Finance: [email protected]
Phone:
UK: +4420 8133 3029
Hong Kong: +85281990578
Russia: +74999187280
Malaysia: +60327727238
Address: C/O Suite 305, Griffith Corporate Centre, Beachmont, Box 1510 Kingstown, St. Vincent & the Grenadines
Countries Accepted
At the bottom of their website, the broker writes that clients from the United States are not accepted. As usual, we headed over to the account registration page to see if this restriction was upheld. Fortunately, the United States is an option on the country selection list, and the system allowed us to finish the registration process with the US selected. Our final conclusion is that it seems as though traders from all locations are accepted by the broker.
Conclusion
FXPremax provides investment opportunities in 74 currency pairs, metals, CFDs, and energies, with crypto pairs available on the specialized Crypto account. Four of the broker's main account types can be opened with a deposit as low as $1, creating an advantage for those that may not have a lot of funds to start with. Leverage options are extremely flexible, going as high as 1:1000 on accounts that have equity below $10K. The ECN account offers spreads as low as 0 pips and comes with commission costs, while the other accounts offer spreads that start from 1.9 pips or fixed from 3 pips with no commission costs.
Support can be contacted by LiveChat, Skype, phone, or email, but we never managed to get a response from an agent when we reached out through the instant contact method LiveChat. Traders will be able to earn extra funds through multiple promotional opportunities, including deposit bonuses, a trading bonus, rebates, and monthly earned interest. The website also provides 21 educational video tutorials and multiple trading tools, in addition to highly personalized demo accounts. If you do decide to open an account, your country of residence shouldn't matter, as the broker accepts clients from all locations.