CCFDbank is an FX and CFD broker that provides three live account types, plus partner accounts. The broker doesn't seem to see the importance of providing clients with background information, based on the fact that their establishment date, missions & goals, etc. are missing from the website entirely. We do know that the company is based in Switzerland and apparently remains unregulated. On one hand, the lack of information is enough to make one apprehensive, but we do see some particular advantages offered by the broker as well. If one is willing to look beyond the initial shortcoming, then there could be potential to profit by opening an account. Keep reading to find out everything we know about this broker.
Account Types
CCFDbank provides three separate account types; Micro, Silver, and Gold. The Micro account is designed for beginners that want to trade lower volumes with a smaller initial deposit, while the Silver and Gold accounts accommodate more experienced retail traders. Accounts share minimum trade sizes, tradable instruments, and allow access to the same trading platforms. It costs at least $250 to open the most affordable account, while the requirement for the most expensive account is $5,000.
The Gold account does have a slightly lower leverage cap that the other accounts; however, the broker still manages to provide competitive and flexible leverages on each account. There are zero commission costs, meaning that most of the trading costs are built into the spreads, which start from 0 to 3 pips. The broker reserves the right to perform credit checks and/or other checks that are deemed suitable, which will be used to evaluate the terms of the account. Findings may determine whether the broker accepts, rejects, or modifies the terms of the particular account.
We've provided the average account details below.
Micro Account
Minimum Deposit: $250
Leverage: Up to 1:500
Spread: From 3 pips
Commission: None
Silver Account
Minimum Deposit: $1,000
Leverage: Up to 1:500
Spread: From 1 pip
Commission: None
Gold Account
Minimum Deposit: $5,000
Leverage: Up to 1:300
Spread: From 0 pips
Commission: None

Platform
Rather than featuring a well-known trading platform, CCFDbank has decided to provide its own platform on PC, Mac, tablet, WebTrader, iOS, and Android devices. Aside from the range of accessibility, the broker doesn't spend much time explaining what features are available within the program. Usually, brokers see the importance of pointing out the ways in which their options manage to stand on their own.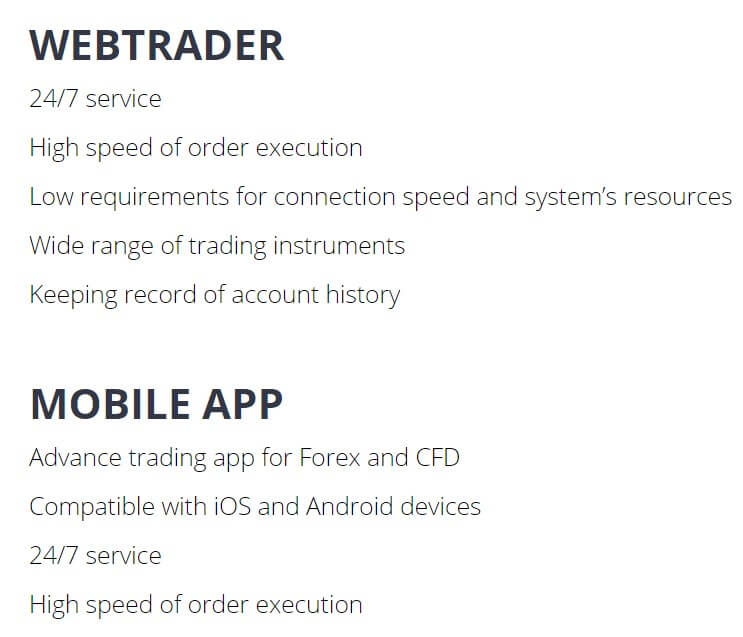 The broker does tell us that the service will revamp the experience one has had so far, the platform comes with state-of-the-art technology and high speed of order execution. Yet, they don't really provide us with concrete facts or screenshots from within the platform. It's possible that their option could be likable, we simply don't see enough evidence to decide whether it can compete with a more popular option like MetaTrader 4. We would recommend testing the platform from a demo account, but demo accounts are not even available on the website.
Leverage
This broker offers extremely flexible leverages on all three of their account types, regardless of the balance that is held within the account. Both the Micro and Gold accounts allow for the maximum leverage option of 1:500. This amount is scientifically higher than what is available through most other brokers, especially considering that some regulators limit the leverage cap to 1:30. Moving on, the 1:300 cap on the Gold account is also high for an account requiring a $5,000 deposit. These options should be high enough to satisfy a vast range of traders, although beginners may want to start with a lower option to be safe.

Do note that the way that the leverages are presented makes it seem as though there is a condition that may affect one's maximum cap. Earlier, we mentioned that the broker reserves the right to perform credit checks or other checks and that the terms for accounts may be changed due to their findings. It seems most likely that a low credit score/unfavorable background may result in a lower cap for each individual.
Trade Sizes
The Micro account allows for the trading of micro-lots and the number of simultaneously positions allowed is 150, which includes pending orders. Keep in mind that this account is designed for those wishing to make smaller trade sizes. The Silver account also supports micro-lots, while raising the number of open positions to 300 open orders. Traders that choose to open a Gold account will have access to micro-lots as well and will be able to open up to 500 contracts at once.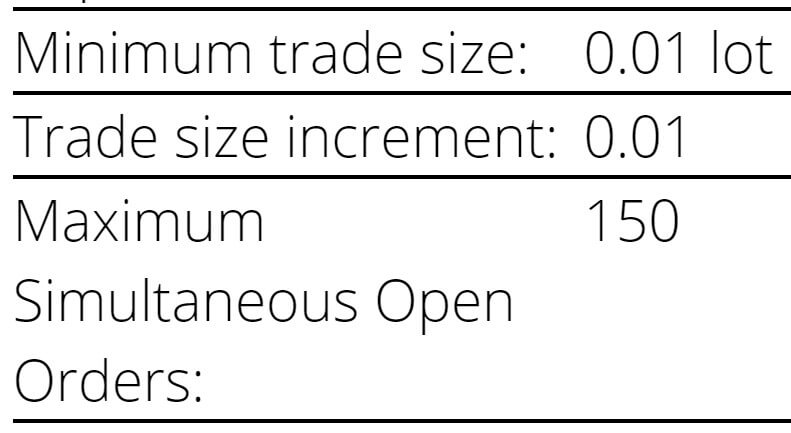 The maximum trade size for the Micro account isn't listed and the size is limited to 60 lots for Silver and Gold account holders. The amount would likely be lower for Gold account holders. The broker also fails to mention a margin call and stop out levels for each account.
Trading Costs
CCFDbank primarily profits through spreads and swaps. Having the ability to trade without commission fees provides an advantage, especially for beginners, because it makes it easier to keep up with the costs of one's trade. However, the elimination of commission costs can sometimes cause spreads to be higher. We will provide those in more detail later, but traders should know that options can be lower than average on certain accounts. Swaps, or overnight interest charges, would also apply to positions that are held past market closing time.
The amounts can be credited or debited based on the current value of the long and short positions. The current rates aren't available on the website, so traders will have to view them from within the trading platform. There is no word on whether the broker offers Islamic accounts that would allow one to trade without paying swaps. We also couldn't find any mention of extra fees, like inactivity charges, which is a good sign that traders won't have to worry about unnecessary charges.
Assets
Tradable instruments are composed of currency pairs and CFDs, which includes indices, stocks, commodities, bonds, ETFs, and several cryptocurrencies. Available cryptocurrencies include Bitcoin, Ethereum, Litecoin, Ripple, Dash, IOTA, Monero, Zcash, EOS, Ethereum Classic, Ada, Bitcoin Cash, Bitcoin Gold, NEO, Qtum, Tron, and Stellar Lumens.

While we can positively comment on the vast variety of instrument categories that are offered, we were a little disappointed that the website doesn't list all of the products for each category. It isn't clear how many currency pairs are available or how many instruments are provided in total. This will likely leave many traders curious about what stocks are offered, what types of metals, etc.
Spreads
The advertised minimum spreads start from 0 pips on the Gold account, 1 pip on the Silver account, and 3 pips on the Micro account. Traders will likely recognize the competitive offers on the two better account types, while the Micro account offers a spread that is twice the industry average amount. If possible, we would recommend making the $1K deposit to open a Silver account to avoid the doubled charges. If you don't have the funds to open an account of Silver level or better, it may be best to choose another broker in the meantime.

Traders would be able to make the $250 Micro account deposit elsewhere and likely access a better account with better spreads. If you do open a Silver or Gold account, keep in mind that the advertised spreads are only the minimum. The website doesn't give us the option to view live spreads, so it isn't possible to say just how high the average numbers may fluctuate.
Minimum Deposit
The minimum account opening requirements vary based on account type. The Micro account is described as being the ideal account type for those that want to make a low initial deposit; however, the $250 deposit requirement on the account is steep, especially when compared to similar accounts elsewhere. The Silver account raises the requirement to $1,000. This could be difficult to come up with for some, although the account does provide a low starting spread as an advantage to those that can make the deposit.

The Gold account is the best account offered by the broker and therefore requires the largest initial deposit of $5,000. It isn't uncommon to see requirements of $10,000, or even $20,000 and higher for similar accounts that offer the same spreads. Overall, it seems that the asking amount on the Micro account is high for that type of account, the Silver account's requirement is average, and the amount required on the Gold account is relatively low.
Deposit Methods & Costs
Accounts can be funded via Visa/MasterCard, bank wire transfer, QIWI, Yandex, and WebMoney. Deposits via credit card must meet a $250 minimum amount for each deposit and are limited to a $10,000 cap per transaction. The website doesn't even provide us with a funding category, which forced us to gather information from the broker's terms & conditions. Sadly, this section barely mentions funding at all and leaves us with no clear explanation of any associated deposit fees.
Withdrawal Methods & Costs
One sentence under the broker's terms & conditions states that refunds would be made back to the original payment method, minus transfer fees, so we would assume that transfer fees are in fact charged on regular withdrawals as well. Once again, the broker doesn't mention what those exact fees could be. Some brokers charge relatively low fees, while others can charge insane amounts when clients try to withdraw funds. The fact that we don't know where CCFDbank stands makes us apprehensive that there could be some unpleasant surprises. Note that non-deposited monies, such as incentives, bonuses, or gains that did not come from deposited funds, do not have the option for immediate withdrawals unless clearly agreed. If one requests a withdrawal involving those funds, the request will be canceled.

Withdrawal Processing & Wait Time
The website never provides us with clear processing time for withdrawals. We did notice a term that stated non-deposited funds wouldn't be eligible for instant withdrawals. We would assume that might mean that certain payment methods, like QIWI, Yandex, and WebMoney, may offer instant withdrawals. The broker does mention that it can take up to 7 business days to process refunds, so it may take the same amount of time for methods like bank wire transfer and card to be manually processed. Keep in mind that this is only our assumption and the timeframe could be longer or shorter.
Bonuses & Promotions
Rewards are offered periodically with conditions that state a minimum trading volume of 25 lots needs to be fulfilled for every $1 reward. Funds can only be withdrawn once the trading volume has been met in its entirety. If a withdrawal request is made before this is done, the broker will cancel the request and debit the bonus funds from the account's balance. At the time this review was written, there weren't any ongoing promotions.
Educational & Trading Tools
Although CCFD bank has dedicated a section of their website to education, traders will be met with a coming soon message if they attempt to access this area. It's still promising to see that the broker is actively working to provide materials for beginners and hopefully even intermediate traders, even though this isn't helpful to those that need the resources right now.

There isn't any mention of exactly what will be offered in the section, but we would hope that the broker will add articles, eBooks, video tutorials, and other information sources. It would be a good idea to check this section periodically in case it is updated. From the website's homepage, traders can currently view market news, including top trades, popular trends, and financial news. There don't seem to be any plans to add further trading tools anytime soon.
Demo Account
We were surprised to see that demo accounts are not offered on the website. Most brokers do manage to provide these risk-free simulation accounts, even if absolutely nothing else is offed educationally. Our hope is that CCFDbank is planning to add demo accounts in the near future, especially considering that they are currently working to add other educational materials. Still, traders that decide to open an account soon won't be able to take advantage of any of the features offered by demo accounts.
Customer Service
CCFDbank advertises 24/7 support as one of their advantages; however, the contact page later claims that customer service can be contacted at any time Monday – Friday. Another downside would be the lack of availability of any instant contact option, like LiveChat or Skype, etc. Traders can still reach out via phone call, email, by filling out a contact form on the website, or through a callback request.
While we're happy to see the direct phone number listed on the website, it is a little disappointing that traders can't simply reach out instantly. In today's world, instant online support does seem to be a standard that many people look for, as it provides the ultimate level of convenience. On the bright side, traders will still be able to contact support at late hours on working days, so there is some convenience there. We've provided all the contact details below.
Phone: +41715087095
Email: [email protected]
Address: CCFDbank LTD 1574 Sofia, R.A, Hristo Smirnenski, 112 Geo, Milev Str., Partner Floor, Office 1
Countries Accepted
The broker's website doesn't mention any specific restricted countries, although we did find a missing option on the registration list. The United States seems to be the only restricted country, likely due to how difficult current regulation has made it for brokers to offer service to clients from that location. It's possible to find other brokers that are willing to overlook the restriction and allow those users to register, so traders should always check the registration pages to see if those restrictions are actually enforced. On another note, clients from many other commonly restricted countries will be able to open an account through this broker.
Conclusion
CCFD offers generous leverage caps of up to 1:500 (upon approval) when trading currency pairs and a vast variety of CFDs, including cryptocurrencies. The minimum threshold to open an account is $250 or up to $5K for a Gold account. Some traders may see a downside in the fact that the broker offers its own mysterious platform in place of more popular options like MT4 or MT5. Spreads start from double the industry average on Micro accounts, while starting from 0 and 1 pip on Silver and Gold accounts with no commission fees.
Other than advertising a few available deposit methods, the broker barely tells us anything about funding. We don't know what fees would be charged on deposits/withdrawals or have any type of timeframe to consider for withdrawals. Customer service is available 24 hours a day, Monday through Friday with no instant contact options. There are some conditions for periodical promotions, although none are currently available.
The broker is also actively working to add educational resources to their website. We hope to see the Education section updated soon, but traders will not even be able to open demo accounts in the meantime. Those located in the US won't have the option to open an account through this broker. We would recommend this broker to traders that can afford to open a Silver or Gold account, while traders that can only afford the Micro account would do better elsewhere.