Blockchain was ideally developed to facilitate a rather simple purpose: to power a decentralized, peer-to-peer, and ultra-secure digital currency – Bitcoin. In the beginning, no one could have conceived the sheer power that the technology wielded, or predicted the technological revolution it would inspire a decade or two later. From healthcare to the food industry, banking finance to gaming, blockchain is impacting virtually every industry. 
Enjin Coin is a cryptocurrency project that is taking advantage of blockchain to offer gamers, developers, publishers, and other stakeholders in the gaming industry a fast and safe solution to manage virtual goods and realize real value.
In this piece, we'll shine more light on this exciting project and discover its offerings to gaming communities.
What is Enjin Coin? 
Launched in November 2017, Enjin Coin (ENJ) is a cryptocurrency and Ethereum-based blockchain platform that allows game developers to integrate crypto features into games and apps without necessarily having blockchain skills. As stated in the project's white paper, ENK is "a cryptocurrency (ERC20 Token) and smart contract platform that gives game developers, content creators, and gaming communities the required crypto-backed value and tools for implementing and managing virtual goods."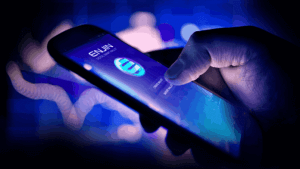 Enjin company was established in 2009 and has, for the past decade, been empowering game lovers to derive more value from the game industry. It is committed to helping game companies increase revenue and maintain a competitive edge in the industry. 
With ENJ, Enjin hopes to be an industry leader in what it sees as an inevitable transition into a blockchain way of doing things in the long run. The Enjin coin platform comprises a suite of software development kits (SDKs) that game developers can use to integrate blockchain-based solutions into gaming. The blockchain initiative will go a long way in reducing the high fees and reducing the lack of transparency that is so rife in the gaming industry.
The coin had its pre-sale in August and September 2017 and raised over $12 million worth of Ether (38,800 ETH). The pre-sale was closely followed by the public sale, in October 2017, where the project raised an additional $23 million. 
How Does Enjin Coin Work?
Enjin Coin is an ERC20 token that runs on the Ethereum blockchain. This makes the platform a cryptocurrency and a smart contract platform. The project is also looking to adopt the Raiden network – Ethereum's version of the Lightning Network. Its key operational features include:
1. Virtual Goods
Thanks to Enjin Coin, game developers will be able to create tokens for different game communities – using Enjin Coin as the parent currency. This lends the tokens the benefits of crypto (speed, safety, security, and low fees) while maintaining the uniqueness of their respective platforms. These tokens can be exchanged for ENJ at any time. 
Virtual goods can be pretty much anything used in the gaming world, including entire planets, swords, guns, spaceships, cosmetic upgrades, castles, and gaming characters. These virtual goods have real-life value, thanks to Enjin Coin serving as their parent currency. The process by which users create virtual goods via Enjin Coin is referred to as minting. Users can mint goods with whichever quantity of ENJ. The more coins you use to mint an item, the more value it will possess. 
Gamers can acquire these virtual goods either by purchasing or during giveaways, promotions, or rewards. They can also trade/exchange them in a safe, secure, and fraud-free environment. For instance, you can exchange a gun for a planet, sell a spaceship for ENJ, buy a character with ENJ, etc. 
These goods are safely kept in a decentralized and uncensorable environment – and are thus not controlled by anyone. This means you get to own and control your virtual goods, as well as have the ability to prove ownership. This is important, especially if the game or server suffers a malfunction or your account gets hacked.
2. Payment Gateway
The Enjin Coin platform also features a payment gateway that allows users to create customized shopping carts, manage invoices, refunds, emails, and text notifications. It also includes a widget through which you can accept ENJ and any other type of coin payments. Transactions cost is low, and there are no hidden charges.
The platform's Smart Wallet (more on that below) allows you to execute automatic payments for games from websites that you have listed as 'Trusted Platforms.' This feature injects more speed and trust in transactions.
3. Smart Wallet
Enjin Coin's 'Smart Wallet' provides support for a lot of the platform's functions. First off, it facilitates payments via Trusted Platforms and allows you to exchange currencies and virtual goods outside of your gaming account to any other Smart Wallet user. You can also initiate transactions through the 'Transaction User,' as well as create settings and thresholds that can automatically block illegitimate transactions.
Smart Wallet features a "top-of-the-line" security infrastructure complete with a 12-word recovery phrase that enables you to recover your funds in case you forget the password for your Wallet. Additionally, the Wallet has its own proprietary virtual keyboard that further guards against data sniffing. It also deletes any and all sensitive info after transactions, rendering it safe even if it were to be hacked.
4. Efinity
Enjin Coin plans to unveil Efinity – a technology like Bitcoin's Lightning Network, which features multiple game channels that will allow games to handle infinite volumes of transactions blazingly-fast and with near-zero transaction fees. These transactions will be trustless, blockchain-verified, and support millions of players at any time. Other functionalities will be:
Token transfers and approvals

Melting tokens

Escrow capability

Metadata for game items

Token bundles

Non-fungible tokens

Whitelist feature for bound tokens
Can Enjin be Integrated with the Actual Game? 
Yes. The Enjin Content Management System supports plugins that can integrate with the majority of players' favorite games. Some of the popular games supported today include Dissolution, Forgotten Artifacts, Shield of Shalwend, Age of Rust, Forest Knight, War of Crypto, Battlefield 1, World of Warcraft, Cats in Mech, Afterverse, The Six Dragons, Space Misfits, and Minecraft.
What's Enjin Coin's Future Prospects? 
Enjin Coin may be relatively new to the gaming industry, but several factors point to its future success as a cryptocurrency project.
These include:
An already existing marketplace trusted by millions of gamers across the globe.

ENJ is an ERC-20 token that enjoys multi-exchange and multi-wallet support. Apart from ERC-20, Enjin also supports ERC-1155 smart contracts that enable the tokenization of both fungible and non-fungible gaming industry assets.

It has secured a partnership with industry heavyweights such as Samsung, Unity, PC Gamer, Ubisoft, NRG, and other trusted sports brands. 
Tokenomics of Enjin Coin
As of May 26, 2020, Enjin Coin is trading at $0.194120, with a market cap of $159, 133, 893, while ranking at #44 in the overall crypto market, according to Coinmarketcap. It has a 24-hour volume of $36,370, 221 and a total supply of 1, 000, 000, 000 ENJ. The coin's all-time high was $0.493384 ( Jan 07, 2018), with an all-time low of $0.015620 (Nov 02, 2017).
Where to Buy and Store Enjin Coin
ENJ is listed on several exchanges, including Binance, Coinswitch, Cointree, Changelly, and KuCoin. Popular exchange Coinbase does not list ENJ.
Being an ERC-20 token, you can store ENJ in any Ethereum-compatible wallet like MyEtherWallet, MetaMask, Mist, and Geth. You could also opt for hardware wallets like Ledger Nano and Trezor. 
Final Thoughts
Enjin Coin provides gamers from all around the world with the blockchain benefits of speed, security, and decentralization. It's helping inject more transparency in the gaming industry and provide gamers with true and absolute ownership of their virtual goods.
The project already has a solid background of Enjin – a company that is trusted by millions of users across the world. Only time will tell if the project can continue with its streak of success.