The cryptocurrency market has been bleeding out in the past 24 hours. After a pretty average performance throughout the day, cryptocurrencies dropped in price in a blink of an eye. Most of them lost 5%-8% of their value in a matter of minutes. The move happened extremely fast and with an amazing bear force. It seems like more bearish funds entering the market after cryptocurrencies have consolidated. The market is fighting for dear life as many people have given up on thoughts that this is a retracement in the bull trend, but rather an extension of a bear market that dates back from January 2018. As for the top3 cryptocurrencies, Bitcoin went down 6.84%, while Ethereum lost 4.09% of its value and XRP lost 6.2%.
Unlike with most bear moves, Bitcoin's dominance decreased this time.  It now sits at 66 %, which represents a 0.05% decrease when compared to the previous day.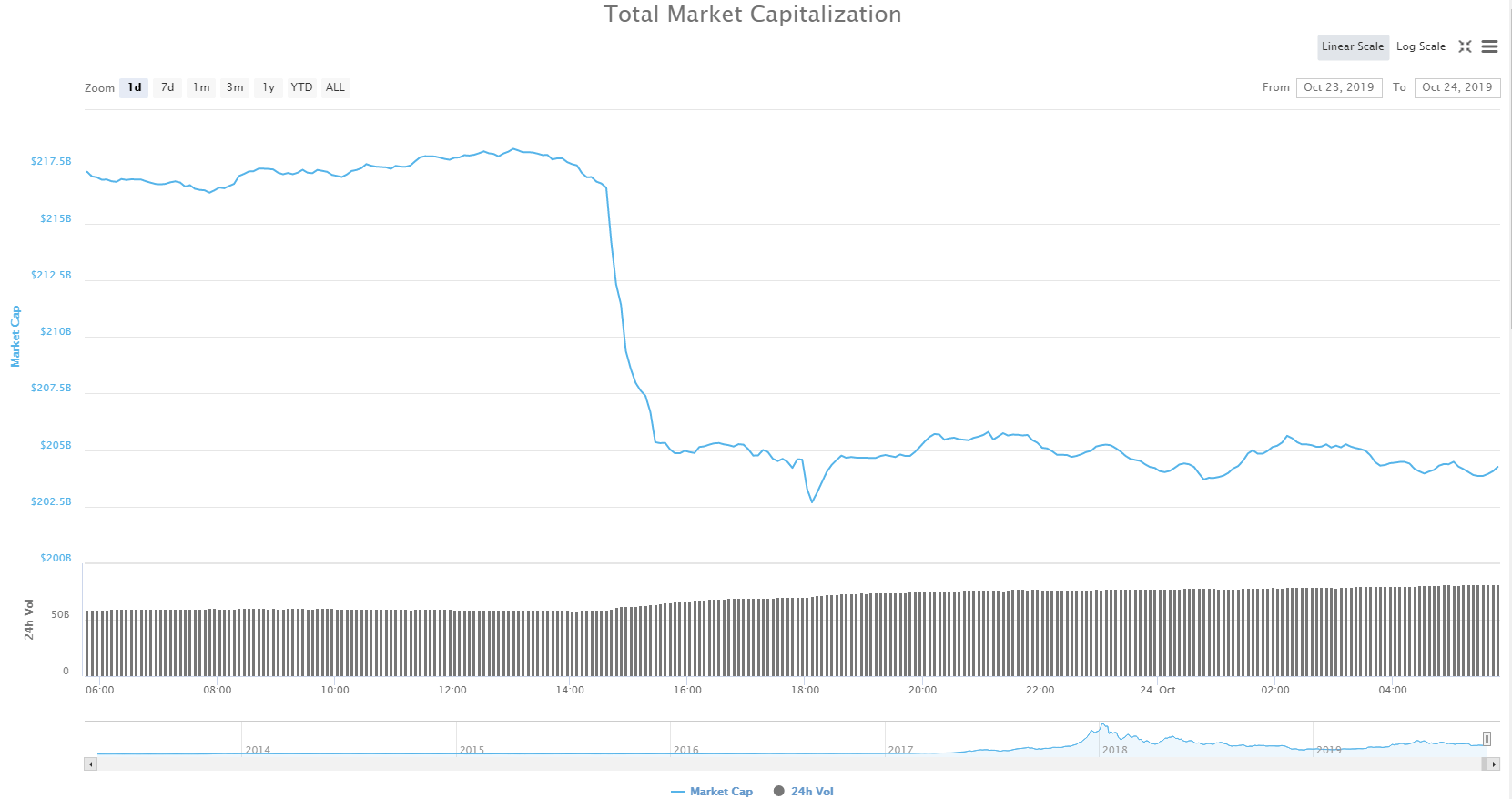 As almost every single cryptocurrency was in the red, the market lost a significant portion of its value. The industry now has a market capitalization of $204.28 billion, which represents an enormous $13.1 billion decrease from the previous day.
What happened in the past 24 hours?
Big influx of selling pressure caused the cryptocurrency market to lose over $13 billion of its market capitalization in a matter of minutes. There was no specific news that caused this. In fact, there was no news at all that was regarded as completely bearish in the past 24 hours. However, after the price drop happened, people started resurrecting the thought that the markets have not been in a bull market at all after the big crash of Jan 2018. In fact, many people believe that the price rise to $13,000-$14,000 was just a bear market retracing and then falling back again.
Besides the price drop, the cryptocurrency industry spent the day talking about Mark Zuckerberg's appearance before the United States House of Representatives Committee on Financial Services. He was in front of the Committee as the sole witness that was invited to testify about his role in developing Libra, Facebook's cryptocurrency that is backed by a basket of stable international assets.
Technical analysis
Bitcoin
Bitcoin has had an incredibly bad day, which is what we can say about many cryptocurrencies in if we take a look at their performance in the past 24 hours. After failing to spike up from the bull flag that it formed, Bitcoin started dropping in value slowly. However, today's selling pressure spike caused its price to plummet. Bitcoin fell from $7,950 all the way down to $7,450 in less than 30 minutes. After hitting a support line sitting at $7,410 Bitcoin started consolidating. This support line dates back from Nov 2017 and most recently May-Jun 2019.
So far, the support seems strong and the downward-facing move seems to have ended. This is further confirmed by RSI which is now heavily oversold.
Ethereum
Ethereum has also had a red day, but a better one than Bitcoin price-wise. Its price is currently $160 as the support held on during the time of crisis. The $153 support area is quite a strong one and should hold any slight fluctuations or bearish attempts.
Ethereum's RSI is approaching oversold territory, indicating the end of the bearish move.
XRP
XRP was certainly not excluded from the influx of sellers coming into the market. After it's ranging ascending price trend got broken yesterday, the price started falling sharply. The price fell quickly and even reached $0.25 levels. However, the bulls kicked in and established support at $0.266 which is considered a strong long-lasting support price point for XRP.
The price is now consolidating right above the support while RSI is just fluctuating above oversold territory.