CrescoFX is a UK based foreign exchange broker and is a brand of Cresco Capital Markets. There isn't a whole lot of information about them on the website, they state that they pride themselves in being able to offer their clients tailored services and innovation, seamless trading platforms and generally make it easy for their clients to succeed. We will be looking into the services to see if they live up to this and so you can decide if they are the right broker for you.
Account Types
There appears to be just the one personal account on offer from CrescoFX, the information is set out in an easy to read format on the website so we have been looking through all pages of the site in order to find the information related to this account., Due to this we are not putting it all in this section and instead, all sections of this review are relating to this one available account.
Platforms
CrescoFX uses two different trading platforms, one is the well known MetaTrader 4 while the other is their own custom made platform, let's see what they include.
MetaTrader 4 (MT4): MetaTrader 4 (MT4) is one of the world's most popular trading platforms and for good reason. Released in 2005 by MetaQuotes Software, it has been around a while, it is stable customizable and full of features to help with your trading and analysis. MT4 is compatible with hundreds and thousands of different indicators, expert advisors, signal providers and more. Millions of people use MT4 for its interactive charts, multiple timeframes, one-click trading, trade copying and more. In terms of accessibility, MT4 is second to none, available as a desktop download, an app for Android and iOS devices and as a WebTrader where you can trade from within your internet browser. MetaTrader 4 is a great trading solution to have.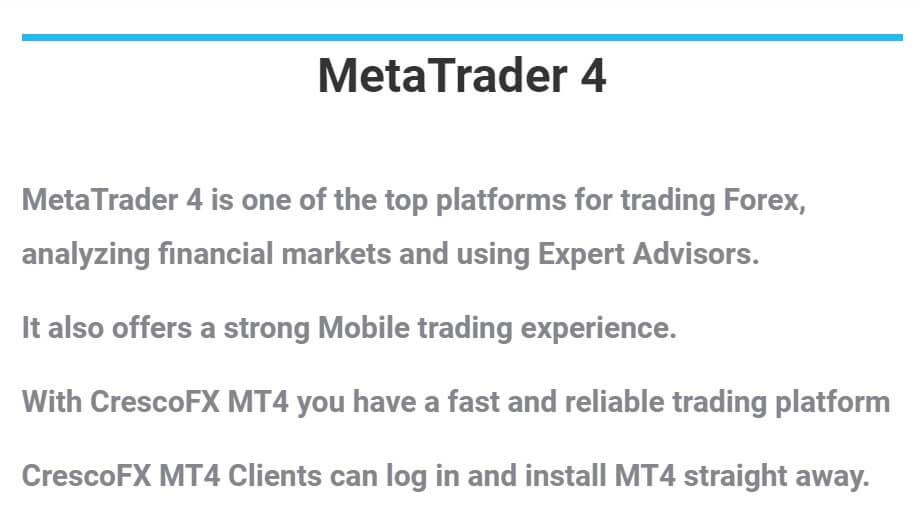 Cresco Trader: Cresco Trader offers its users a unique opportunity to benefit from 100% automatic execution, competitive and reliable pricing as well as advanced risk management tools. In order to optimize the trading experience, the platform offers fully customizable layouts, advanced trading tools, and award-winning charting as well as a mobile application. Some features include 100% automated execution, trade using unrealized profits, trade directly from the charts, access to market, limits and stop entry orders, regular and trailing stop-loss orders; take profit orders and guaranteed stop-loss orders, live support 24/5, a live Economic Calendar.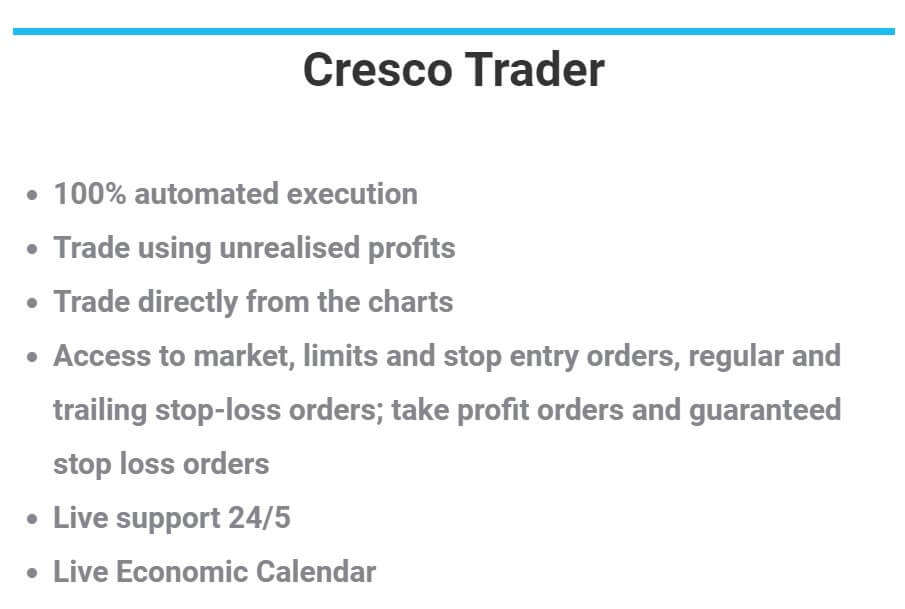 Leverage
The maximum leverage allowed is currently 1:30, however, the maximum leverage depends on the asset that you are trading, we have outlined them below in an easy to read list.
Forex Pairs: 1:30
Major Indices: 1:20
Spot MEtals: 1:20
Commodities: 1:10
Cryptocurrencies 1:2
Equities: 1:5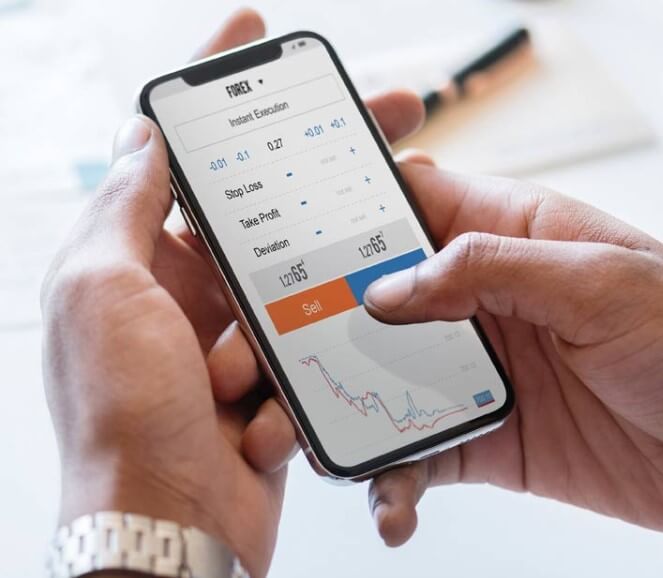 Trade Sizes
The minimum trade size available is 0.01 lots which is otherwise known as a micro lot, the trades then go up in increments of 0.01 lots so the next trade would be 0.02 lots and then 0.03 lots.
We could not locate information surrounding the maximum trade size however we would recommend not trading in sizes larger than 50 lots, as the bigger a trade becomes the harder it is for the markets or liquidity provider to execute the trade quickly and without any slippage.

Trading Costs
Unfortunately, we could not locate information on trading costs, both spreads and commissions are not really mentioned at all on the website, this is a shame as it is one of the aspects that a lot of penitential clients look for when deciding which broker to go for, so not knowing what the cost of trading is could put a lot of new clients off opening an account.
Assets
CrescoFX has broken its assets down into 6 different categories which we will give examples of different assets available for you.
Forex Pairs: USDJPY, AUDJPY, AUDUSD, CADJPY, CHFJPY, EURAUD, EURCAD, EURCHF, EURGBP, EURJPY, EURUSD, GBPCHF, GBPJPY, GBPUSD, NZDUSD, USDCAD and, USDCHF.
Major Indices: US 30, US 500, US Tech 500, HK 50, Japan 225, UK 100, French 40, German 30.
Spot Metals: Gold, Silver.
Commoditites: Brent Crude Oil, WTI Crude Oil.
Cryptocurrencies: BTCUSD, BTCEUR, ETHUSD, ETHEUR.
Equitites: AMZN, BABA, FB, GOOG, MCD, MSDT, RACE, TSLA, V AAPL.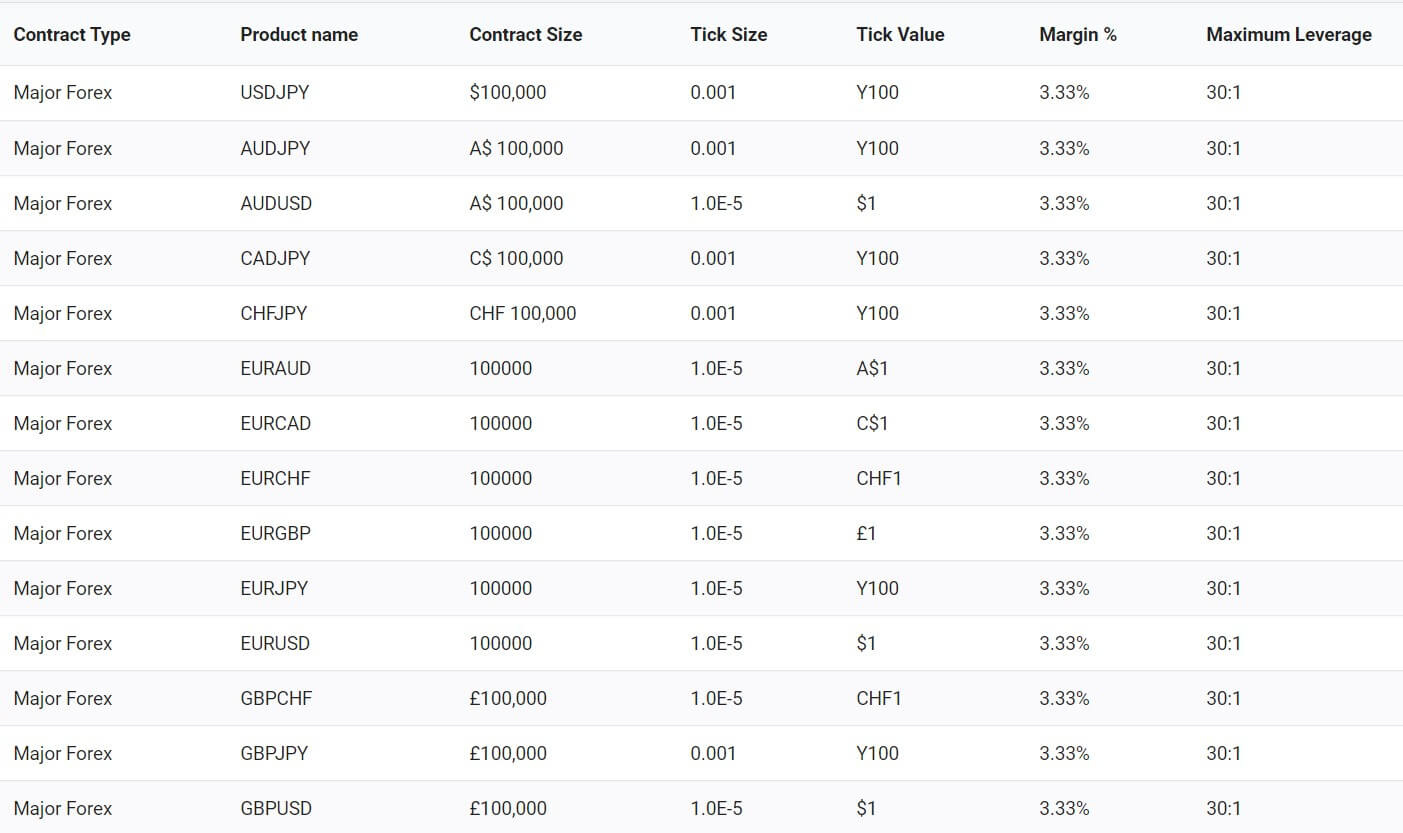 Spreads
We could not locate any information regarding spreads at CrescoFX, however, we do know that the spreads are variable (also known as floating) so this means that when the markets are being volatile, the spreads will often be seen higher. It is also important to note that different instruments and assets have different starting spreads, so while EURUSD may start at 2 pips (example), other assets like GBPJPY may start slightly higher, 2.5 pips (example).
Minimum Deposit
The minimum deposit is not noted on the website nor is it in the terms and conditions of the site. It is strange not to have this information available to potential clients, as the last thing someone wants is to sign up and find they need to deposit more than they have available to trade with.
Deposit Methods & Costs
Once again, this information is not available, we looked through the site as well as though the terms of business and we could not locate any of it. This is information that is vital, we are going to be sending our own money to this company, the least we could expect is to know how we can do it and if there are any costs attached to it.

Withdrawal Methods & Costs
As there was no information on depositing we were confident that there wouldn't be any on withdrawing either, and we were not wrong. Once again we will reiterate the importance of having this information available, many clients will not sign up without knowing about withdrawals.
Withdrawal Processing & Wait Time
This is also unknown to us, without knowing what methods re available we can not even give an estimate on processing or the time it will take to receive your funds.
Bonuses & Promotions
We could not locate any information on the website in regards to bonuses or promotions so it does not appear that there are any active ones at the time of writing this review. If you are interested in bonuses then be sure to check back regularly or get in contact with the customer service team to see if there are any upcoming bonuses or promotions.
Educational & Trading Tools
The eduction side of the website is unfortunately currently under construction. There is no method of what sort of things will or have been there so at the moment it seems that there are no educational or trading tools available from CrescoFX.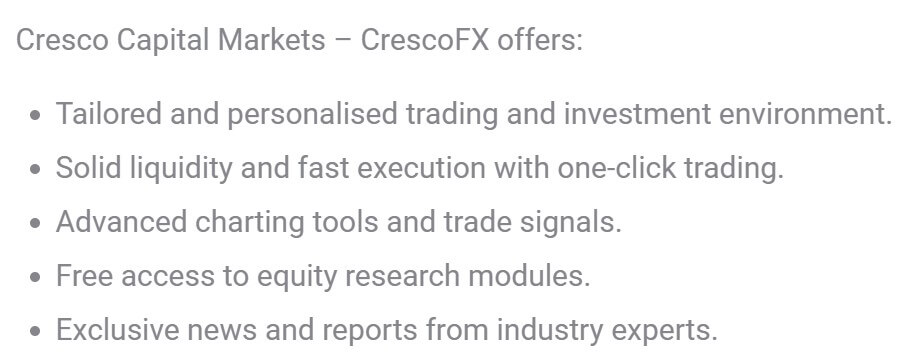 Customer Service
Should you wish to send a query or question to CrescoFX you can do so in a few different ways, you can use the online submission form to fill in your query and once sent you should receive a reply via email. There is also an email address that you can use to email directly along with the phone number should you wish to speak with someone on a more personal level. There is no mention of what the opening times of the customer support team are but we would be confident in saying that they will be closed over the weekend and on bank holidays just as the markets are.
Demo Account
CrescoFX is offering demo accounts, you can sign up by filling in a small submission form, you can choose between having a demo account on MetaTrader 4 or the CrescoFX Trader. Apart from this, there isn't any information regarding trading conditions (although we expect them to be the same as the live account) or how long the accounts last, some brokers put an expiration time on the accounts so not to take up too much server space so it would be nice to know if CrescoFX do a similar thing on their demo accounts.
Countries Accepted
The information about which countries are accepted and which are not is not present on the website, so if you are interested in joining, be sure to get in contact with the customer service team to check if you are eligible for an account or not.
Conclusion
There is too much information missing for us to be able to recommend CrescoFX as a broker to use at this point in time. There isn't a clear indication of what the account offers, things like spreads and trading costs are not accounted for which makes it hard to judge how worth it would be trading here. The worst part is that there is no information surrounding the financial aspects of the broker, we will be sending our money to home, we need to be able to know how we can do it, how much it will cost and also how we will get it back along with how long it would take. Without this information, we just can't see ourselves treading there and so could not recommend it as a broker to use right now.