CAP Zone Recovery EA Pro is an Expert Advisor that was published on the mql5 marketplace in December of 2016. The author, Mohammad Ali, provides consistent updates and last updated the EA to version 7.0 in March of 2020.
Overview
CAP Zone Recovery EA Pro is a trading robot that works on the MT4 trading platform. The basic idea behind this EA is that traders can place any trade, no matter which direction, and it will provide a guaranteed profit. According to the developer, this is possible due to the built-in "back and forth" hedging mechanism, along with the "Zone Recovery" algorithm that is employed by the robot.
If the market moves up and hits your take profit level, then the EA will close the trade with the fixed profit. Should the market move in the wrong direction, the algorithm will begin hedging your trade by placing an opposing order with multiple lot size.
If things head back in the other direction, the same process restarts, essentially creating a trading channel. If the take profit level is hit once the recovery action process is started, then the EA will close out all existing trades in order to take the combined profit. If the developer is correct, then the robot will make a profit in either scenario.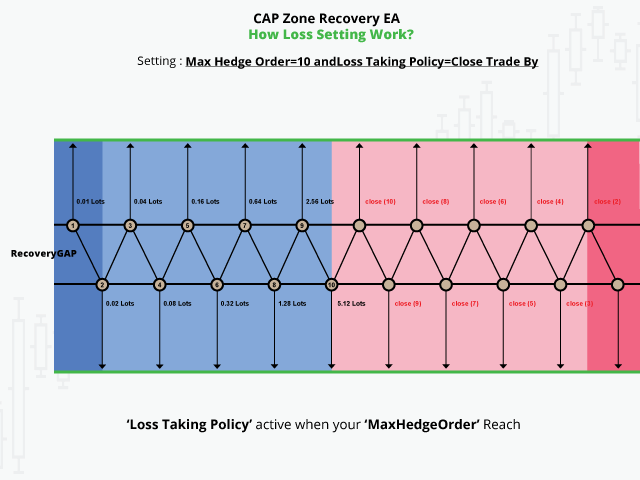 Service Cost
It costs $30 USD to buy this product, or traders can rent it for $10 a month. The overall price is fairly cheap for a fully-functioning EA, as others are priced in the $100 range. The author also provides free demo accounts, which can effectively be used to test the robot's profitability before making a commitment.
Conclusion
CAP Zone Recover EA Pro places trades based on the premise that the market will move either up or down, simply because it has to. The developer does use some language that could be misleading, such as "guaranteed", the "Never Lose Again Strategy", etc., so we were curious as to whether others claim that these statements are founded.
Here are a few comments that we found:
"This EA will always make you money no matter what the market is, whether ranging or trending it doesn't matter, you just have to practice the best lot sizes that can fit your account size" -Travel11
"This is a great EA with a ton of functions, the BIGGEST thing with this is to have enough margin to cover your recovery cycle. Find out how many recovery trades you can get into with your available margin and don't go over that or you can take some huge losses." -kurtwest15
Overall, the EA has received a 4-star rating based on 89 separate reviews. Most comments state that this is a great product, but we do want to warn traders that even the best reviews throw out tips or warnings and some users inform traders that they should be careful with some features. If you're going to purchase the EA, be sure to check out the comments section for tips and don't blindly believe the author's statements that you can't lose with this product – it's impossible to guarantee profits with any auto-trading product, so use it wisely.
This Forex service can be found at the following web address: https://www.mql5.com/en/market/product/20160