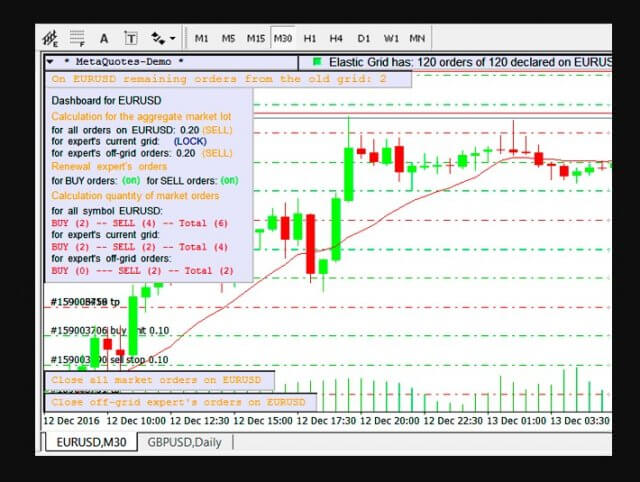 Elastic Grid is an Expert Advisor that was created by the author Aliaksandr Charkes. It was published on the mql5 marketplace in December of 2016 and was last updated to version 4.0 in March of 2020.
Overview
Elastic Grid is an automated trading robot that places trades based on various ideas related to grid trading. In a nutshell, grid strategies rely on placing a certain number of buy/sell orders at regular intervals, above or below a set price, in order to target gains rather than stopping losses. When a gain is recorded, the same number of buy/sell orders are placed above or below the set price again, resulting in a net or grid that gains profits back and forth depending on the market.
Here are a few more key facts about the way that this EA works:
Compatible with MT4, with any timeframe, symbol, amount of decimal places
Can be used in combination with other EAs or indicators without conflict
Supports independent settings for grids with different order types
Automatic TP and SL levels that can be changed at any time
Service Cost
The EA can be purchased for $60 USD with 10 activations, or rented at one of the following rates:
$10 USD for one month
$20 USD for three months
$30 USD for six months
$45 USD for one year
Free demo accounts are also available and have been downloaded more than 400 times by other traders. There aren't any specific recommendations based on what type of broker to use, but we would recommend choosing a low-spread broker and possibly investing in VPS.
Conclusion
Elastic Grid follows a grid-based strategy, essentially profiting by creating a net that gains profits back and forth depending on fluctuations in the market. This EA has only received the following comment:
"Alex is a very talented developer and made an update of the grid on my demand. The elastic grid is a profit creator for the ones who know how to use it, five stars deserved!"
Using a grid-based strategy isn't without risk – it is actually one of the riskier strategies that are banned by some programs. Before choosing this EA, you'll want to be sure that you're aware of the risks involved with some background knowledge so that the various settings can be tweaked appropriately.
This Forex service can be found at the following web address: https://www.mql5.com/en/market/product/19749