Champion EurUsd H1 can be found and purchased on the MQL5 marketplace, it was created by and uploaded by Raphael Schwietering, it was uploaded to the marketplace on the 29th of March 2020 and is currently at version 1.0.
Overview
Champion EurUsd H1 is an expert advisor that was created to be used with the MetaTrader 4 trading platform. It works as an automated trading system that has been optimized to work with the EURUSD currency pair and on the H1 timeframe. It has its own complex algorithms that are combined with a number of different indicators that help it decide the optimum entry and exit levels form the markets.
The EA operates on the closing of a bar, it helps to filter out market noise and will also help to speed up the optimization of the EA, it will also help prevent stop loss hunting from any brokers that perform that action. The EA does not use martingale, grid, arbitrage, tick scalping, or curve fitting strategies.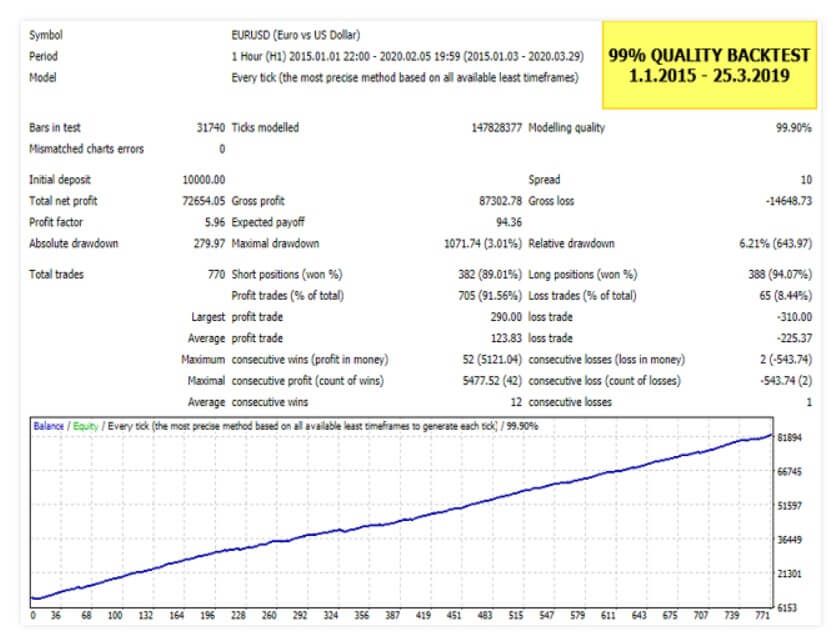 Some of the main features as described by the developer of the EA:
Works with 4-5 digit Forex brokers
Spread Filter
Equity Stop
Drawdown Protection
TakeProfit Basket Function
StopLossBasket Function
StopTrading Rest of the day when TP/SL Basket Reached
Fast Buttons for Closing Open Orders (CloseAll, CloseProfit, CloseLoss, CloseBuys, CloseSells)
Info panel with EA information
5 Types of Money Management(Fixed Lot, Percentage, Geometrical, Proportional, Balanced)
Adjustable trading times
Advanced algorithm for entering and exiting the market
In terms of settings and parameters, there are quite a few that come with the EA. Some of these settings include whether to show the panel or not, magic numbers, money management settings, maximum lot sizes, lot size increase options, take profits, stop losses, minimum equity settings, drawdown stop settings, max open positions, and more.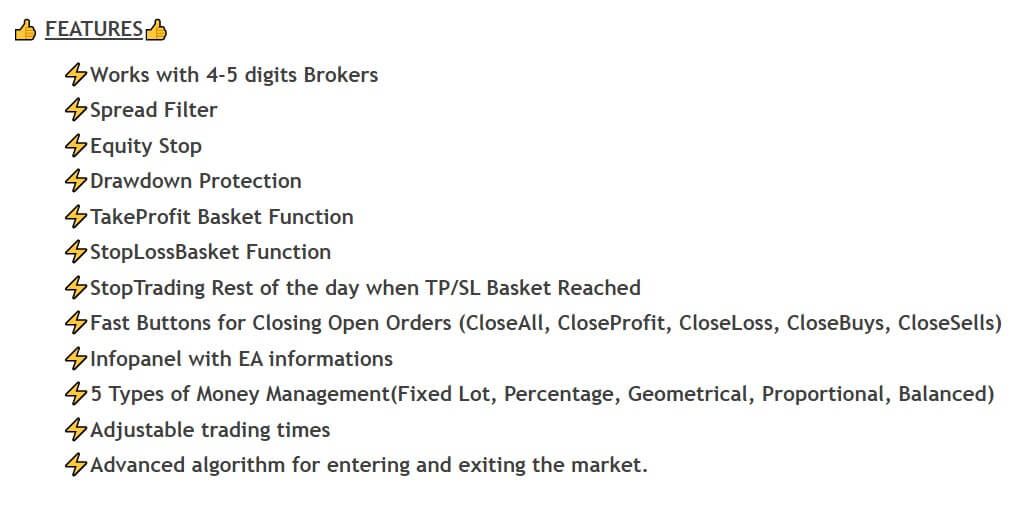 Service Cost
The expert advisor can be purchased outright with a one-time payment of $349, this will allow you to activate the EA up to 50 times and it does not come with any additional restrictions. You are also able to rent the EA, this can be done on a yearly basis and will cost you $299 per year. A free demo version is also there, but this can only be used with the strategy tester within the MT4 platform.
Conclusion
Unfortunately, at the time of writing, there weren't any reviews or ratings from people who have used the EA so we cannot see whether they are finding it useful or profitable. There are also no comments available, due to the lack of information here, we would advise caution, get in touch with the developer and ask any questions that you may have, this is a way to ensure that the EA will do what you need it to do,m but also that the developer will be available for support should you decide to purchase or rent the EA.
This Forex Indicator is currently available in the MQL5 marketplace: https://www.mql5.com/en/market/product/47794