Balanced Bot is located within the Experts sub0category of the MQL5 marketplace, it was developed by Ivan Simonika and was uploaded to the marketplace on the 5th of March 2020, it has not received any updates and so it is still at version 1.0.
Overview
Balanced Bot is an expert advisor that was created for the MetaTrader 4 trading platform, the EA was created to use a number of different indicators to search the markets for an entry point. It is a fully automated EA so it does not require any user input once it has been set up. The EA is able to trade both buys and sell independently from each other which gives a much bigger advantage when it comes to generating profits and results. The EA works by looking for sharp price movements within the markets or will use a number of closures by averaging the overall positions, the pips- averaging method is built into the strategy.
The main concern is the mention of the pip averaging, this is a technique that can cause a lot of fo drawdown. A trade will be placed, if the markets move against it, another trade will be placed but the size of the trade will be slightly larger, if the markets continue to move away then a third, fourth or fifth trade will be made, each one larger than the lat. These are placed in the hope of a reversal so they can all closeout in profits, however, if the markets continue to trend against, it can cause exponential drawdown growth and can even blow accounts. So use this strategy with caution and always monitor it yourself.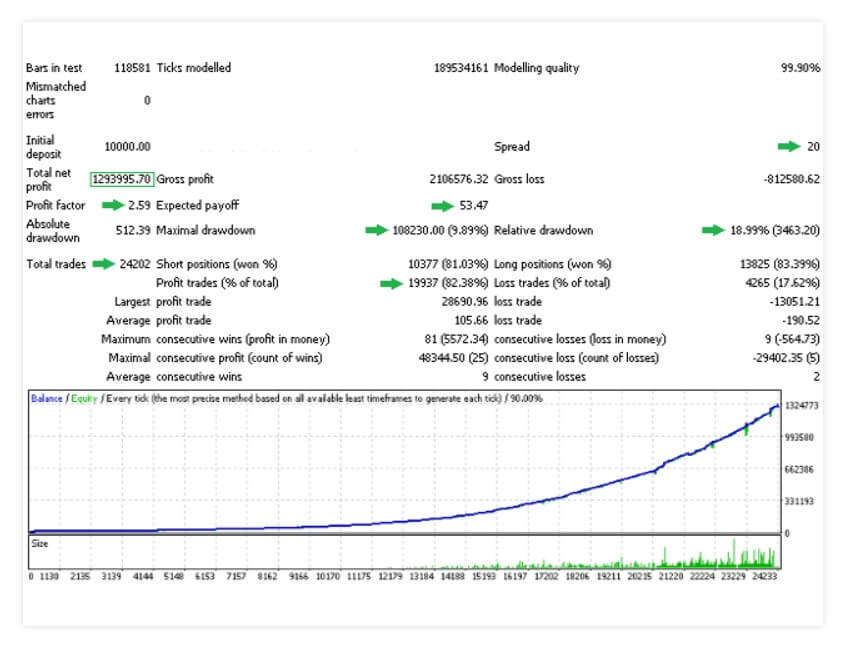 The following settings have been recommended as the starting settings:
Currency pair EUR/USD
Period H1
deposit from $ 3,000 to $ 10,000
The various options for money management are as follows:
Standard Risk StartRiskSize = 0.01; PlusRiskSize = 0.02; MaxRiskSize = 0.5
Medium Risk StartRiskSize = 0.02; PlusRiskSize = 0.04; MaxRiskSize = 1.0
High Risk StartRiskSize = 0.03; PlusRiskSize = 0.06; MaxRiskSize = 1.5
Critical Risk StartRiskSize = 0.04; PlusRiskSize = 0.08; MaxRiskSize = 2.0
In terms of parameters that come with the EA, there are a lot of them, they include all sorts of features that can be altered. Some of the available settings include the lot sizes to use, the lot size increments, the maximum number of trades allowed, take profit levels, stop loss levels, magic numbers, trade comments, percentage of the account to risk, and many more.
Service Cost
The Balanced Bot EA can be purchased for a single payment of $99 which will allow you to activate the software up to 5 times, it does not have any other limitations. Unlike many EAs on the marketplace, there is no option to rent this one. A free demo version is also available, but this comes with the limitations of only being usable with the strategy tester within the MT4 platform, it cannot be tested on a live account.
Conclusion
At the time of writing, there were no reviews or ratings from those that have purchased or used the Balanced Bot EA, so it makes it hard for us to work out whether the EA is doing what it was intended to do. There also aren't any comments which again, makes it hard for us to know whether the developer is til actively supporting the EA, due to this we would suggest contacting the creator before you make a purchase so you can be sure that they will be around should you need any support.
This Forex Indicator is currently available in the MQL5 marketplace: https://www.mql5.com/en/market/product/46969