BACD Cloud can be found within the indicator section of the MQL5 market place. There may be similar names indicators so we have provided a link below to ensure you know exactly which indicator we are looking at. The indicators was first uploaded by its creator Muhammad Elbermawi on the 17th of November 2019, it has had a few updates, the most recent update was on the 24th of February 2020 and is now at version 2.0.
Overview
The BACD Cloud is should for Bermaui Average Convergence Divergence Cloud, it is an indicator that was designed for the MetaTrader 4 trading platform, which is an oscillator that shows you trend direction and measures its strength in percentages. It does this in the following way:
-Calculate two exponential moving average. One of them is faster than the other. The first is referred to as (Fast) and the second (Slow).
-Find the center between them, where: Center MA = (Fast + Slow) / 2.
-Calculate BACD Line as follow: BACD = 100 * (Fast / Center MA).
-Calculate the BACD Signal Line, which is an exponential moving average of the BACD. The formula is like this: BACD Signal = EMA (BACD).
-Hide the BACD Signal line from the chart.
-Calculate the BACD Histogram Line, which is the difference between the BACD Line and its signal line. (Note: The BACD Histogram is drawn on the chart as a line, not a histogram.)
-If (BACD Line > BACD Histogram Line) then draw a green cloud, to represent the trend.
-If (BACD Line < BACD Histogram Line) then draw a red cloud, to represent the trend.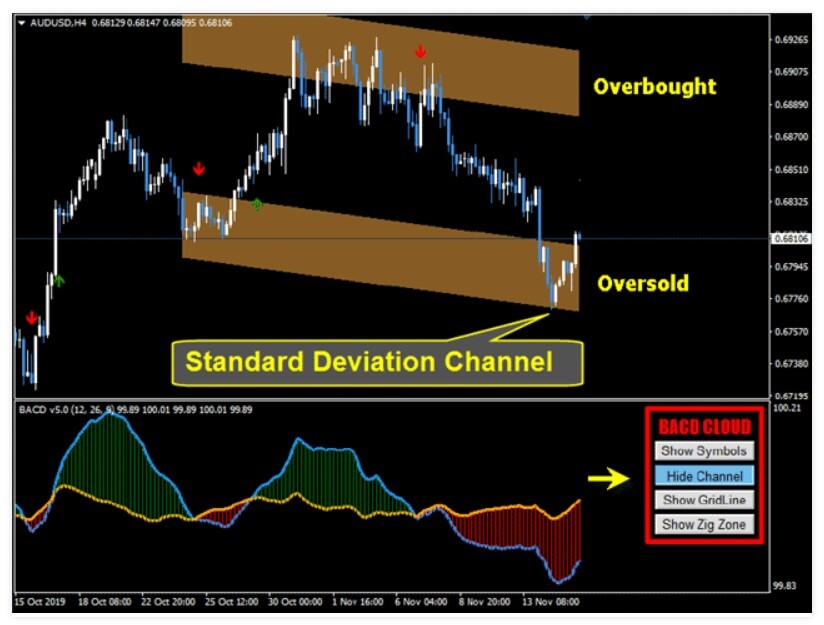 Some other features of the indicator:
BACD Cloud does not repaint or recalculate its results
You can easily switch between FX pairs by pressing in the Symbols Button
You can add a Standard Deviation Channel easily by pressing the Channel Button
You can add Grid from different levels of round numbers
You can add support & resistance levels (Zig Zone Levels)
You can choose between four different color lists
Sound, Mobile notification and email alerts depending on user's choice
There are also plenty of parameters available to change, these will slightly alter the way the indicator functions, some of them include MA periods (fast and slow), whether to show arrows and lines, the arrow size, symbol sources, font sizes, channel length, chart colors, and more.
Service Cost
The BACD cloud currently sells for $50, this will give you unlimited access to its use. You are also able to rent the indicator, it will cost you $10 for one month, or $30 for three months of use. They are providing a demo version of the indicator. However, the site does not indicate whether there are any limitations to the free version.
Conclusion
There are three reviews available for the BACD Cloud indicator, each one is providing a 5-star rating.
"The indicator allows you to analyze the market very quickly, the graphic adaptation is very easy to interpret. It is easy to operate with it as recommended by Bermaui the author but it is also a great complement to use in conjunction with TDO, Bands, and DBD% since the signal that it delivers allows you to filter very precise setups." – User Comment
"This is a good indicator combined with a daily pivots from a free indicator." – User Comment
"Very good. Thank you" – User Comment
So as you can see, the three reviews are very positive and shows that the indicator seems to be doing what it is designed to do, as there aren't too many reviews, we would recommend that you download and try out the free version, this will enable you to make sure you are able to get it set up correctly and that it does in fact suit your needs.
This Forex Indicator is currently available in the MQL5 marketplace: https://www.mql5.com/en/market/product/43772