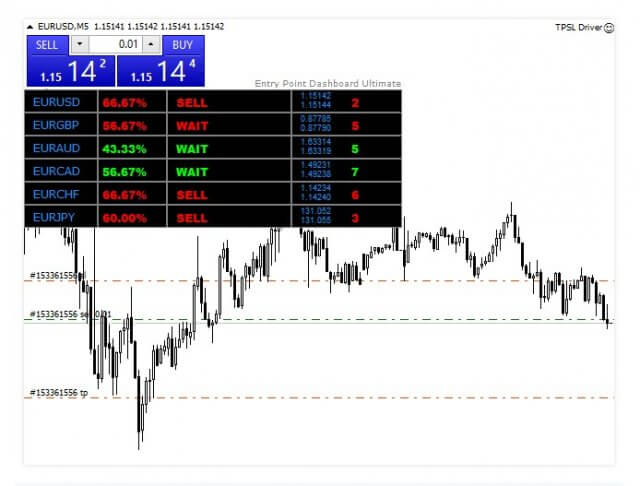 Entry Point Dashboard Ultimate is a trading indicator that is available on the mql5 marketplace. It was created by the MQL developer Thushara Dissanayake and published in October of 2018. Thus far, the author has not updated the indicator from version 1.0.
Overview
Entry Point Dashboard Ultimate is a technical trading indicator that provides traders with Wait, Buy, Strongly Buy, Sell, or Strongly sell notifications directly through email and push alerts. It includes the following 6 indicators:
5 Moving Averages
CCI
RSI
Stochastic
Bill Williams
Volume
The product analyzes the above indicators using 3 different timeframes and is suitable with any symbol or timeframe. Traders can also take advantage of customization tools, making this indicator a versatile option that is compatible with multiple different strategies. The developer also offers a free, economy, and deluxe version of this same indicator. Unfortunately, this is the most expensive version, and the author doesn't accurately describe the differences between the free and $250 versions.
Service Cost
The indicator is rather expensive – it costs $250 USD to purchase EPDU. The author throws renting in as another possibility, with the options being $100 for 6 months or $150 for 1 year. Still, you can typically buy a full EA for the price that this indicator is going for, so we expect to see a fully professional product. On the bright side, the author does throw in free demo accounts, and traders are provided with 20 activations, so there should be no issues if you frequently switch computers.
Conclusion
Entry Point Dashboard Ultimate analyzes the market based on 6 indicators that then sends notifications to traders with recommended actions. This indicator hasn't received any ratings, and all 3 comments were posted by the developer. Since 2018, only 134 people have tested out the demo version. We're guessing that the high price is a contributing factor to its lack of success, along with the fact that the author doesn't do enough to convince traders to buy this indicator, when nearly identical versions are available for a lower price, with no real differences. Our best advice would be to save your money and use the free version, which is actually rated 4 ½ starts with good feedback.
This Forex service can be found at the following web address: https://www.mql5.com/en/market/product/32308