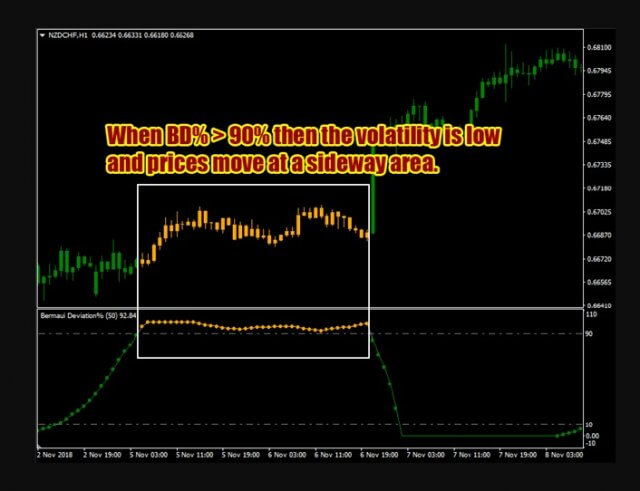 Bermaui Deviation Percent is an indicator that was published on the mql5 marketplace in July of 2017 by the author Muhammad Elbermawi, who has amassed 19 total products in his portfolio. The indicator was last updated to version 6.0 in December of 2019.
Overview
The indicator was designed to measure volatility in a percentage (rather than points) in order to make it possible to compare volatility for the same security in different timeframes. It can also compare securities from different markets in terms of percentages. The concept is to create an index based on Classic Standard Deviation that moves between 0 and 100 percent. Traders can then use the given percentage to determine if prices may move in a ranging area, as well as the beginning of ascending or descending trends. The developer throws a free Bermaui Average EA in with the indicator and all programs are compatible with the most popular trading platform MetaTrader 4.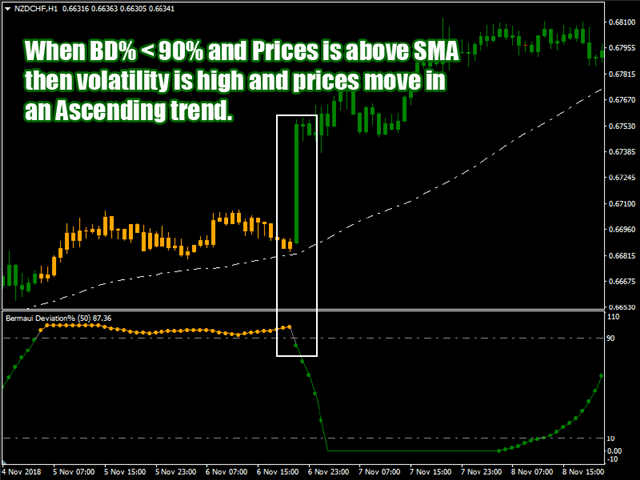 Service Cost
The author includes three separate pricing plans; traders can rent the product at a rate of $10 USD per month or $30 for 3 months, or buy the indicator for $60 with 1,000 activations. Prices are low enough for the first month that testing is possible without making a large investment and the sheer number of activations included with purchase guarantees that traders will have access to the indicator for a lifetime. The author also offers a free demo version, which has been downloaded nearly 2,000 times so far.
Conclusion
Bermaui Deviation Percent (or BD%) is an indicator that was created to eliminate the guesswork when it comes to identifying trends. The indicator has received a 5-star rating from users, along with 100+ combined reviews and comments.
This is what some traders are saying:
"Works really great! Now I can find the trade which is really trending!" -acidtrader81
"Very nice and effective indicator for identity range and trend market" -Hefajatur
"A really good indicator! Simplifies entry on trends and avoids choppy sideways movement." -Han
The majority of reviews mentioned how effective this indicator is. Some traders use it in combination with others, especially with the free EA that is included with the purchase. The developer is very involved with traders and has managed to create an effective product for a low cost.
This Forex service can be found at the following web address: https://www.mql5.com/en/market/product/24174