The BF Scalper Pro is an expert advisor that can be found within the MetaTrader 4 section of the MQL5 marketplace, there may be other expert advisors with similar names so we have provided a link to the one we are looking at to help avoid any confusion. The expert advisor was first released by Lachezar Krastev on the 6th of February 2019, it has had various updates since then and is now at version 1.5 which was updated on the 21st of January 2020.
Overview
The BF Scalper Pro is an expert advisor designed to be used with the MetaTrader 4 trading platform, the expert advisor uses breakouts and Bollinger Bands to work out its entry and exit signals. The Pro version (this one) also has additional exit logic which can reduce the drawdown, it also has a new ATR based stop loss calculation and algorithm.
The primary features of BF Scalper Pro:
A strong, pure and simple trading logic
Reasonable TP and SL levels – plus new ATR based algorithm
Low drawdown
Solid 18-year backtest performance
Multiple currency pairs support
Advanced News Filter
Volatility filter
New, improved, highly effective exit logic
Email and Push Notification system
Friday Exit System
Grid System (optional)
Trailing Stop System
Recommended timeframe: M15
Recommended backtest method: M15 by every tick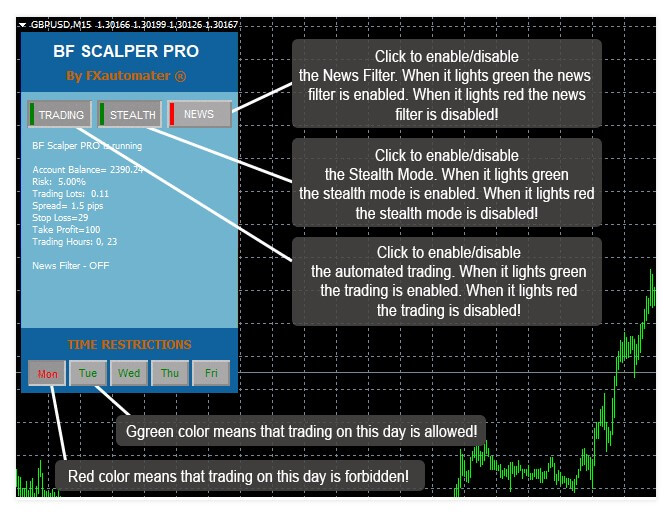 Supported currency pairs include GBPUSD, EURUSD, EURCHF, EURAUD, EURCAD, GBPCAD, USDCAD, USDCHF, and USDJPY.
There are also a host of settings that can be changed to help alter the expert advisor to suit your own needs, these include things like fixed lots, maximum spreads, slippage, take profits, stop losses, and more.
Service Cost
The BF Scaler Pro expert advisor can be purchase outright with a payment of $117 (this is actually an offer, the original price is $147), this will get you unlimited access to the software, unlike many expert advisors on the MQL5 marketplace, there is no option to rent this one. There is a free version of this expert advisor available which does not have as sophisticated exit algorithms, but can be used to test out the software.
Conclusion
There are currently 18 different reviews available for the BF Scalper Pro advisor, the overall rating is 3.5 out of 5 which shows that while it may work for some, others may not be getting the results expected.
"A very bad EA, all history is predefined to show awsome backtest results if you think only to change the time frame with 1 hr it will always lose. I asked MQL5 to refund my money after one day of purchase it but unfortunately, they did not respond!! Stay away and do not lose your money." – A 1-star review.
"After using BF Scalper PRO I am impressed. I hope the EA performs so good also in the future." – A 5-star review.
"A very dangerous trading system. Makes very small profits with BIG drawdowns. Works for a month or two and then it crashes. Do not buy it and don't say you have not been warned." – A 1-star review.
So as you can see, for some, it works and others not, however with many expert advisors like this, it can work for a while, but then the trading conditions go against you they can struggle. We would recommend that you download the free version of this expert advisor, test it out, make sure it works, preferably for an extended period prior to making a purchase.
This Forex service is currently available in the MQL5 marketplace: https://www.mql5.com/en/market/product/34455