FiboStrategy MT4 is currently found on the MQL5 marketplace under the indicators heading. There may be others with similar names so we have provided a link to the one we are looking at below. The indicator was created by Alexander Vinogradov, it was first uploaded on the 25th of December 2013 and is currently at version 1.2, the most recent update was on the 8th of July 2014.
Overview
FiboStrategy MT4 is an indicator for the MetaTrader 4 trading platform, as you can guess by the name, the indicator is based on Fibonacci levels.
The main objectives of the indicator:
-Calculation of the first market movement (from levels 0 to 100).
-Displaying possible price movement from 100 and higher to Profit Level, as well as in the opposite direction to Correction level and Revers level depending on the direction.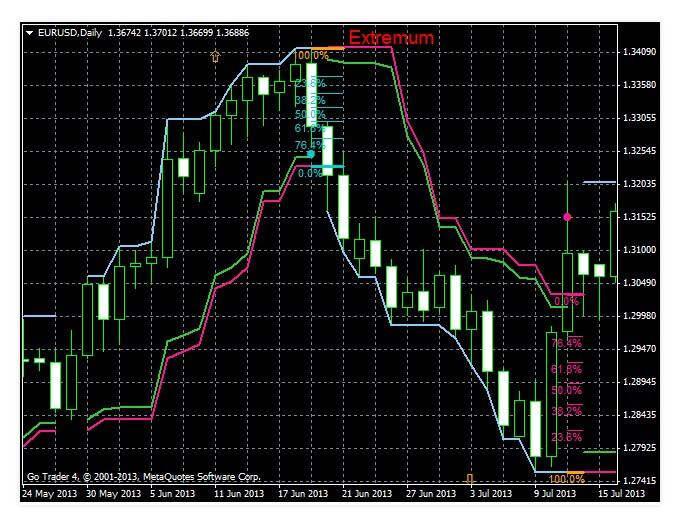 An example strategy is given by the creator:
-Buy signal appears when level 100 is above level 0. A pending order can be placed at any level. Take profit is set to ProfitLvl level. Stop-loss is set to ReversLvl level.
-If the order is not activated, while the price has reached ReversLvl, the pending order is to be deleted.
-Exit the market after the objective is achieved.
There are also a number of parameters that can be altered, these include the Correctlvl, Prfitlvl, ReversLvl, RestrictLvl, and pBand.
Service Cost
The indicator can be purchased for just $15 so it is relatively cheap when it comes to indicators, the only option available is to purchase it outright as there is not an option to rent it. There is a free demo version available, this version will have some limitations but the website does not indicate what these limitations may be, it is still worth downloading the free version to try it out.
Conclusion
There are currently two different revies for the indicator, they are both giving very different opinions, the overall rating is 3 out of 5 stars.
"There is no response from the developer to queries. Very confusing product." – A 1-star review.
"Great and awesome indicator :)" – A 5-star review.
So a mix in opinion, the most concerning is the review about not getting a response from the developer, that review is from 2015, we can see that the developer has been actively responding to comments from a more recent date, so it is possible that the user did not know how to contact the developer properly, you could test this by sending a query to them to see if you get a reply. As there aren't many reviews, we would recommend that you download and try out the free version, it will have some limitations but it will allow you to see how it functions and you can make sure that it does what you need it to do before you make a purchase.
This Forex service is currently available in the MQL5 marketplace: https://www.mql5.com/en/market/product/2440