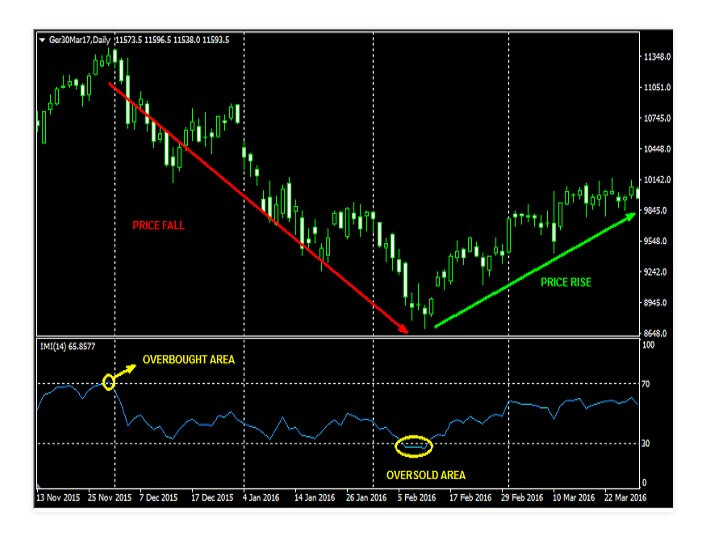 Intraday Momentum Index for MT4 is currently located on the MQL5 marketplace, we have added a link below that will take you directly to it. The indicator was first uploaded by its creator Luiz Tim on the 30th of January 2017 and there have been no updates so the current version of the indicator is still version 1.0.
Overview
Intraday Momentum Index for MT4 is an indicator that can be used with the MetaTrader 4 platform, it is a technical indicator that will combine the aspects of Candlestick Analysis with the Relative Strength Index (RSI).
The indicator will look at the relationship between the opening price and closing price of a given trading day. It will also look at the most recent price variations and it will aim to identify overbought and oversold conditions within the markets.
There is only one parameter available to alter and that is the time period that the indicator uses.

Service Cost
The Intraday Momentum Index for MT4 will currently cost you $15 to purchase it outright without any added limitations, if you do not wish to purchase it, you can also rent it for $10 per month. A free demo version is also available, this will have some limitations which are unfortunately not stated on the site, it may still be worth downloading to try out though.
Conclusion
There are no user reviews and also no comments for this indicator so we do not know if those that have purchased the indicator are finding that it does what it is meant o do or if it is not working properly. Due to this, we need to strongly suggest that you download the free version to test out, we would also suggest that you contact the developer with any questions that you have, not only will this be a way to make sure that it does what you need it to, it will also let you know whether the creator is still actively supporting the indicator or not before you make a purchase or a rental.
This Forex service is currently available in the MQL5 marketplace: https://www.mql5.com/en/market/product/20555