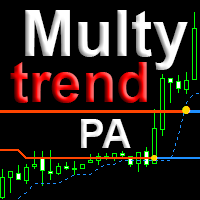 Multytrend PA is an indicator that was created in April 2019 by developer Mikhail Nazarenko. This indicator combines the principles of Price Action and a unique filtering algorithm with feedback for three moving averages. This allows you to know what are the pivot points and current trends in any time frame with a high probability of success in the trades you are pointing out. Multytrend PA is an update of the classic Trend PA indicator and can be used with the principle of the three Elder screens, but everything that is needed is shown in the same chart, which is easier for the user.
Overview
Line 1 is in fast motion, while line 2 is in the main action, and line 3 is a slow movement to determine the direction in opening orders. The coincidence of the trend in the three movements is indicated by the arrows of the indicator and reports an incipient trend in the indicated direction.
Characteristics of this indicator:
It has no delay and gives a notable advantage over the Moving Average standard.
Simple and intuitive graphical interface, the configuration is minimal.
Configuration for each customizable MA for your trading style.
Alerts are activated when trends coincide on all three lines.
Optimized code and minimal load on your computer processor.
Settings:
Line 1 filtering bars (0 – line 1) – the period to calculate line 1 in bars.
Line 2 filtering bars (0 – line 2) – the period to calculate line 2 in bars.
Line 3 filtering bars (0 – line 3) – the calculation period of line 3 in bars.
Filtering mode (false – high/low, true – close)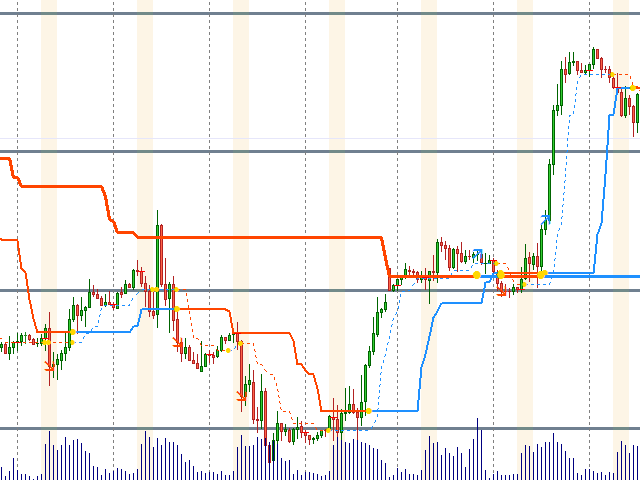 Pantalla:
Line 1 width – line thickness 1
Line 2 width – line thickness 2
Line 3 width – line thickness 3
Draw in history bars – draw the indicator in the specified number of bars in the chart
Trend alert options include:
-Alert – activate alert when trends coincide in 3 Movings Averages.
-Send mail – send an email if trends in 3 lines are the same.
-Send push notification – send a push message to your mobile when trends in 3 moving averages are the same
Conclusion
In summary, we are talking about an indicator that combines the action of price with a trend prediction based on the crosses of 3 moving averages. It seems to be a reasonably comprehensive indicator and may be engaging in its concept. Due to the fact that it has not been on the market for a long time, there are not many comments from users to verify the usefulness of this indicator, but the few comments that exist are positive.
If you want to buy this indicator, it is available on the MQL market at a price of 55 USD. You can also rent it annually for 34 USD, and try out its demo version to make a purchase decision once you have analyzed it and understood its operation well.
This Forex service can be found at the following web address: https://www.mql5.com/en/market/product/37831