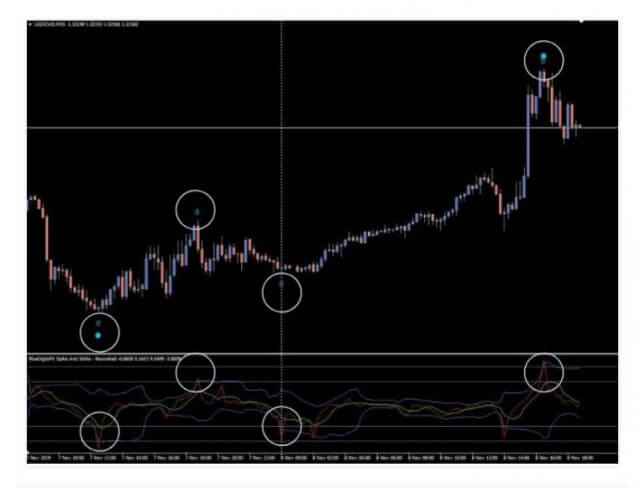 BlueDigitsFx Spike And Strike Reversal is a composite indicator for the MetaTrader 4 platform developed by Ziggy Janssen. This MQL5 repository developer is the owner of 6 published products with solid ratings and popularity. The indicator, as the name suggests, is a reversal strategy signal provider in the paid category. It is also aimed to filter fake reversal signals from the market using another module integrated. The overall quality is great and could be a good addition for traders relying on reversals, provided they have some additional tools. BlueDigitsFx Spike And Strike Reversal was published on 12th November 2019 and has not been updated ever since. Still, it does not mean it does not have the support, it is just a few months old but already has received some attention.
Overview
Two modules are integrated into this indicator. One has multiple indicators, aggregating the reversal confirmation signal. Essentially, it is a prediction indicator, not to be confused with confirmation indicators that lag. The second is the oscillator based on which the arrows are made for trade entries. One important fact about this indicator, it is repainting and this issue has been reported by some users. The repainting issue is not always a bad thing, to some traders' philosophy, the market conditions can change and thus the signal also changed, the indicator has changed its "mind" as a real person would.
However, the problem lies that you will not have valid measurements when backtesting as that historical false signal before the indicator changed is not recorded on the chart. Repainting may mean the indicator never misses and is always positive on the outcome. Some additional indicators that lag and confirm the signal are essential for repainting indicators, and such case is also with the BlueDigitsFx Spike And Strike Reversal. Bollinger Bands are also used judged by the settings, although just for the channeling.
The main features of this reversal indicators are easy to follow signals, you will basically have arrows for sell and buy, cannot get more simple than that. It has the filtering ability, although we are unable to confirm if this feature is transparent or just integrated, thus decreasing the value of the indicator in conjunction with the trader's system. Signals are generated on bar close only, works for all symbols and timeframes, has the full alert module with all the features, and is compatible with EA development. The features are not packed with redundant content, which signals the author is authentic with the approach, not a salesman. Similarly, clear content is about the usage guide. The trade entry signal revolves around the -6 and +6 value of the swing. Take Profit level is also determined with the swing low and swing high.
The trade exit is naturally evident with another arrow in the opposite direction. All this makes this indicator well rounded up although, note that is should be used as an addition to a system, as the developer also suggests. For best results, other system products by Ziggy Janssen is suggested, but it could be any reversal system. The product is called 1,2,3 system and is published on the MQL5 repository. The timeframe suggested is H1 and above although lower can also be used with less precision, meaning the indicator is not ready-made for scalpers and we are unsure if any setting change can make it so.
Settings are simple, traders will not have much to change here so optimization should be easier although it also limits the optimization scale. Nevertheless, you can change the calculation period, the filter period, the signal method, and the Bolliger Band parameters on the period and deviation.
Service Price
The price of BlueDigitsFx Spike And Strike Reversal is now high, $30 to buy, and $15 to rent for one month. If the MQL5 market is correct, 68 activations are available once you buy, more than enough even if you change your computer every year. A demo is available too.
Conclusion
Based on the reviews, this indicator only received 2 low ratings form users that did not like the repainting fact. Others are very satisfied. One review describes well how the indicator contributed to his trading:
"I don't usually leave reviews and I'm not a big fan of most indicators, but THIS ONE… Ziggy knocked it out of the park! Don't use it as a stand-alone indicator, but with price action and weekly pivots, it's incredible for me. Having alerts to give me a heads up for price reversals, which is how I trade, is a dream come true. Ziggy makes himself exceptionally available and cares about your experience with his indicators…This indicator is exactly what I wanted to keep my charts clean but effective. I'd would give more stars if they were available! Thanks, Ziggy!!"
In our opinion, the indicator should be first understood and tested for repaints yourself. Even if it does, forward demo testing is needed. First of all, it should be assessed if this indicator is synergetic with your system. On the side note, the BlueDigitsFx Easy 1 2 3 System received a perfect rating out of 33 reviews, which is not easy to achieve, it should be considered as a possible system that works with this indicator.
This Forex service can be found at the following web address: https://www.mql5.com/en/market/product/43438