Two Period RSI Alerts can be found in the indicators section of the MQL5 marketplace (this is a marketplace for indicators and expert advisors), there may be other indicators with similar names so we have provided you with a link to the exact one we are looking at. The indicator was created by Synapse Investment Research Group and was first uploaded on the 5th of October 2016, there was an update on the 22nd of March 2017 and this brought the version up to version 1.1 on the indicator.
Overview
The Two Period RSI Alerts is an indicator to be used with the MetaTrader 4 trading platform, its purpose is to compare the long term and short term RSI lines, it will plot a fill between them for better visualizations on the chart, this will be colored differently depending on an up or downtrend. The RSIs crossing can add a better trend confirmation signal than just using RSI by itself.
The available alerts include:
Short period RSI crossing long period RSI
RSI is below user-selectable buy threshold (Default=30)
RSI is above user-selectable sell threshold (Default=70)
There are also a number of parameters available, these can be altered and include things like the long period, short period, to turn alerts on or off, what sort of alert triggers to sue, and to have sounds available for the alerts.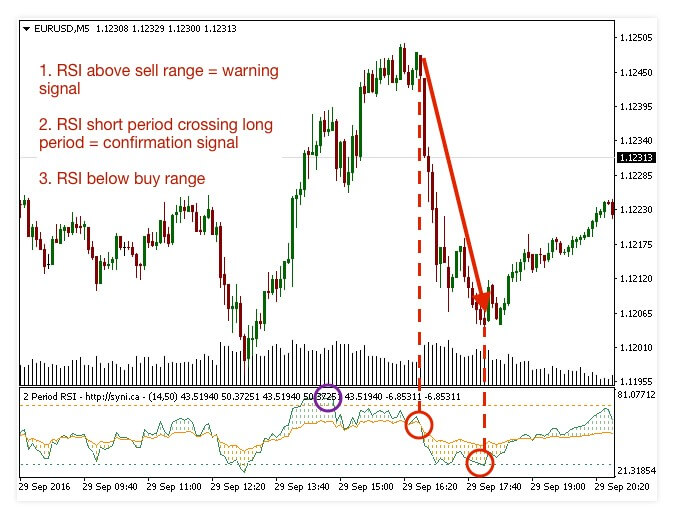 Service Cost
The indicator can be purchased for $10 which is very affordable, unlike many indicators there is not an option to rent this one and so you can only purchase it outright. Ther eis a free demo version available, but the limitations of this demo version are not currently known.
Conclusion
There is only one review available for the Two Period RSI Alerts indicator, and that is giving it a 5 out of 5 ratings.
"Great indicator, it's very accurate and is a great addition to my scalping methodology."
As there is only one review, the feedback is limited, there are some comments, the creator has been replying to the comments which is a good sign for the possible quality of the customer support. As there aren't many reviews, we would highly suggest that you download and try out the free demo version, this will enable you to check out how it works and to ensure that it meets your needs before you make a purchase.
This FX service is currently available in the MQL5 marketplace: https://www.mql5.com/en/market/product/18761