Unlike fiat money, cryptocurrencies do not have a central authority or a designated place where you can safely keep them. But just like with real money, you need to store your crypto funds somewhere safe and secure.
Cryptocurrency wallets are the answer to the "how do I interact with my crypto coins safely?" question. A cryptocurrency wallet lets you trade, store, buy, sell, and swap cryptocurrencies in a safe way.
It can be difficult identifying the crypto wallet that suits your personality and needs. Whether you're the laid back guy or girl that likes to check into cryptoverse once a week, the savvy trader who's always on top of the market, or the HODLer, we have compiled a list of the top cryptocurrency wallets that are reputable, secure, and convenient to help you navigate the crypto world as safely and rewardingly as possible.
We based our criteria on supported cryptos, security, recovery options, and more. Read on for the top 9 cryptocurrency wallets in the market today.
Top Cryptocurrency Wallets
Ledger Nano X
Ledger Nano X is the latest hardware wallet offered by crypto solutions company, Ledger. The wallet won the "Consumers Innovation Honoree Award" during its launch – stirring the attention of crypto enthusiasts.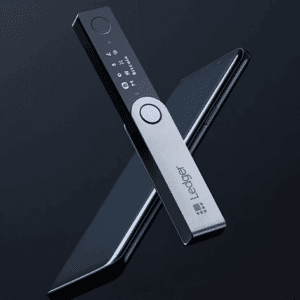 The wallet's screen is designed to display all the details of your transactions at once. It has two buttons, which will control the entire operation of the hardware wallet. The Nano X is also Bluetooth enabled, enabling you to pair it with your iPhone or Android and check your balance, send and receive crypto, and add accounts – all with a few taps on your phone. 
Ledger Nano X has an in-built rechargeable battery, so you don't have to worry about tagging along the USB cable everywhere with you. It will also allow you to store up to 22 coins and ERC-20 tokens with its live version and is compatible with other crypto wallets ranging from MyCrypto, MyEtherWallet, Magnum Wallet, Yoroi Wallet, AdaLite, Trinity, Galleon, OWallet, LisKish and more. 
As of November 2019, Nano X supports a cool 1338 crypto assets, from the most popular ones like Bitcoin, Tether, Ethereum, Litecoin, Ripple, Ethereum Classic, Cardano, to other less known ones like Pundi, Quant, Aeternity, RHOC, CA, and so on.
The device is equipped with a state-of-the-art security chip – the CC EAL5+ – making it nearly impossible for your cryptos to be stolen. 
Ledger Nano X allows users to connect it via two ways: USB and Bluetooth. Currently, it's compatible with 64-bit computers (Windows+, macOS, and Linux), as well as iOS 9+ and Android 7+. 
Also, Nano X allows you to recover your crypto account even if you lose your device. Its 24-word recovery phrase, a.k.a seed phrase, is a list of words that stores all the info you need to recover your wallet.
Ledger Nano S
Listing two wallets from the same company might seem an overkill, but Ledger's products deserve space on this list simply because they both go toe to toe with the best in the market.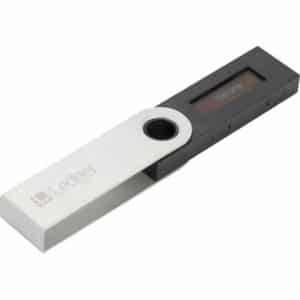 Ledger Nano S is the older sibling to Nano X but has qualities that help it maintain its revered place in the wallet market.
Nano S' screen lets you see everything at a go, with two buttons that let you control it. Your wallet is protected with a secure chip always locked by a pin code. That and its offline status secures your private key from prying eyes and internet vulnerabilities.
Customers can choose from either matte black, saffron yellow, lagoon blue, transparent, and jade green colors. Nano S can support 1100+ cryptocurrencies and tokens, including Bitcoin, Bitcoin Cash, Ethereum, Bitcoin Gold, Litecoin, Waves, Ark, Stealth, Horizen, and more.
Just like Nano X, Nano S is compatible with other crypto wallets such as Yoroi, MyCrypto, MyEtherWallet, Fairy Wallet, Beryllium, VeForge Vault, OWallwt, Neo Wallet, Kin Laboratory, and more.
You can connect Ledger Nano S to the computer via a USB 2.0 port, and the system is compatible with 64-bits computers (Windows 8+, Mac 10.8+) and Linux. It's also compatible with Android 7+ smartphones.
The wallet doesn't need to be charged – it uses your PC's power when you plug it in.
KeepKey
Launched in 2015, KeepKey is one of the most recognizable crypto wallets. The wallet uses advanced security technology to protect your funds from theft and hacks. Even if someone gets hold of your wallet and installed it in a modified software that's not designed by KeepKey, the device wouldn't let them proceed.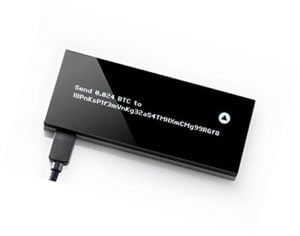 Part of the reason KeepKey is popular is that it's embedded with a cryptocurrency exchange – ShapeShift – making it possible to trade crypto coins and tokens right on the device. 
KeepKey supports 12, 18, and 24 recovery phrases to enable you to recover your cryptos in case the device is spoiled, stolen, or lost.
KeepKey wallet supports eight cryptocurrencies – namely Bitcoin, Bitcoin Cash, Bitcoin gold, DASH, Dogecoin, Ethereum, Litecoin, and Digibyte. It can also host 46 ERC-20 tokens, including Decentraland, Edgeless, FisrtBlood, Gnosis, District0X, Dai, CyberMiles, and more. Also, users can interact with 1000 more cryptos via KeepKey and MyEtherWallet integration.
KeepKey is compatible with Windows, Mac, and Linux, and you will find the KeepKey Client app on either of the platforms via Google Chrome. iPhone and Android users can access KeepKey by installing the MyCelium app available on Google Play and Apple's App Store. If you want to use a phone to operate KeepKey, you have to connect to your phone using an OTG adapter cable.
Exodus
Exodus wallet is a desktop and mobile wallet that gives users the whole crypto experience – from sending to loved ones to paying for things to HODLing to trading right within the software. It has a simple design that even beginner traders will find it extremely easy to navigate. Its versatile design with real-time display of digital assets; and a customizable portfolio that allows you to change themes, background color, and other features has endeared it to the crypto community.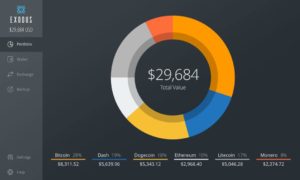 As of November 2010, the wallet supports 102+ crypto coins and tokens, including Bitcoin, Bitcoin Cash, Bitcoin Gold, Ethereum, Ethereum Classic, plus other little known ones like Genesis Vision, Salt, Otum, Leopring, Aragon, Storj, Decred, TrueUSD and more.
Exodus is a perfect option for users who trade regularly or want to trade on the go. It's also very convenient to log in to your account and pay for things. And if you lose access to your assets, it provides the option of a seed phrase that will generate your wallet address and private keys.
The wallet doesn't store any of your information online – including your passcodes and private keys. This is a good thing because it keeps your crypto safe from hackers, but it also means it's your sole responsibility to protect your account.
Being a software wallet, you don't need extra hardware like OTG or USB cables to access your wallet. All you need to do is install it on Windows, Linux, or Mac and get to interact with crypto in no time.
CoolWalletS
CoolWalletS is a hardware mobile cold storage introduced in 2016 by the Taiwanese company CoolBitX. With the mobile wallet, you can store, swap, send, and receive crypto at the single touch of a button. The wallet is integrated with Binance DEX and Changelly crypto exchanges, so you never miss any trading opportunity.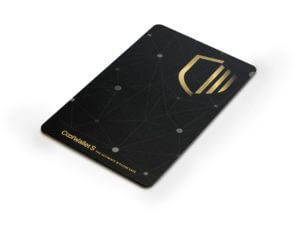 If you're looking for a discreet (which is a no-brainer when it comes to your private keys), portable, lightweight, and sleekly designed wallet, the CoolWalletS is your go-to option. The wallet is 'cool' enough to look exactly like a credit card – so no one will be the wiser to the fact that you're transacting with a crypto wallet. 
CoolWallet utilizes a high-end security solution – Secure Element (SE) to store your private keys – making it virtually impossible for your coins to be stolen. The secure element is also capable of verifying if your device has been tampered with- by verifying its integrity. CoolWallwet also uses passcodes, a touch ID, and a 2+1 factor authentication (with facial recognition) – which in our opinion sums up to pretty foolproof security. 
On top of that, CoolWalletS is waterproof, shockproof, and temperature resistant – meaning you can get away with quite a lot with your wallet still intact.
The wallet provides support for Bitcoin, Ripple, Ethereum, Bitcoin Cash, Horizen, ICX, stable coins, and ERC20 tokens, with BitDegree, Formosa Financial, Metal, Cortex, USD Dollar, JoyToken and others. 
CoolWallet utilizes Bluetooth Low Energy (BLE) to facilitate connection to your smartphone or tablet. Currently, it supports iOS 9.1+, and Android 5.0+, with at least the BLE version of 4.0. 
Indacoin
Indacoin is a mobile-based crypto wallet offered provided by UK-based Indacoin Limited, the company that runs the Indacoin crypto exchange. Launched in 2013, the wallet allows users to instantly buy crypto with the use of their credit or debit card. As well, you can exchange and manage cryptocurrency from right within the wallet with the use of a single app. However, the wallet does not support selling crypto as of now.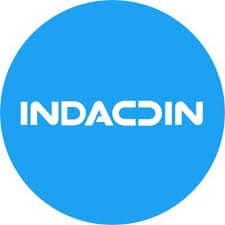 Russia and Turkey users can use Indacoin to withdraw crypto to a debit or credit card. Users from other countries only have the option of crypto-based withdrawals.
The wallet features an intuitive and easy to use interface that makes it stress-free to buy, receive, swap, or trade crypto on the go. The wallet provides support for 100+ cryptocurrencies, including big hitters like Bitcoin, Ethereum, Ripple, Bitcoin Cash, Tether, Litecoin, Binance as well as other less dominant ones like IOTA, Bumbacoin, Chesscoin, CondenSate and so on. 
To ensure users' safety, Indacoin only accepts 3D-secured cards like MasterCard and SecureCode and Visa Verified. Indacoin also does not store your card details – a move that protects your personal data. Purchases are also verified via a verification code sent via SMS to your phone. 
Indacoin is available for Android 4.1+ and iOS 9.0 and later versions. 
Trezor 
Trezor is almost an instantly recognizable name in nearly every crypto setting. That's because it was the first-ever wallet to store crypto offline, and it has so far maintained the reputation of being one the most secure hardware wallet out there. Trezor is available in two models: Trezor One and Trezor Model T. The difference between the two models is Model T lets you control it via a touchscreen while One uses two physical buttons.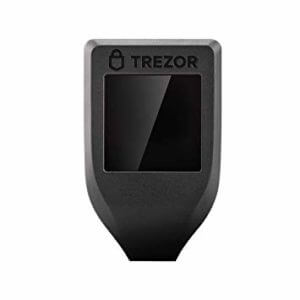 Both models let you view the status of your transactions on the display. You don't need a battery to power them since they will be powered by your PC when you plug them in.
Trezor supports 1000+ coins, with big-timers like Bitcoin, Litecoin, Stellar, EOS, DASH, ZCash, Monero and also others you probably haven't heard of, like Seele, Revain, FunFair, GNY, Unobtanium, Fusin, Tael, Ruff, Numerai, Insolar, Polis, DADI and so on.
The wallet is also compatible with other crypto wallets, including Exodus, Magnum, Bloks.io, AdaLite, and Yoroi.
Trezor provides the option of creating a seed phrase that protects your private key in the event of theft, loss, and destruction. It supports BIP39 phrases – which it doesn't store nor remember. This way, even if someone gets their hands on your wallet, your account remains safe. As a further protective measure, Trezor's hardware case is ultrasonically welded in such a way that it cannot be restored after breakage. 
The device is compatible with both computers and smartphones. If you have Windows 7 and later versions, macOS 10.11+, Linux, and Android, you can get Trezor and try it out.
Guarda
Guarda is a non-custodial web, desktop, mobile, and Chrome Extension wallet that allows you to buy, sell, receive, send, and store crypto. Introduced in 2017, the wallet is one of the few that allows so many functionalities for crypto in 'one roof.'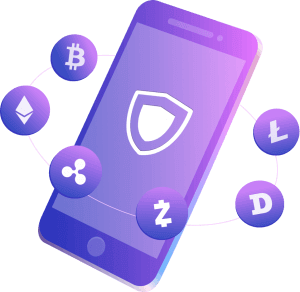 The web and desktop wallets can be used on any device running on Windows, Linux, or macOS, while the mobile-based wallet allows Android and iOS users anywhere, anytime. Its inbuilt crypto purchase function lets you buy crypto using both crypto and fiat currencies. Besides, it features an exchange that lets you effortlessly swap coins from one currency to the other.
All Guarda's wallets are non-custodial – meaning you are entirely in charge of your addresses and private keys. Also, your personal information is not out there in the hands of a third party, and you won't be subjected to intrusive Know Your Customer procedures.
Guarda requires you to save a backup file each time you create or import a wallet. You get logged out of the account if there's no activity for a particular period. All backups are secured through the cutting edge Advanced Encryption Standard (AES), so your sensitive data is always safe and secure. What's more, you can configure the mobile version wallet to require Touch ID/Face ID unlock.
You can even import private keys From Guarda's own wallets or other exchange, desktop, or web-based wallets. There's also a dedicated menu that lets you connect to Ledger Nano S and view your transactions on the Nano S wallet on Guarda. 
You can create your own ERC20 tokens via the wallet's Guarda Token Generator – another exciting functionality of this wallet.
Guarda supports over 40 major blockchains and 10,000+ tokens. Household names like Bitcoin, Ethereum, DASH, Litecoin make the list. So do other little known ones like Groestlcoin, ReddCoin, Maker, Gulden, Expanse, Gemini dollar, and so on.
Coinbase
Coinbase wallet is an app wallet provided by the crypto exchange Coinbase that offers your state of the art security for your crypto. With Coinbase, you can store tokens bought from other exchanges or Initial Coin Offering events. Users can also interact with Ethereum-based decentralized applications (DApps) on its DApp browser.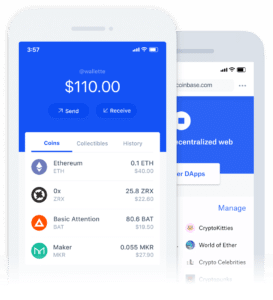 Cooinbase is a separate product from the exchange – meaning you don't have to have an account on the exchange to access and use the wallet. Anyone from anywhere with any IOS or Android device can download and install it.
It's important to distinguish between the Coinbase wallet and the exchange wallet on Coinbase.com. The exchange wallet will store your private keys on Coinbase's servers, while the wallet app lets you store your private keys on your device. Also, with the app, you can easily move cryptocurrency from its existing wallet apps like Metamask, MyEtherWallet, and others.
With Coinbase Wallet, your private keys are secured with Secure Enclave – a high-end security feature that enables your wallet to remain intact even if it were hacked. On top of that, the wallet employs biometric technology to prevent unauthorized success.
Another remarkable feature by the wallet is always keeping you up to speed with the current price of cryptos in your local currency. Over 100 fiat currencies are supported – including EUR, GBP, USD, AUD, and CAD.
Currently, the Coinbase wallet lets you manage Bitcoin, Bitcoin Cash, Ethereum, Ethereum Classic, Litecoin, and all ERC-20 tokens. You can also store cats, monsters, art, and even ERC721 digital collectibles all in one beautiful gallery.
The wallet lets you back up your private keys on Google Drive and iCloud. Some people are skeptical about how safe those options are, but with a strong, unique password and multiple-factor authentication, we think they can be considered safe.
You can operate the wallet on iPhone, iPad, and iPod Touch as long as the device supports version 11.0 or later versions. For Android devices, you need to have at least the 6.0 version or later versions. The Coinbase wallet app is available for download on Google Play and iOS App Store. 
Conclusion
If you're serious about crypto, you need to get a safe, secure, and robust crypto wallet. Each of these options provides one of the best experiences possible of interacting with crypto. Of course, you should get the wallet that best suits your needs, your personality, and how regularly you interact with crypto. Also, ensure to buy your wallet directly from the company's website, just to stay safe.