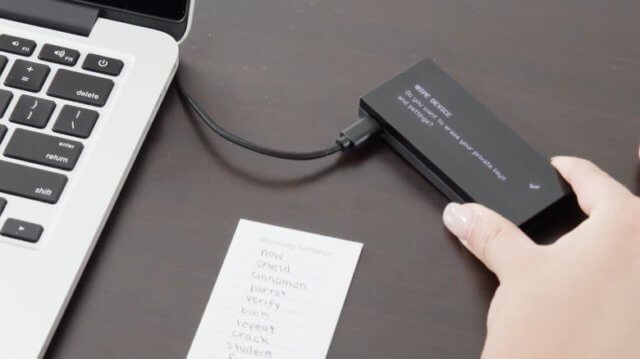 On the KeepKey website, this USB-like crypto hardware wallet is described as the 'next frontier of crypto security.' But the Keepkey wallet is better known for its sleek design, especially its unique full OLED screen on the side of the USB that's wide enough to fit the entire crypto address. Notably, the coin has also gained massive popularity by virtue of having Ken Hodler, a renowned crypto industry expert, as its Chief Engineer.
But does this hardware wallet live up to its reputation? We answer this by looking at its key features, security, and design in this KeepKey review. We will also look at how the hierarchical deterministic wallet fairs in the face of its peers with regards to ease of use and tell you if it is a reliable crypto store for your digital assets.
KeepKey Key features
Wide screen:

KeepKey has one of the largest OLED displays that allows you to view the entire cryptocurrency address without scrolling.

Shapeshift integration:

KeepKey hardware crypto wallet was developed by KeepKey in 2015 and proceeded to acquire Multibit, a bitcoin wallet company, in 2016. In 2017, KeepKey was acquired by Shapeshift and currently serves as the native hardware wallet for the crypto exchange. The integration makes trading and investment easy due to the ease of moving your assets in and out of the exchange.

Compatible with all OS types:

The KeepKey wallet is also compatible with all the popular operating systems, namely Windows 8+, macOS 10.8+, and Linux. It is also compatible with Android smartphones and features a Google Chrome extension.

Software wallet integration:

KeepKey integrates with such software wallets as MultiBit and Electrum, as well as the smartphone-based Mycelium for the smooth transfer of digital assets.

Sleek design:

KeepKey has a smooth, sleek, and well-thought design crafted with the need to appeal and boost wallet security in mind.
Security features
First, in its long line of security features is the fact that KeepKey hardware crypto wallet stores your private keys offline. Additional security measures like:
☑️Pin code protection: The KeepKey hardware crypto wallet is pin protected. You get to set the pin during the wallet setup and will be required every time you want to access the wallet, view crypto balances, and initiate a transaction. 
☑️Number randomization: The number randomization feature of the KeepKey wallet randomly shuffles the PIN numbers from time to time to prevent malware from copying your code and using it and gaining access to your digital assets.
☑️Recovery sentence: The private keys for all your cryptocurrencies are stored in and will not leave the hardware crypto wallet. During setup, however, KeepKey provides you with a recovery seed of 12-24 words unique to your device that you can use to retrieve the private keys in case the hardware wallet is stolen, lost, or damaged.
☑️Passphrase: In addition to the pin code and the recovery word, KeepKey also provides you with the option of a passphrase that you can attach to the recovery phrase. Unlike most of the other KeepKey security features, however, passphrase doesn't have a recovery, and losing it may mean the forfeiture of your private keys. The company, therefore, advises its KeepKey wallet users to only use this feature if they understand the consequences of its use.
☑️Physical button: KeepKey hardware wallet also has one button that comes in handy during the setup stage but also doubles up as a security tool. Every transaction involving the private keys in your wallet has to be authorized by long pressing this button. It ensures that even if a hacker was able to remotely access your wallet, they wouldn't be able to transfer your digital assets as long as you have access to the device.
☑️Desktop app: The KeepKey wallet has a digital app that is vital during the setup process by completing the single button on the wallet.
Currencies supported
KeepKey supports the seven most popular cryptocurrencies available today that include Bitcoin, Litecoin, Dogecoin, Bitcoin Cash, Dash, Bitcoin Gold, Ethetreum, and DigiByte. In addition to these, the wallet supports over 40 ERC-20 tokens and coins, including Tether and TrueUSD stable coins. The numbers are too low when compared to equally competitive wallets that support 1000s of coins and tokens.
        AELF (ELE)

        Aeterenity (AE)

        Aragon (ANT)

        Augur (REP)

        Basic Attention Token (BAT)

        Binance Coin (BNB)

        Bancor (BNT)

        Civic (CVC)

        Storj (STORJ)

        com (MCO)

        CyberMiles (CMT)

        Dai (DAI)

        Decentraland (MANA)

        DigixDAO (DGD)

        District0x (DNT)

        Edgeless (EDG)

        FirstBlood (1st)

        FunFair (FUN)

        Gifto (GTO)

        Gnosis (GNO)

        Golem (GNT)

        ICONOMI (ICN)

        IOST (IOST)

        iExec (RLC)

        TrueUSD (TUSD)

        Maker (MKR)

        Matchpool (GUP)

        Melon (MLN)

        Metal (MTL)

        Numeraire (NMR)

        OmiseGO (OMG)

        Polymath (POLY)

        Populus (PPT)

        Ripio Credit Network (RCN)

        SALT (SALT)

        SingularDTV (SNGLS)

        SpankChain (SPANK)

        Status (SNT)

        0x (ZRX)

        0xBitcoin (0xBTC)
Keeepkey is nevertheless trying to catch up and recently integrated the MyEtherWallet into its platform that makes it possible for its users to access and hold 1000+ coins and tokens online.
Keep key wallet cost and other fees
When KeepKey first hit the market in 2015, it was arguably one of the most expensive hardware wallets available at the time, priced at $239. With the successive acquisitions and integration of different technological solutions and exposure to the global markets, however, KeepKey has gradually reduced its price to the relatively affordable and highly competitive $49.
You will not incur any cost for the use or maintenance of the KeepKey hardware crypto wallet. You will only be required to part with the regular trading fees if you chose to trade on their integrated shapeshift exchange. 
Setting up the KeepKey wallet:
Configuring the wallet:
Our review found setting up the hardware wallet and readying it for use relatively complicated. The fact that the device only has one button especially makes navigation through the device monitor highly tedious. You have to use at least the KeepKey key chrome app and the KeepKey chrome extension to effectively configure the wallet and set up such security parameters as the pin code and passphrase as well as the generation of the recovery sentence. The process is quite straightforward, requires little to no guidance, and takes less than five minutes overall.
Sending and receiving coins:
The process of sending and receiving coins to your KeepKey hardware wallet is slightly different from the one adopted by other online or hardware wallets. Unlike most online transactions, involving software wallets where the transaction is completed online, KeepKey transactions have to be verified and approved on the hardware device before they are marked as complete on the blockchains.
When sending coins from the wallet, for instance, you start by logging in to your KeepKey client account on the KeepKey chrome extension. Click on the cryptocoin you wish to send, and the screen displays the sending page where you key in the receiver's address and amounts you wish to send. You will then receive a sender's prompt on the device display requesting you to authorize the payment by long-pressing the wallet's button.
Note: The wallet has its default crypto account as Bitcoins, and you, therefore, have to create an account for any other cryptocoin you wish to hold here.
Receiving payments into your KeepKey wallet is equally straightforward. Start by logging in to your KeepKey client account and selecting the receive coin option. The client and the wallet device will both display your wallet address and QR code that you need to copy and send to the person from whom you seek to receive funds.
KeepKey hardware wallet pros and cons:
Pros:
Keepkey has a modernized, sleek, and attractive design

Keepkey stores all your digital assets securely and offline

The hardware wallet embraces layered security features that include a randomized pin code

At $49, the wallet is competitively priced and offers value for money
Cons:
Has a complicated setup process that requires a third-party browser extension

Has no recovery feature for the passphrase that if lost makes your wallet inaccessible

Its wide display makes the wallet less portable than its competitors

One may consider their support of 40 digital coins limiting
KeepKey wallet compared to competitors:
When compared against some of the most popular online crypto wallets like Coinbase and eToro, Keepkey's outmatches them when it comes to keeping digital assets secure. But the two blow it out the waters with regards to ease of use. And while they all are integrated into pretty popular crypto trading platforms, KeepKey may be said to have a rather complicated send/receive funds functionality.
When stacked against equally popular hardware wallets like Trezor and Ledger Nano, Keepkey's sleek design, especially the massive display, carries the day. It is also fairly priced when compared to most of the hardware crypto wallets. Its single button that complements its sleek design is, however, its biggest downfall when it comes to ease of use. The two are also relatively easier to install and set up.
Verdict: Is the KeepKey wallet worth buying?
Keepkey is an expertly crafted hardware wallet for cryptocurrencies with solid security features. It particularly outfoxes competition with its wide display and a multi-layered security system. Its biggest shortcomings stem from its limited support of cryptocurrencies and altcoins as well as a relatively complicated setup process. These have nonetheless not stopped it from topping the lists of most popular hardware crypto wallets, and we believe that if KeepKey made an effort to support more crypto coins, it would compete more favorably with the dominant hardware wallets.