24option is a well-known broker that used to deal with Binary Options and now as CFD retail broker. Currently, the broker is regulated by the International Financial Services Commission (IFSC) of Belize, a regulation with mild authorization and requirements many offshore brokers utilize. 24Option uses the CySEC regulator under another domain -24option.com/eu, operated by Rodeler Ltd for clients in the EU. The company behind the 24Option international is Richfield Capital Limited registered as an investment firm in Belize. Wonderbridge Services Limited is the company that facilitates financial transactions and brokers usually do this kind of circumventions once their chargeback percentages go high enough to become blacklisted.
It is no wonder this is the case, 24Option has one of the worst user ratings on reputable specialized benchmark sites, and is also one of the biggest companies in the industry. With dominant black and gold color, the website design is not complicated with just 5 sections, one being the web trader. Other domains owned by this group are GrandOption.com, ZoneOptions.com, quickoption.com, 24fx.com, binaryoption-affiliate.com, rodeler.com, richfield-trading.com, and 24OptionsOnline.com.
The homepage has carefully crafted marketing mix to target the male audience that is not risk-averse. The slider will showcase the Juventus football club partnership, marijuana companies stocks trading, 50% bonus and the leverage for the cryptocurrency. All of these are hot buzz words for CFD trading, and 24Option is very good at using this fact. Transparency could be an issue as there are no products listing with the swaps or other trading conditions info.

The web trader is accessible with a simple click without the need of registration where it does show key additional information aside from the bid/ask price, by clicking the "i". It is noticeable that the broker has many fee structures and also documents like the "Complaints Procedure for Clients", "Max Trade Size", "Trading Alerts" etc, all visually hard to read using awkward letters spacing.
This 24Option review will reveal what traders can use out of this broker given all the negative reports.
Account Types
24option has 4 account types scaled by the minimum deposit requirements, spreads values and some other additional values. They are named Basic, Gold, Platinum, and VIP. The Basic account has the smallest minimum deposit requirement but also the widest spreads offered. Moreover, the account has only one free withdrawal, one basic lesson, no webinars, and two Daily Trading Central SMS Alerts. To many, these additional services would not be necessary but when it comes to spreads, they are one of the most important conditions for scalpers or other high-frequency traders.

Gold Account has a further reduction in the spreads, but steep higher deposit requirement with additional benefits like 1 Monthly Free Withdrawal, 2 Daily Trading Central SMS Alerts, 2 basic lessons, etc.
Platinum Account requires a double deposit for the Gold account, the spreads are not 2 times tighter though. Additional benefits are increased to 3 advanced lessons, two monthly webinars, 4 Daily Trading Central SMS Alerts and 3 Monthly Free Withdrawals.
The final, VIP account has no fees for withdrawals, 7 Daily Trading Central SMS Alerts, 5 Monthly Webinars, 5 Advanced Lessons, the lowest spreads and a minimum deposit requirement few traders can afford. As for what the "lessons" are about, their quality or topics cannot be evaluated as nothing is described on the website.
The leverage level is the same for all types, also there is a notification that the minimum deposit is subject to change. If you select a country in the EU, you will be notified to be redirected to the EU 24option domain under CySEC. The account currency is determined based on the country you select during the registration.
Platforms
24Option offers the MetaTrader 4 platform from MetaQuotes and their own easily accessible Web trader platform also called the Scipio Trading Platform. The MT4 is the world's most used platform for retail CFD trading with purchased licenses by many brokers, although new licenses for the MT4 have been discontinued in favor of the newer MT5. It is available for Windows, Mac and smart devices running on iOS or Android.
24Option will not allow you to download the MT4 client without registering for an account first. Once the registration is complete the MT4 will show two servers, RichFieldCatital demo and RichFieldCapital Live, the demo has a ping rate of 89ms and live 51ms, which is very good. The default template will show 4 major forex pairs charts set on the H4 timeframe suggesting the MT4 is by default settings. About window shows Richfield Capital Limited company registered in Belize and the lasts version of the MT4 client.

The symbols list shows only Forex related instruments grouped into Forex majors, Forex1, Forex2, and EUR/USD. As we are informed by 24Options, more assets are available in MT4 then in the Web trader platform. The instrument specification window does not show all the information needed. What is missing are trade sizes, swaps, order types, and other trading info. The execution time is around 100ms without deviations.
The Scipio Trading Platform for 24Opition is an easy to use platform with simplicity in mind for beginner traders. Simplicity does not always mean a lack of features, this platform does not support automated trading or custom made indicators but is satisfactory for most that do not have complicated strategies in mind. The platform sections are not resizeable or modular, but the chart window can be opened in full-screen mode. Chart types available are Heaikin Ashi, Bars, classic Candlestick, Line, Area which is basically Line chart with a down shadow, and Dots style. Timeframes are similar as with the MT4 – 1M, 5M, 15M, 30M, H1, Daily, Weekly, and Monthly, only H4 is missing. Zoom in and panning is supported and the range of the indicators available to add is as with the MT4 defaults.
There are over 50 indicators and they are grouped into Trends, Oscillators, Customized, and Bill Williams (3 total) categories. The Customized category does not mean you can insert custom indicators, just some options where you can customize some chart elements appearance, such as the price historic levels. The indicators have settings where you can adjust them to your trading setup although it is limited as with the MT4 default indicators. The sentiment indicator is placed right next to the chart window in a colored bar-style resembling a thermometer. The "i" button will show the exact percentages of buyers and sellers at the current price of an asset. The ordering section contains simple Buy and Sell buttons with options to execute pending orders, described as "Open trade when rate reach" for easier understanding.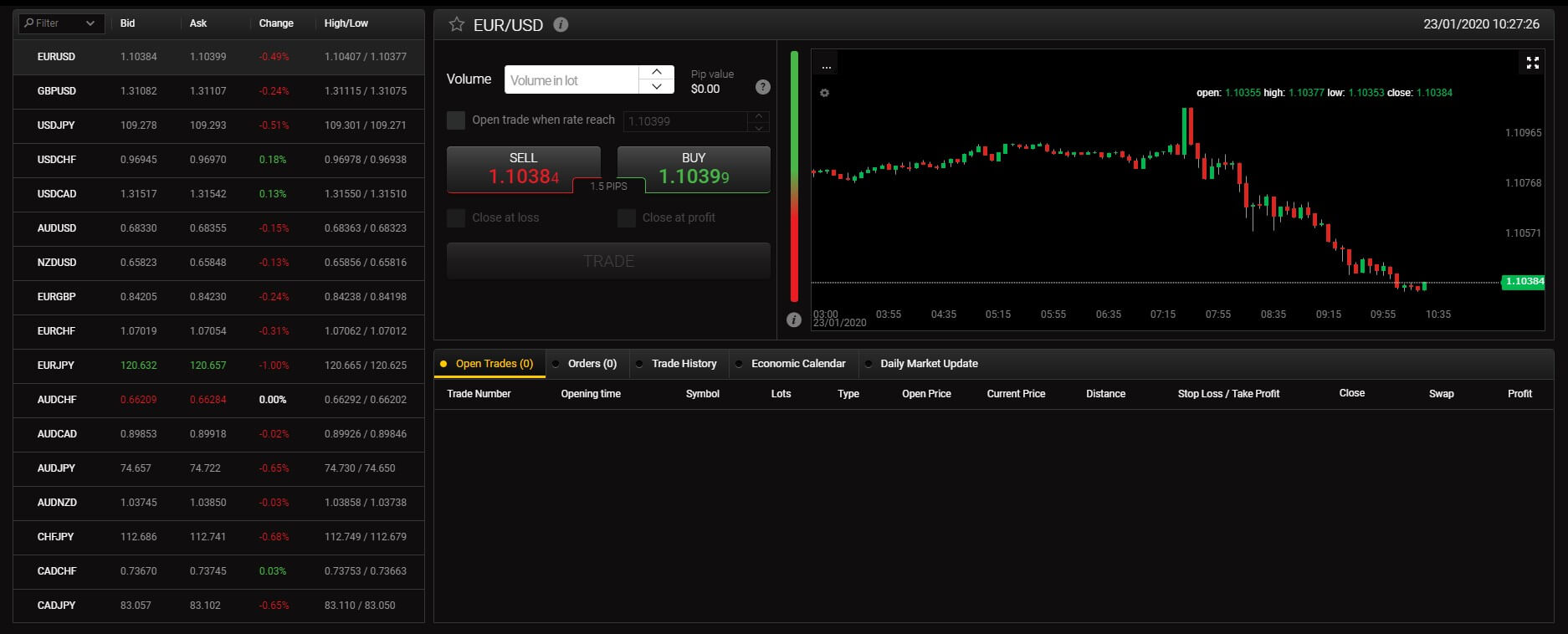 Stop Loss and Take Profit orders are also offered and calculated in two ways, in pips or rate. The instrument specification can be seen by clicking the "i" button next to the asset name. Here, traders will see trading sizes, leverage, contract size, swaps, trading time and also margin requirements in the asset currency and the account currency. Stops Level is not presented but according to our testing, it is under normal levels, like 10 points for Forex majors. Asset Watchlist is on the far left featuring Ask/Bid prices, percentage change, and High/Low range. The spread is shown between the Buy/Sell buttons. The asset search box does not exist but a filter is available that can help navigate through the instrument categories.
Selecting an instrument as a favorite will also enable traders to have their instruments list from the Favorites category in the filter. Positions and stats window will show Open Trades with columns showing the swaps, Profit, lots and so on. Trading History tab is also available. Economic Calendar is integrated with very good filtering options and design. Traders can choose the country, event impact, timeframe, and local timezone. Clicking on the event will open the description with previous, forecast and actual figures, but without a historic values chart. The most interesting section is the Daily Market Update featuring Trading Central analysis on many assets. It is updated daily, the content is listed in a single page without any options to filter, so traders interested in the Gold analysis, for example, will have to scroll, which may be inconvenient, especially because the window is rather small and not resizable.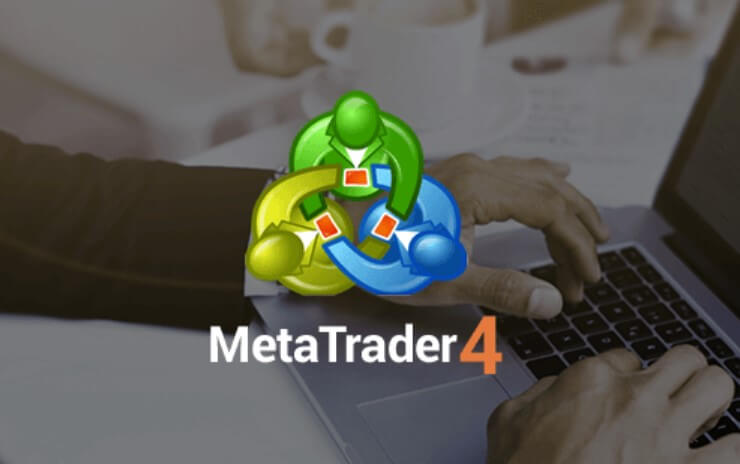 The analysis charts from Trading Central are also too small, although they are not very detailed. Note that the analysis is very basic, stating the Pivot, short advice, alternative scenario, short comment and investment time horizon. Indicators used are mostly RSI and Moving Averages, with support and resistance lines. Margin levels, Balance, Equity, etc, are all presented like in the MT4.
Leverage
Depending on the client country, 24Option will redirect you to the International domain or the EU domain. Therefore, the leverage can be 1:30 for Retail clients and 1:400 for professional clients if under the CySEC, EU regulation adhering to ESMA directives. For clients out of the EU region, they are redirected to the international 24Option domain under the regulation by IFSC of Belize, where the leverage is 1:400 for all account types. Of course, the leverage will vary depending on the asset.

For the major Forex currency pairs, the leverage is maintained at 1:400 level but for exotics, it is 1:100. Cryptocurrencies have 1:10 leverage as shown in the Web trader platform. Precious metals have mixed levels, Gold and Silver are at 1:200 while Platinum and Palladium have 1:100 leverage. Crude and Brent Oil assets are set to 1:200 while other commodities have 1:100. For Indexes, the leverage can be from 1:30, 1:50 to 1:200 depending on the tier.

Trade Sizes
24Option offers micro lot sizes or 0.01 lots for all offered assets. The maximum trade size for major forex assets is 30 lots, while for exotics is 10 lots. Volume steps are also 0.01 lots allowing precise addition of trades known as Scaling In and Out. Cryptocurrencies' trade size is uniform and is 0.01 lots minimum and 20 lots max.
Note that cryptos also have a mini lot of contract variants but they are not standard as the contract size is 1 unit, which is normally regarded as default in the industry. Non-mini cryptocurrency assets have 100 units for one contract (lot). We are unsure of the purpose of this kind of deviation from the standard and traders need to pay attention not to open an extremely large position.
Mini crypto assets have an "m" before the currency designation. Precious metals have mixed trade sizes, Gold and Silver have 100 lots maximum while Palladium and Platinum have 20 lots. Most of the Index range has 50 lots maximum trade size.
As for the Margin requirements, all account types have a 100% Margin Call level as stated on the 24Option's website. The broker also states in their Margin legal document that the Margin Call is 125% and the Stop Out Is between 20 to 100% level according to the table. On some other lines, the Margin Call is 100%. 24Option is not obliged to notify the trader if their margin level breaches a 100% threshold. It is advised to keep this ration above 100% at all times.
Trading Costs
24option does not charge commissions for trading. As for swaps, they are calculated in currencies applicable for the asset traded. Forex currency pairs have swaps presented in the web Trader platform. To give some insight, EUR/USD has -9.49 EUR on long and -2.74 EUR on a short position, USD/JPY -3.01 for long and -9.86 USD for short position per lot, AUD/CHF -0.68 AUD for long and -10.27 short, and NZD/CAD -4.79 NZD short and -0.68 NZD short. None of the currency pairs have a positive swap, which means the broker has integrated additional costs for traders that hold positions overnight.
For the exotic pairs, the swap is higher as expected, for example, USD/TRY has -58.90 USD long position swap charge and -36.99 USD for short, EUR/PLN -15.07 long and -6.85 EUR for short, USD/INR -19.59 USD long and -2.33 USD short, USD/MXN -26.71 USD long and -4.79 USD short, and the biggest swap is for the USD/TRY with -58.90 USD for long and -36.99 USD for short. These swaps rates may not be favorable for mid and long term traders. As for cryptocurrencies, the swaps are more extreme.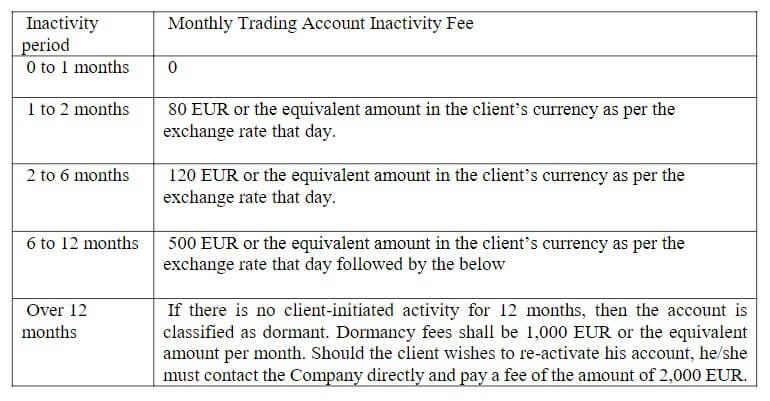 For example, "BTC.mEUR" (note the "m" signifying the 24Option mini CFD as only they have 1 unit contract size) has -7.23 USD on both sides, Litecoin.mUSD -0.07 USD on both and ETH.mUSD -0.24 USD. Precious metals also have all negative swaps, Gold is set to -15.89 USD for long and -3.18 USD for short, Palladium -21.16 USD for long and -3.02 USD for short and Platinum -12.38 USD on the long and -1.77 USD on the short position. All swaps are tripled on Wednesdays.
The inactivity fee 24Option charges is among the highest we have seen in the industry, and one of the most aggressive. The scheme is published in the General Fees document available on the website. The whole document is unprofessionally hard to read, probably deliberately to turn the readers away. The fee will increase after each month according to the following: 1 to 2months -80 EUR or equivalent, .2 – 6 months -120EUR, 6 – 12 months – 500 EUR. Over 12 months the account is dormant. Dormancy fees are 1,000 EUR or equivalent amount per month. Moreover, if the client wishes to reactivate his account, a fee of 2,000 EUR is charged.
Assets
24Option has a very good range of available assets, spreading across 7 categories, Forex, Commodities, Indexes, Stocks, ETFs, Precious metals, and Cryptocurrencies. Forex range is very good consisting of 46 currency pairs, all majors and crosses included. The broker extends this range with the following exotics: EUR/HUF, EUR/SEK, USD/SEK, EUR/NOK, USD/HUF, EUR/DKK, USD/HKD, USD/NOK, EUR/TRY, USD/TRY, USD/DKK, USD/ZAR, EUR/PLN, USD/PLN, USD/SGD, USD/INR, USD/MXN, and USD/RUB.
Precious metals and general metals are at maximum possible range. All precious are listed, Gold, Silver, Platinum, and Palladium with the addition of commodity class Aluminium, Zinc, Nickel, Copper all denominated in the USD. For all metal traders, this is the ultimate offer.
Commodities are also numerous. A total of 15 are listed excluding the metals mentioned above. Notable are Rice, Livestock, Cotton, Coffee, Cocoa, Orange Juice, Milk, Gasoline, and Sugar. Specialty traders will like this range.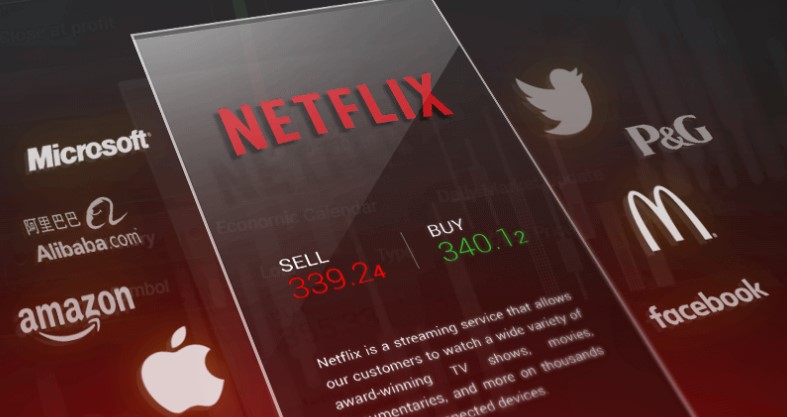 The indices range is mixed with the futures CFDs making a total of 22 instruments placed in this category. The symbols representing each index can be different than what is standard. Uncommon Indexes are TA-35 Index (Tel Aviv index), FTSE MIB, IBEX 35, US Dollar Index Futures, MSCI Tadawul 30 Index, Jamaica Stock Exchange Index, OMX Stockholm 30, and some other ETF indexes.
Stocks range is filled with rarities and popular stocks like the cannabis pharmaceutical companies. These are Weed and Aurora listed on the Web Trader platform. Other big companies' names are present from all economic sectors. The range is very diversified.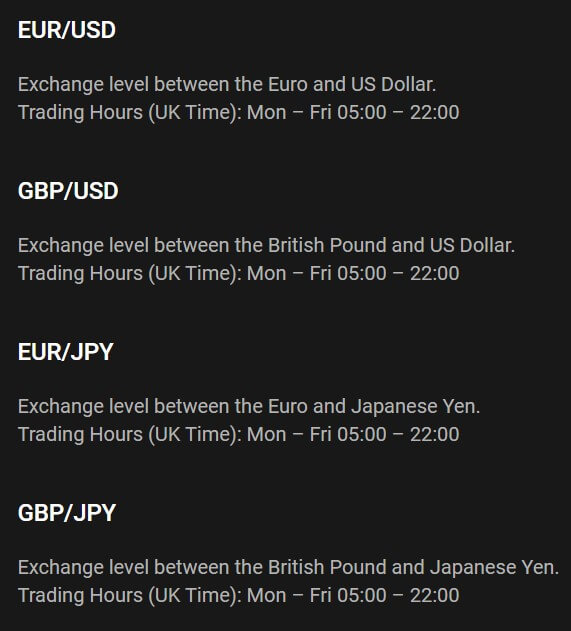 ETFs category is unfortunately completely shutoff since mid-2019. The only ETFs available for trading are inside the Index category. There are 5 in total that we have found actual.
The Cryptocurrency range is good enough with multiple currency quotations, GBP, USD, and EUR. The major 4 are listed with the addition of Dash, Litecoin, BTC Gold, Ethereum Classic, Ripple, Monero, and Stellar. The list is longer than the actual coins range as they are also offered in "mini" contracts featuring 1 unit per contract, which is, actually, the standard in the industry. Cryptocurrencies are available for trading during the weekends.
Spreads
The spreads are a floating type and their levels depend on the selected account type. According to the broker account types table, the spread for EUR/USD starts from 2.5 pips for the Basic Account to 1.1 pips for the VIP. GBP/USD starts from 2.8 pips to 1.4 pips for the VIP and USD/JPY from 2.8 pips to 1.4.

What we have encountered in the Web Trader platform is 4.4 pips for the EUR/USD, 5.9 pips for USD/JPY and 21.4 pips for the GBP/USD. Cryptocurrencies spreads are better than with other assets, for the BTC/USD it is around $36 or 3624 points, ETH/USD is at 121 points or $1.21, Ripple is at 33 points and Litecoin at 138 points. Note that the spreads will rarely be as presented on the website according to our readings and expect 1 to 2 pips higher for each account type.
Minimum Deposit
The minimum deposit for the Basic is $250, Gold Account requirement jumps to $5,000, Platinum 10,000 and the VIP account requires at least $50,000. We have noticed that there is great flexibility to these amounts as, for example, traders registered from Russia will have local currency accounts or in Russian Ruble. The minimum is then 10,000 rubles or roughly $160 for the Basic account. These packages are not offered when making a deposit and they could be just a part of unreal marketing. Therefore, other countries will have different minimum deposit requirements.
Deposit Methods & Costs
24Option offers more than an average number of deposit channels. Some of them may not be available in all countries. What we have noticed are Credit/debit cards, Wire Transfers, Neteller, Skrill, and Qiwi, and PerfectMoney. The broker does not charge any fees for deposits.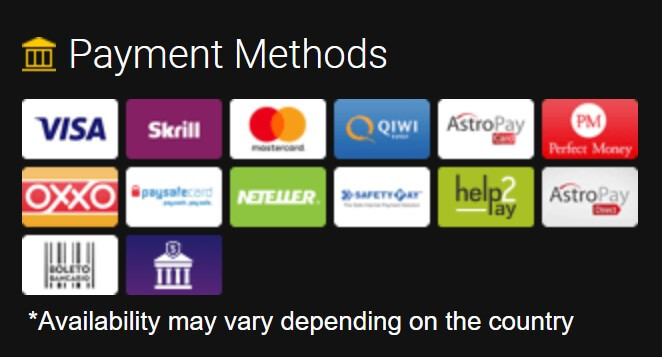 Withdrawal Methods & Costs
24Options is harsh when it comes to fees, it is the same case for withdrawals. As stated in the General fees document, the broker reserves the right to charge a withdrawal fee at an amount equal to 80 EUR or equivalent. The fees for withdrawals vary depending on the channel used and are 3.5% for Debit/Credit cards, 30 CHF, 30 USD, 30EUR, 1800 RUB, 30 GBP, 3000 JPY or 183 CNY for Wire transfers depending on the country, 3.5% for Netteler, 2% for PerfectMoeny and Skrill, 3.5% for Qiwi, and Webmoney fee is $0.9. For VIP account holders every withdrawal is free, and for other account types, there is a monthly quota already mentioned in the Account Types section.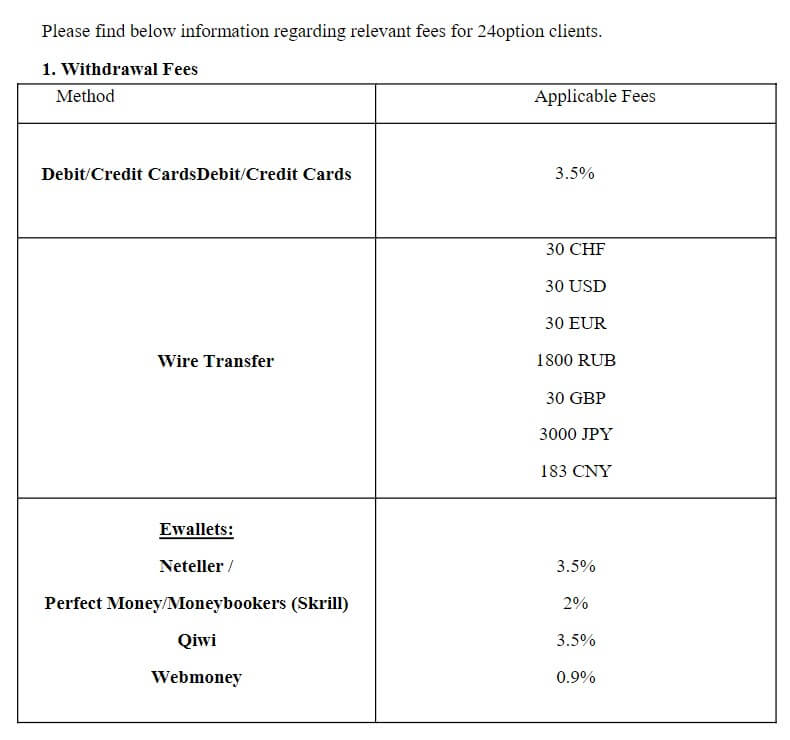 Withdrawal Processing & Wait Time
The processing is done only during the broker business hours which are Monday-Friday, 9:00 am-6:00 pm GMT+2. The exact timeframe for any of the withdrawal channels is not disclosed. 24Options remain vague with statements like "aim to process all withdrawal requests as quickly as possible and without undue delays" and that it depends on the AML procedures.
Bonuses & Promotions
24Option currently offers the 50% bonus scheme to live account traders. Up to 50% of the Deposit amount or up to $5,000, whichever is the lowest. The broker has a special legal document about the bonus conditions. Clients can cancel the bonus at any time. The required trading volume formula is Bonus in USD*10,000, time-limited to 90 days. For example, a trader who deposited $5000 will receive a $2500 bonus and for the bonus to be released, a trader needs to trade 500 currency pair lots (100,000) in 90 days.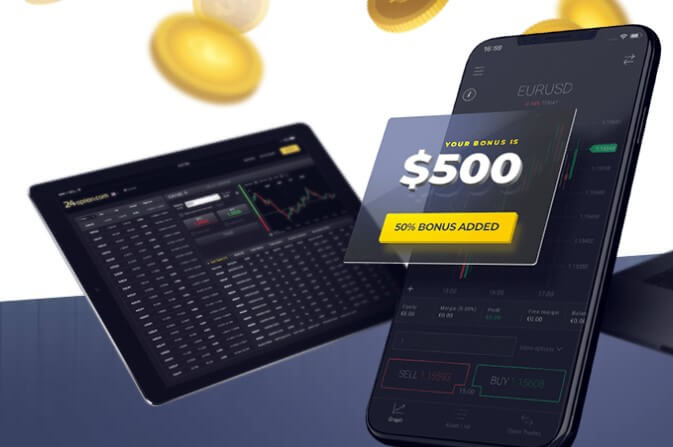 Educational & Trading Tools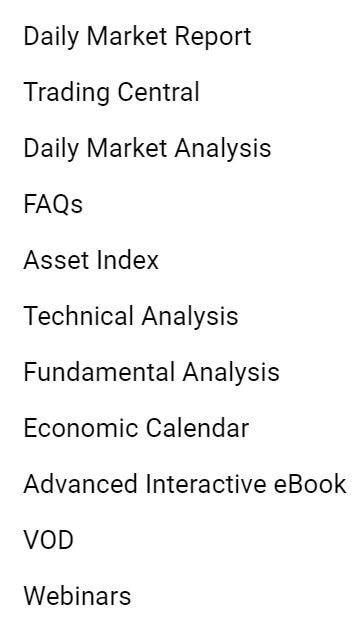 Aside from the mentioned tools integrated into the 24Optoin web platform, there is a dedicated Educational section and an Assets calculator. The Educational section contains the Daily Market report, Trading Central, Daily Market Analysis, FAQs, Asset Index, Technical Analysis, Fundamental Analysis, Economic Calendar, Advanced Interactive Ebook, VOD and Webinars. One of the most useful sections is the Daily Market Report which contains a nice overview of global markets across categories, with short descriptive content but without any backstories.
Daily Market Analysis is the same feedback from the Trading Central service as within the Web trader platform. Other sections are not worth mentioning except for the Ebook. The Ebook contains 34 pages with elementary trading topics like Trading Psychology, Capital Management, Technical Analysis and similar. Most of the content is not deep enough for anyone serious about studying the market. The Ebook is free and contains some exercises after each chapter.
The backbone of 24Option tools/information values comes from the Trading Central. This service is well known for its technical analysis available for 24Opitn clients, even on the demo account.

Customer Service
24Option does not have a phone line for contact. The clients can still request a callback by email or chat. The chat service is not 24/7, their work time is Monday-Friday – 8 AM – midnight; Sunday – 10 AM – 5 PM Cyprus time. The staff is reachable after a minute or two waiting, the response is not full enough, in our opinion, and it seems they will push for direct phone contact by their sales agents on the first opportunity.
Demo Account
The demo account is easy to open for the Web trader, for the MT4 platform it is hidden. MT4 requires login details, the account ID and password. These are not presented once you register with a 24opition demo account, just your credentials for the website portal, and they are not the same for the MT4. The portal is not providing you with any information for the MT4, just to deposit and verify your account by uploading the required documents. Your account ID is not related to the MT4.
It is not possible to open the demo within the MT4 platform. To circumvent this issue that prevents you to try MT4 demo, you need to open a real account from the MT4 selection menu and type in the fields required. Once done you will be provided with MT4 account credentials. The account will not have any funds and therefore it is almost useless. This procedure is not standard by any mean nor it is logical. The reason behind this is probably to turn traders away from opening the demo accounts and push the real.
As we have approached 24Option support about this issue, we are informed that the MT4 demo is available only if you register for a live account, or in other words, you cannot try their service for free, the only free demo is available on the Web Trader platform. The demo account will reflect the trading conditions of a Platinum account type.
Countries Accepted
The broker does not disclose the list of blocked countries. What we have been able to obtain from their support are these countries: Canada, Israel, Iraq, Belgium, Bosnia And Herzegovina, Australia, U.S.A, Virgin Island, Puerto Rico, America Samoa, Algeria, Ecuador, Iran, Serbia, Myanmar, North Korea, China, Panama, Uganda, Ukraine, New Zealand, and Japan.

Conclusion
This section of the 24Option review will disclose other important information for visitors that seek to open an account. 81.27% of retail investor accounts lose money when trading CFDs with this provider under the EU domain. This percentage is higher than the industry average of 77% and is among the top tier. 24options and the brand parent companies are fined several times.
On January 27, 2016, CySEC fined Rodeler Ltd. €156,000 for multiple violations, some of them are for "Failure to adhere to the interests of clients when providing bonus promotions", "Failure to assess the eligibility of its clients to engage in investment activities" and lack of compliance controls. The Belgian Financial Services and Markets Authority (FSMA) fined 24options €140,000 for marketing breaches. In August 2016, the French AMF has banned 24Options from doing business in France. Among the reasons was not acting honestly or fairly in the interest of its clients.
This list of unethical behavior is definitely cause for concern. On the other side, 24Option provides better than average information to traders by utilizing the Trading Central service for free.