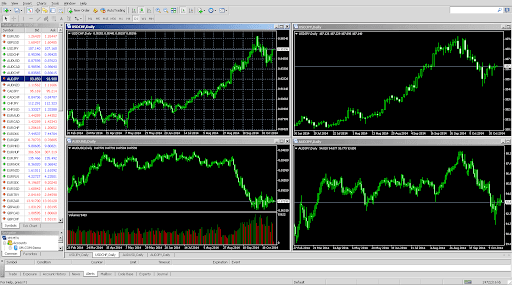 Introduction 
In our previous lesson, we discussed multiple timeframe analysis in forex means. Now, let's find out what forex trading with multiple timeframes means. In case you are wondering, trading multiple timeframes in forex does not mean that a trader is opening several positions using different timeframes. We are not saying you can't do this, you if you have the money; but that is not what trading with multiple timeframes in forex means.
Trading multiple timeframes in Forex means using different timeframes to establish the trend and support and resistance levels of a currency pair to determine the best point of entry and exit of a trade. Let's use a few examples to show how trading with multiple timeframes in forex occurs.
As we had mentioned in our previous lesson, the timeframes you use for your analysis depends on which type of forex trader you are. The best way of trading multiple timeframes in the forex market is by using the top-down technique. With this approach, you first observe the longer timeframes for the general market trend, then use the smaller timeframes to establish more current trends.
Let's take the example of a forex day trader. You will start by using the 1-hour timeframe to establish the primary market trend. Say, a day trader wants to open a position on September 9, 2020, at 11.00 AM GMT, using the 4-hour timeframe, the market shows an uptrend.
4-hour timeframe for EUR/USD
1-hour timeframe for EUR/USD
The 1-hour timeframe confirms that the pair's intermediate trend is consistent with the uptrend observed in the 4-hour timeframe.
15-minute timeframe for EUR/USD
The 15-minute timeframe can then be used to select the best entry point.
Determining the market limits: the longer timeframes will enable you to determine the support and resistance levels of a currency pair. The resistance levels help you set your exit points while the support levels will help you timing your market entry.
Establish the trend momentum: While the larger timeframe gives you the overall market trend, the smaller timeframes will help you establish the spikes in the price of the currency pair. These spikes will help you to establish the short-term strength of the trend compared to the longer-term trend.
Helps avoid the lagging effect of some technical forex indicators: Most technical Forex indicators are lagging, meaning trend changes signaled by the indicators lags the real change in the price of the currency pair. Therefore, price-action can be said to be leading the technical indicators in the forex market.
We will cover these three reasons in detail in our subsequent lessons.
[wp_quiz id="89146″]