Introduction
Economic releases and news are essential for traders who make trading decisions based on fundamental analysis. Economic news is publicly available as soon as it releases. Therefore, traders can access it from any internet connection enabled device. As economic releases directly affect the currency market, traders must understand how to use it.
Types of Economic News
There are three types of economic news for the currency market- low impact, medium impact, and high impact. Among these types, the high impact news is essential as it immediately impacts a currency pair. Some example of high impact economic news is-
Interest rate decision
Inflation report
Retail Sales
PMI
GDP
Export and Import
Foreign Currency Reserve
Besides, the high impact news, medium, and low impact news often create a good movement in the market, which is not very frequent. Therefore, we should stick to high and medium impact news only.
How Economic News Affect the Currency Pair?
There are three significant elements of the economic news that a trader should consider while doing analysis. They are:
Previous Release- Previous data is the most recent release used to compare with the current data.
Expectation- Before releasing every news, analysts project the data. If the news comes better than expected, it will be shown in green and indicate a positive effect on the currency.
Current Release- It is the most important part as trading decisions depend on it. The current release is the data that usually release on a particular day.
Let's have a look at how to read the news:
The current release is better than the Previous release- Good for the currency
The current release is better than the expectation- good for the currency
The current release is worse than the previous release- bad for the currency
The current release is worse than the expectation- bad for the currency.

Image Source: www.forexfactory.com
In the above image's marked area, we can see that the US monthly retail sales came at 1.2%, where the previous data was 8.4%, and the expectation was 2%. As the news massively declined from 8.4% to 1.2%, the US Dollar became weaker than the Euro as indicated in the image below: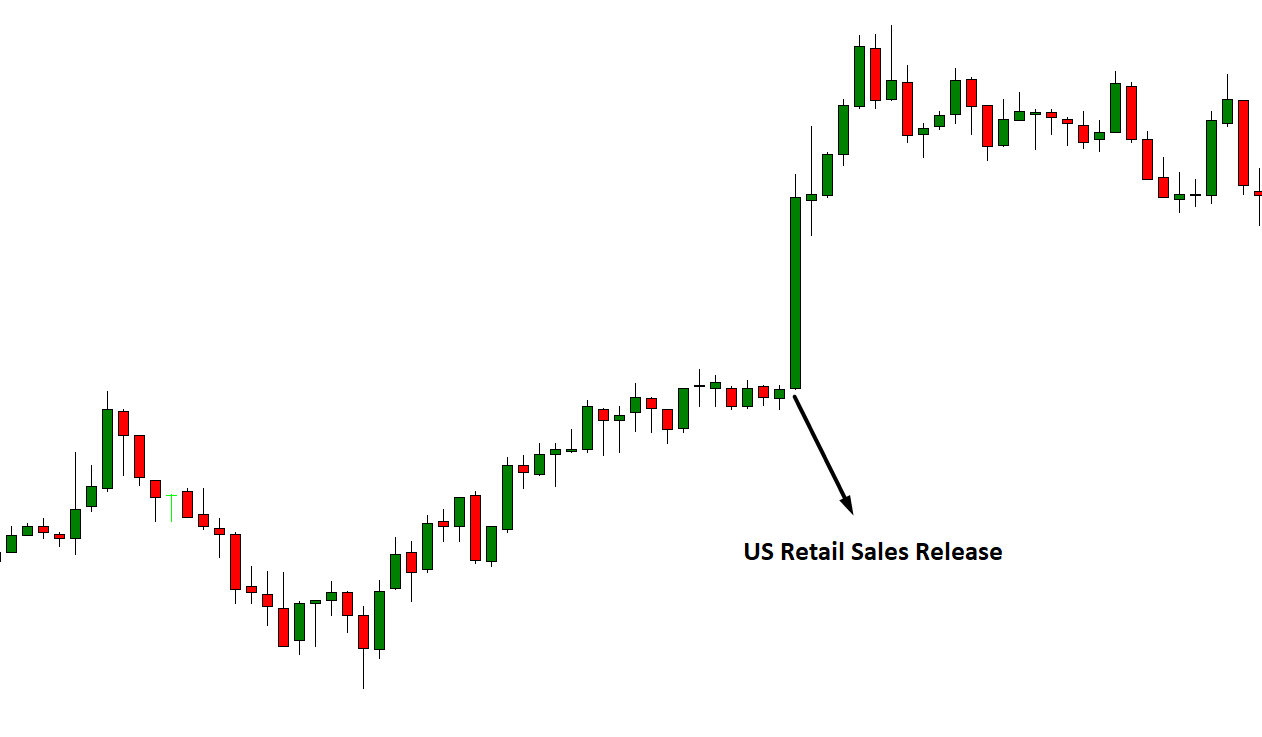 Conclusion
As of the above discussion, we can say that better than expected and previous data may positively impact the currency, and weaker than expected data will negatively impact a currency. However, we should consider the overall fundamental outlook of a country to take the ultimate trading decision.
[wp_quiz id="86431″]