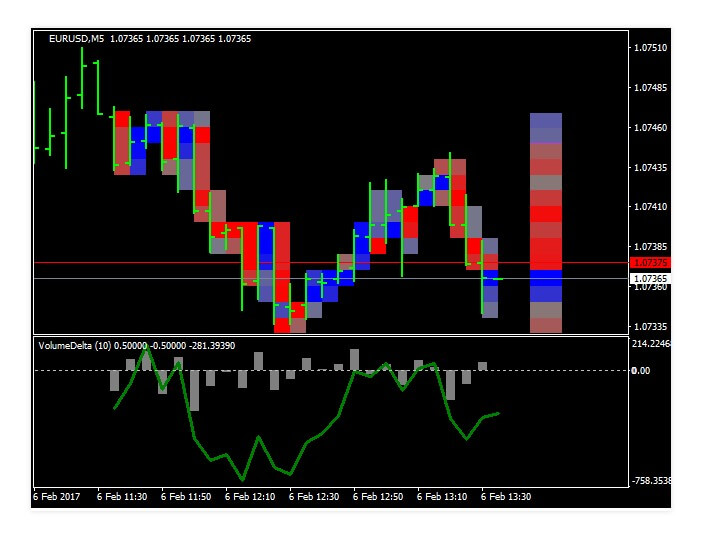 First uploaded on the 17th of February 2017 by its creator Stanislav Korotky and received its most recent update on the 11th of July 2017, the Volume Delta Footprint indicator is currently at version 1.8.
Overview
Created for the MetaTrader 4 trading platform, Volume Delta Footprint is an indicator that aims to provide visualization and analysis around volume deltas. It does this by calculating tick volumes for buys and sells independently, it will then display the information on the volumes by price clusters for specific bars.
The indicator will display the delta of volumes for each bar, cumulative data of delta volumes, and additional histograms for buying and selling volumes.
In terms of parameters, the following are available:
-PointsPerCell – number of points forming a single price cluster; default value – 10
-LastBars – number of bars for calculation; default – 12; should be larger than 0
-CumulativePeriod – period for the calculation of cumulative delta by EMA; default – 12
-Display – selector of volume type to show: Delta (default), Sell, Buy, Total
-ColorPositive, ColorNegative, ColorDefault – colors defining gradients between maximal (positive), minimal (negative) and zero values in the maps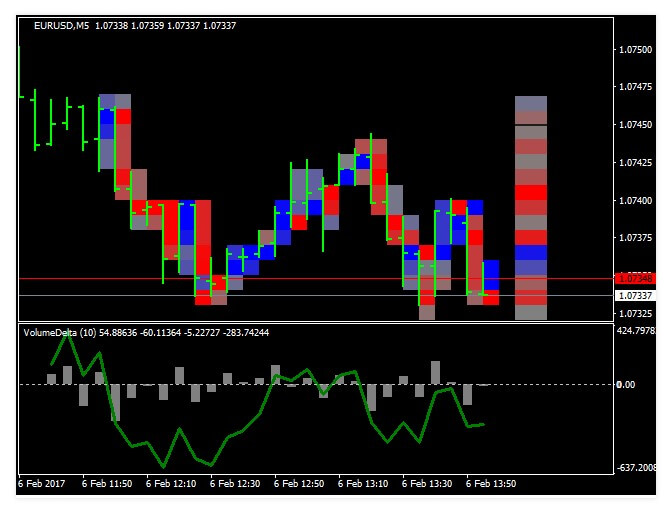 Service Cost
Volume Delta Footprint will currently cost you $25 to purchase it outright, it will give you limitation free access and can be activated on 5 different devices. There is not an option to rent this indicator so the only option is to purchase it.
There is a free demo version a,s there are no details on the site, this often indicates that it may only be used within the strategy tester of MetaTrader 4, it still may be worth downloading to try out.
Conclusion
Unfortunately, there aren't any reviews for this indicator so we do not know how its users are finding it and if they feel that it is worth the purchase., There are a number of comments, the developer was initially replying to the majority of them but it seems like he has not replied to any that is later than the end of 2017, so again, it is hard to tell if he is still actively supporting the indicator. We would suggest trying out the free demo version, also send any queries or questions you have to the developer, this way you can make sure that it is right for you and also that it is still receiving support from its developer.
This FX service is currently available in the MQL5 marketplace: https://www.mql5.com/en/market/product/20832