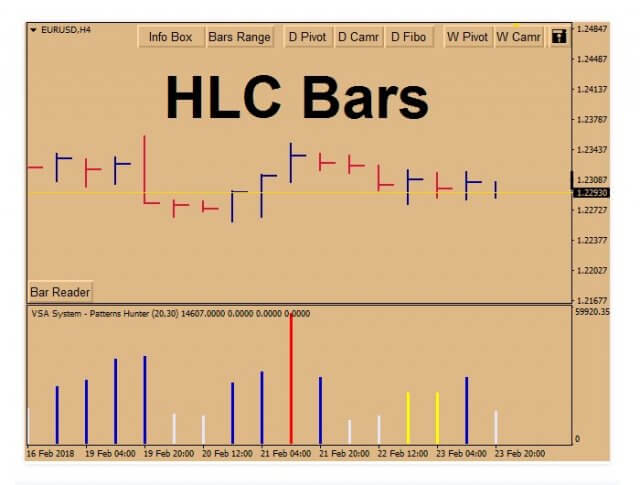 VSA System Patterns Hunter was first uploaded by Ismail Shehade to the MQL 5 marketplace under the indicators heading, it was first uploaded on the 1st of March 2018 and is currently at version 1.0 as it has not received any additional updates.
Overview
VSA System Patterns Hunter is and indicator for the MetaTrader 4 platform, its main purpose is to look at volume spreads and to analyze them.
The main features of the indicator:
With one click you will find all the VSA patterns on your chart
Bars without opening price
Easy to read volume indicator
Bar reader (Bar type – Close type – Volume type – Spread type)
Daily and weekly levels (Pivot – Camarilla – Fibo)
Very light on the trading platform and moving between time frames is very fast
And more
A number of different parameters are also available, these include the number of bars, bar width, colors of the bars, the VA period, the standard deviation period, the standard deviation factor, the SA period, arrow colors, daily level parameters, weekly level parameters, pattern hunters parameters, comment box, and more.
Service Cost
VSA System Patterns Hunter can currently be purchased for $250, this is an outright purchase and will give you as limitation free version of the indicator that can be activated 5 times. There is also the option to rent the indicator, it will cost you $15 per month in order to rent it and this must be paid each month that you wish to use it.
There is a free demo version available, there isn't any information on the MQL5 site regarding it so it may only work with the strategy tester on the MetaTrader 4 platform.
Conclusion
There are currently no reviews so we cannot tell how the users of the indicator are finding it and whether they find that it is doing what it is meant to do. There are also no comments from users or the developer. Due to there being no information we would strongly suggest that you try out the free demo version, also send any questions or queries that you may have to the developer this way you can make sure that it will do what you need it to and also that the developer is still supporting it should you require any help.
This Forex service is currently available in the MQL5 marketplace: https://www.mql5.com/en/market/product/28149