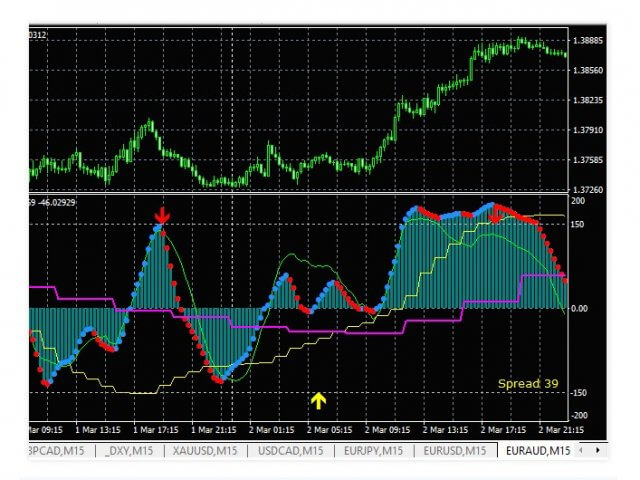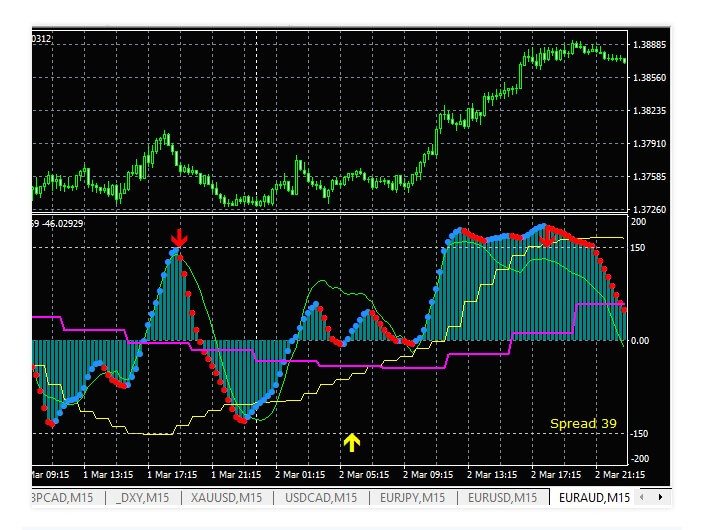 UpandDown can be found within the MQL5 marketplace, we have added a link below so there is no confusion as to which indicator we are looking at. The UpandDown indicator was first uploaded on the 6th of April 2017 by Olep Borisov, it was most recently updated on the 17th of April 2017 and this brought it up to version 3.2.
Overview
The UpandDown indicator was designed for the MetaTrader 4 trading platform. The indicator was created to go along with your own manual trading, it generates buy and sell signals using a few different sets of trading algorithms. The indicator works by open prices and uses modifiers CCI, MACD, and Laguerre filters.
The indicator works best on the XAUUSD, GBPUSD, EURUSD, GBPJPY, GBPCAD, EURAUD, and EURJPY pairs. The only setting that comes with the indicator is to turn the alerts on and off when a signal appears.
Service Cost
The indicator will cost you $88 to purchase it outright, this will give you unlimited access without any limitations. If you would prefer, you are also able to rent it, you can rent it on a monthly basis which will cost you $10 per month, you can also rent it for three months which will cost you $25 per month.
There is a free demo version of the indicator available, however, the site does not indicate what the possible limitations to the free version are, however, it is always worth downloading the free version to check it out.
Conclusion
There is only one review for the UpandDown indicator, this is giving it 5 out of 5.
"Good work Oleg. I recommend this product" – User Comment
The review is positive, there are also a number of different comments, the developer Oleg has been replying to them where possible which is a good indication to the support that you will receive. As there is just the one review, be sure to download and try the free version. Also, if you have any questions contact the developer so you can be sure that it will do what you need it to before you make a purchase.
This Forex service is currently available in the MQL5 marketplace: https://www.mql5.com/en/market/product/21024