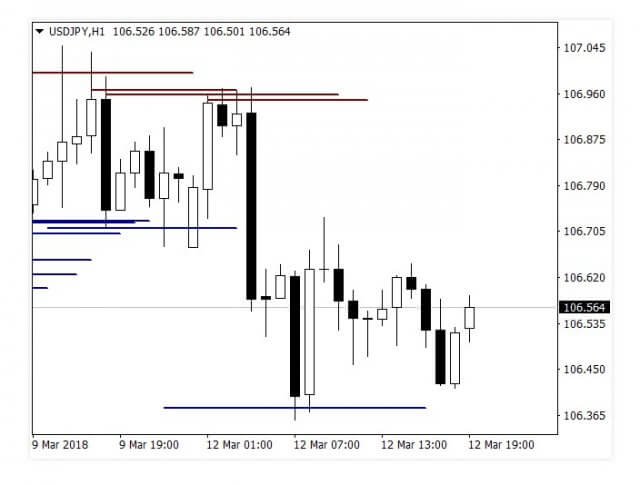 The KFX Support and Resistance Modified can be found on the MQL5 marketplace within the indicators section. We have added a link to it below so you cans ee exactly which indicator we are looking at. The indicator was created by Marcel Kirchhof and was first uploaded on the 15th of March 2018, there have not been any further releases so the current version of the indicator is version 1.0.
Overview
The KFX Support and Resistance modified is an indicator that can be used with the MetaTrader 4 trading platform. The indicator was designed to help you find support and resistance levels, it also helps to increase the number of confirmation for stronger levels. The indicator will use information from multiple timeframes and not just the one it is attached to, it also allows you to show strong levels of support and resistance where the price respects a level more that one time.
How the indicator works:
-For smaller timeframes up to M30, I recommend at least 3 confirmations. This filters stronger levels with subsequent strong movements.
-For larger timeframes of H1, I recommend 2 confirmations. In these timeframes, subsequent strong movements are often seen after 2 confirmations.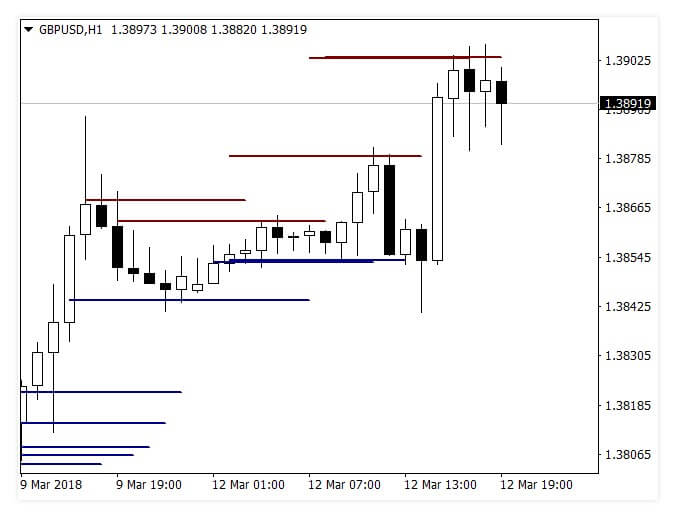 There are a few parameters that can be altered to help make the indicator more suit your own requirements:
Range – the range is a lookback window, number of bars. within those 10 bars must be at least 3 with a low below the level, high above the level, and close below the level.
Confirmations – number of confirmations
Res line color – adjustable color for the resistance line
Sup line color – adjustable color for the support line
Service Cost
The indicator can be purchased for $30, this will give you unlimited access to it, there is no option to rent the indicator so the only option available is to purchase it outirght., The site does have a free version available, this will come with some limitations, however, the website does not indicate what the limitations are, it is always worth downloading and trying the free version.
Conclusion
There are no reviews or comments for this indicator, due to this we do not know if people using it are finding it useful or not, so we would highly recommend that you download and try out the free version, this will give you an idea of how well it works prior to making a purchase. You should also contact the developer with any questions that you may have, this is another way of ensuring that it has the features that you need prior to buying it.
This Forex Indicator is currently available in the MQL5 marketplace: https://www.mql5.com/en/market/product/28376