The Keltner RSI Linear Channels is an indicator that can be found on the MQL5 marketplace, we have provided a link down below so you can see exactly which indicator we are looking at. This indicator was originally released onto the MQL5 marketplace on the 23rd of December 2016, there aren't any updates stated, but the current version of the indicator is version 1.2.
Overview
The indicator was designed to be used with the MetaTrader 4 trading platform, the indicator helps to identify RSI linear channels, and will make them on your charts. The indicator uses Keltner's methodology to calculate the RSI lines and can be sure to help make trading and analysis decisions on the sentiment of the market. The indicator allows you to draw on two channels on a single chart.
The indicator does not make trades for you, it requires you to make manual trades, however, it can be combined with an expert advisor in order to make automated trades based on the signals sent from this indicator.
There are a number of settings and parameters that can be altered to help suit your own trading style, you can select whether it draws 2 channels or 1, the colour of the lines, how many bars to use to calculate, the calculation method, channel width, ATR period, RSI period, and more.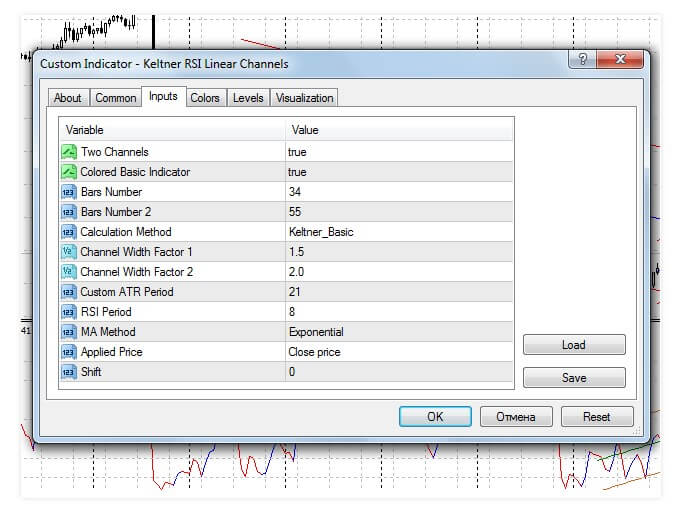 Service Cost
The indicator currently costs $20 to purchase outright, unlike many other indicators, there is no way to rent this one for a short period of time. There is also a free version available, sadly, there isn't any information as to what the limitations of this free version are, but it is a good way to test out the indicator before purchasing it.
Conclusion
Unfortunately, there aren't any reviews for the Keltner RSI Linear Channels indicator, this means that we cannot work out whether or not the indicator functions the way that it should or if the indicator is effective. Due to this, we would highly recommend that you download the free version of the indicator, this way you are able to test it out and try it before having to make any purchases.
This Forex Indicator is currently available in the MQL5 marketplace: https://www.mql5.com/en/market/product/20038