Info Plus can be found on the MQL5 marketplace and is under the indicators section. There may be others with similar names so we have added a link to it below. The indicator was created by Richard Waweru and was first uploaded on the 30th of March 2017, it was most recently updated on the 19th of November 2018 and is currently at version 1.4.
Overview
Info Plus is an indicator that can be used with the MetaTrader 4 trading platform that aims to provide you with additional information about the markets and charts that you are viewing.
Info Plus will give you the following bits of information:
Bid Price
The high and low of the day
Candle time left
Current spread
Selected timeframe
The asset class selected (Symbol)
Pip value
Open Positions
Total pips booked
Pips per trade
Session times (they may not be accurate and are subject to changes)
Date and time
There are also some additional parameters available that can be used to change the way the information is displayed, some of the options include the header and footer position and location, the colors for each bit of individual information such as pips, font size and type, symbol colors and more.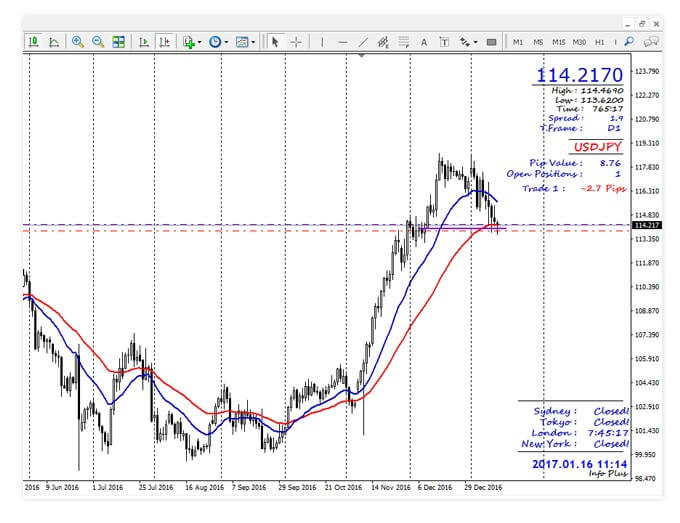 Service Cost
The Info Plus indicator is completely free, no charge at all, due to that there is also no rental options or demo versions, the full version comes completely free and fully functional. So it may be worth downloading just to see if it works for your needs.
Conclusion
18 reviews in total, giving it an overall rating of 5 out of 5.
"Indicator provides you what you need to know when you need to know it…" – A 5-star review.
"Very good indicator and easy to use and read, a must-have on all charts" – A 5-star review.
"Very good, thank you." – A 5-star review.
The reviews are all very positive which indicates that it is doing what it was designed to do, there are plenty of comments, the developer has been replying to some but not many of the more recent ones which are a slight concern, we would recommend sending any queries that you have to the creator, if they reply at lease you will know that they are still supporting the indicator, as it is free, it could be worth downloading just to see if it suits your needs.
This Forex Indicator is currently available in the MQL5 marketplace: https://www.mql5.com/en/market/product/21611