Magic Histogram is found within the indicators section of the MQL5 marketplace. It was created by Evgeny Belyaev and was first uploaded to the marketplace on the 21st of July 2017, it has not had any further updates and so, is remains at version 1.0.
Overview
Magic Histogram is an indicator for the MetaTrader 4 trading platform, its kain purpose is to act as a universal tool that is suitable for scalping and medium-term trading. It will help to determine the direction and strength of a trend, it will also not redraw and is most suitable for the M5, M15, M30, H1, and H4 timeframes and on the AUDUSD, EURUSD, USDCHF, EURJPY, and NZDUSD currency pairs.
Some of the benefits described by the developer:
Excellent indicator signals!
Suitable for beginners and experienced traders.
Using the flexible indicator settings, you can adjust the indicator.
Works on all timeframes.
Works on any financial instrument.
It does not repaint/redraw.
Sending signals to email and mobile devices.
The indicator also comes with some parameters that can be changed to more suit your own needs. Some of these settings include the time period, alert options, email and push notifications, colors for up and down, and the width of the histogram.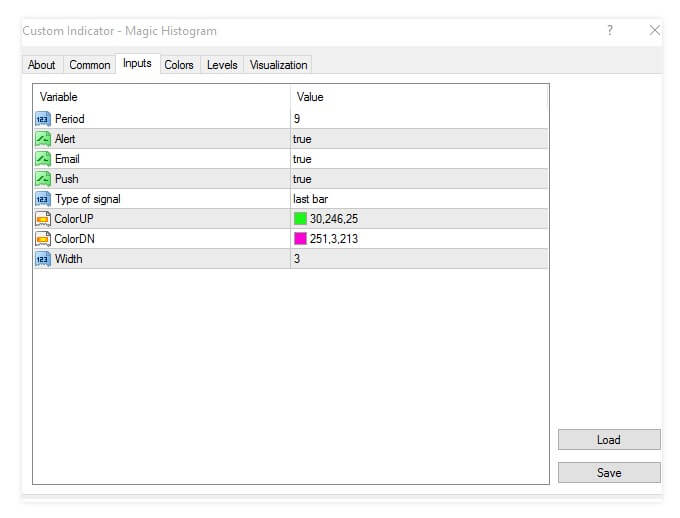 Service Cost
The indicator will currently cost you $28 to purchase it outright, this one-off payment will give you up to 5 activations of the indicator. If you prefer, you can also rent it, this can be done for a period of three months for $15 or for a one year period which will cost you $24.
There is a free demo version, as the details are not stated on the site, this normally means that it can only be sued with the strategy tester within the MT4 trading platform.
Conclusion
Unfortunately, there aren't any user reviews or ratings given so we do not know whether those that are using it are finding it useful or whether it is doing what it was advertised to do. There are some comments, the developer has been replying to them al in a prompt manner, there have not been any comments since 2019 so it is not fully clear if it is still being supported. Due t these reasons we would suggest contacting the creator with your questions, so you can be sure that it will work for you and that it is still receiving active support from its developer.
This Forex Indicator is currently available in the MQL5 marketplace: https://www.mql5.com/en/market/product/23610