TIL Timeframe Overlay is an indicator that was created by Viktor Macariola in 2014. The TIL Timeframe Overlay indicator is the tool that is designed and developed for multi-time analysis. It makes the task simpler but at the same time powerful to overlay a table of candles from several different time frames over another that allows you to see the bigger picture and see the underlying trend in the midst of noise and volatile price action.
The main features of this indicator are:
The indicator is compatible in all time frames, being able to work in M5, M15, M1h, M4h, and more. It works on any asset market instrument or symbol, be it currency pairs, indices, commodities, or stocks. Further, it displays the entire candlestick (body and wick) of other terms, including open, high, low, and closing prices.
The end-user can choose any time frame to overlap. Of course, the indicator does not repaint. It shows a new candlestick as the new fence (in real-time), depending on the time frame chosen. The colours of the candlesticks can be customized by the user.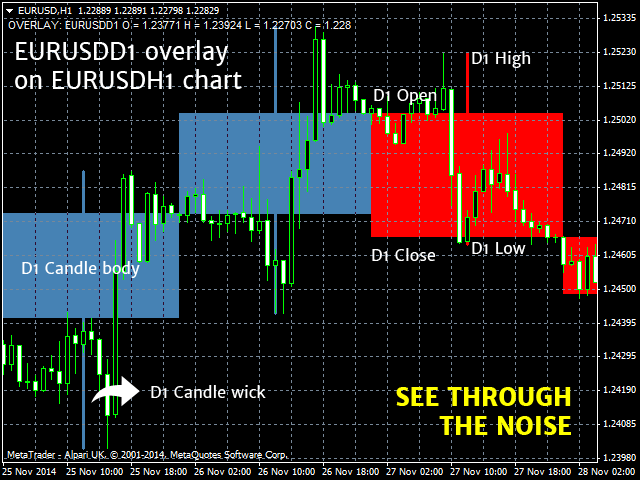 A couple of important notes:
-Make sure that the time frame you choose to overlap is greater than the graph you are attaching it to.
-Given the limitations you have on MQL objects, you can only use one instance of this indicator at a time.
-The indicator displays the candles only when the candles have closed.
It seems an interesting indicator, which seems ideal to complement a clear trend indicator. The fact of superimposing chandeliers of several temporary spaces will be very useful to us to make the decision to make a trade or not, a 5-minute candle may give us a purchase and a 4-hour candle provides us with a sale and thus debug the trades we make.
This indicator is available on the MQL market for a price of 97 USD. You can also try it for one month for only 15 USD or try your free demo. We would have liked to have heard user opinions about this indicator, but there are no opinions about it, even though almost 60 people have tried at least the Demo version.