PZ ABCD Retracement is a technical indicator created in 2014 by Arturo López Pérez. Arturo López Pérez is a private investor and speculator, software engineer, and founder of Point Zero Trading Solutions. In this review, we'll take a look at how this indicator works, as well as how effective it actually is. 
Overview
The PZ ABCD Retracement indicator finds in the markets AB=CD patterns. The pattern AB=CD Retracement is a 4-point price structure in which the initial price segment is partially retracted and followed by a movement equidistant from the end of the pullback. This behavior of the assets in the markets is the basic basis for all harmonic patterns.
The main features of this indicator are:
The sizes of the patterns are customizable.

AC and BD relationships are customizable.

Break-up periods are customizable.

Lines, colors, and sizes are also customizable.

Displays Stop Loss and Take Profit levels based on CD fiber levels

Visual alerts / sound / push / mail for patterns and breaks.
AB=CD Retracements can be expanded and repainted quite a bit. To make things easier this indicator implements a twist: expect a donchian bud in the right direction before signaling a trade. The end result is a repainting indicator with a reasonably reliable trading signal. The Donchian rupture period is introduced as an input.
Bullish setbacks are marked in blue.
Bearish recoveries are marked in red.
Note that price patterns like AB=CD can be expanded and the indicator must be repainted to follow the pattern expansion. If we observe that the pattern repaints more than the ratios AC / BD / AB = CD that have been entered in the parameters, the pattern disappears as it will no longer be valid. To negotiate these patterns, we must resort to the sign of Donchian rupture.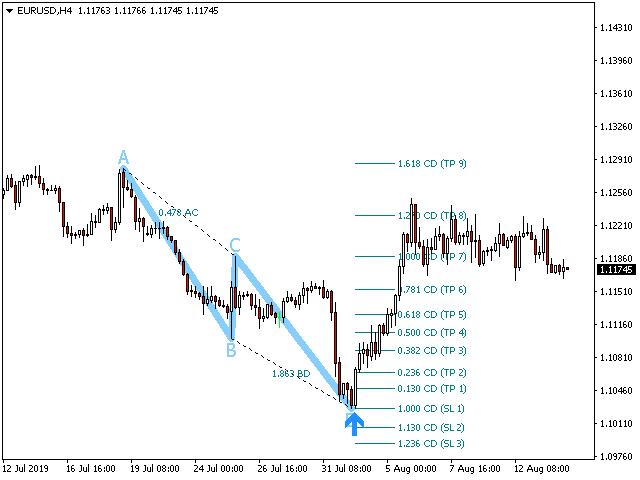 The input parameters are:
Amplitude: Size of patterns AB=CD to be found.

Rupture period: Donchian period of rupture at time signals.

Max History Bars: Number of bars to look back on when the gauge loads.

Min AC: Minimum standard AC ratio.

Max AC: Maximum pattern AC ratio.

AB = CD: Enable or disable condition AB = CD

Display options: Displays or hides SL/TP tags, ratios, and levels.

Patterns: Select sizes and colors for the lines that form the pattern.

Tags: Select colors and sizes from labels A, B, C, D

Ratios and SL: Select colors and font size for SL/TP ratios and labels.

Outbreak alert: Allows you to receive alerts when a pattern is found

Pattern Alert: Allows you to receive alerts when a break occurs and arrows appear
The indicator evaluates each bar, not each tick. The last point of the pattern is repainted as the pattern expands. You can have several indicators on the graph with different amplitudes. An alert is displayed when the pattern is formed and also when the break occurs. A small percentage of trading signals can be repainted. It can increase the breakout period.
Service Cost
PZ ABCD Retracement is available on the MQL market at a price of 49 USD for purchase. It has a demo version so you can try it out and get to know it, so you can make an evaluation before buying it.
Conclusion
We are talking about an indicator that has been on the market for more than 6 years. User ratings are uneven, with positive and negative ratings. We think that this indicator can be a good option for its combination with other indicators, to complement and have more trading signals, but not for solo use.