The Advanced Accumulated Currency Volume indicator was launched in March 2017 and is continuously updated. It is an affordable Forex trading tool that has incorporated a number of its own features along with new formulas. In the following review, you will learn more about this indicator and can decide if it may be helpful to you. 
Overview
The Advanced Accumulated Currency Volume Indicator is especially suitable for trading with the 28 major Forex currency pairs and works in all time frames. It is a new formula that in a single graph, extracts the entire foreign exchange volume (C-Volume) of the currencies AUD, CAD, CHF, EUR, GBP, JPY, NZD, and USD. This means a significant advantage in trading. Volume traders know how to use it. If you are a beginner trader, it is convenient that you learn to read the extreme values and add them to your trading routine.
This indicator thinks of C-Volume as a shield, not as a weapon. A warning signal will be displayed on the main graph warning not to go into wrong operations.
This is not the simple volume of a pair. The Forex market is scanned and the volume for each currency is extracted and accumulated to C-Volume. Now we can visualize which currencies have the highest or lowest volume. We can see in a single graph what is happening within the 28 pairs of Forex. If the Euro, for example, has a sharp point, check the EUR pairs for possible operations. If USD has a strong point, then check the USD pairs.
The indicator has been built on new underlying algorithms makes it even easier to identify potential tipping points. This is because it graphically shows peaks of volume C in a coin. These features were designed to help the trader and keep him out of bad trades, while the gauge guides him into pullbacks.
How to Read Volume C
Valuable is C-Volume for the base and the quoted currency of the pair. C-Volume is not a delayed indicator. It gives an instant warning signal and peaks out of range should not be ignored. It is not advisable to negotiate with an extremely high volume C outside the range band. The gauge will keep you out of the bad trades, and look for the pullback.
Do not negotiate with an extremely low volume C outside the range band. Most likely operations: Enter the increase of volume C within the range band. Avoid actions in the drop of volume C. In contrast to the standard volume, this indicator has a unique formula, and C-Volume can be used on a live candle. As long as the sail is open, it will give an approximate value in percentage.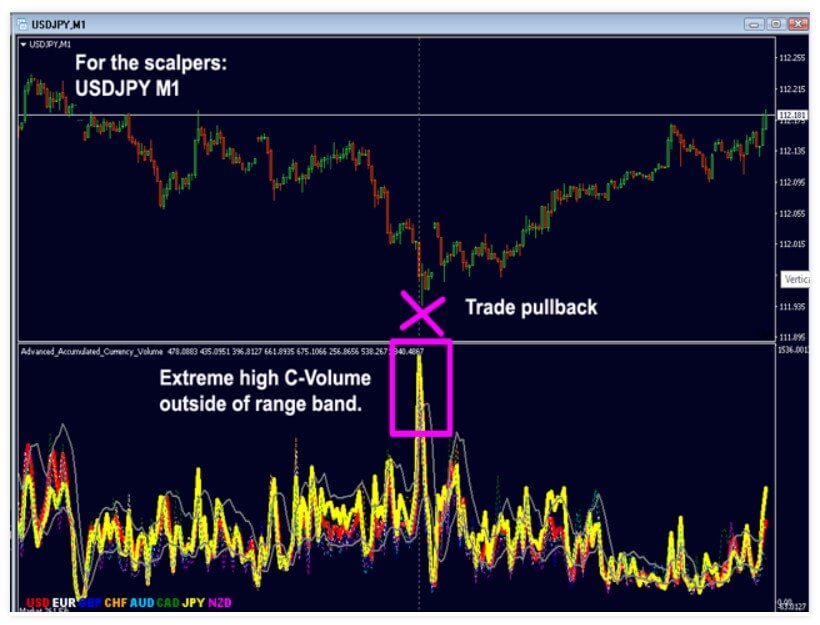 Parameters of the Indicator
Adjustments:
-Baseline width and quotation (make the C-Table volumes thicker)
-Line width other 6 (other volumes C that is not part of the chart)
-Type of line point if width=1 (use the dotted line for the other 6 above), show only the base and the volume of budget (show only the base and the budget line C-Volumes)
-Line width (top and bottom width or range)
-Minimum volume (%-Lower range line level)
-Maximum volume (%-Top range line level)
-Range period (bar period or range lines)
Font size (The size of C-Volumes names) show bars again (how many candles again the indicator prints the currency lines)
Setting up of alerts:
-High Volume C Alert (above top range line)
-Popup Alerts, send alerts by email and send push alerts.
Service Cost
This indicator is only available for rent, and its price is 44 USD for 3 months of use or 58 USD for one year, so it is more advantageous to rent it for one year. It is available in the MQL market indicator store. You also have a free demo version available if you want to use it before you invest your money.
Conclusion
In short, we are talking about a rather valuable indicator, because trading knowing the volume is an advantage over the rest of traders who do not know this fact. There are many comments about this indicator, and most are positive, users are happy with using this tool.