PZ Super Trend can be found within the Indicators section of the MQL5 marketplace, there may be others with similar names so we have provided with a link to the exact indicator that we are looking at. The indicator was created by Arturo Lopez Perez and was first uploaded on the 8th of February 2019, there haven't been any further updates but the current version of this indicator is version 2.0.
Overview
The PZ Super Trend was created to be used with the MetaTrader 4 trading platform, the indicator is stated as a high-quality implementation of the Super Trend indicator. It doesn't actually offer a lot of information on how the indicator works.
The main features stated:
Easy to trade
It implements alerts of all kinds
It implements a multi-timeframe dashboard
It is non-repainting and non-back painting
There are also a few settings and inputs that can help change the functions to better suit your needs, these include the ATM period, the ATM multiplier, maximum history bars to use, to enable or disable the dashboard, and to enable or disable alerts.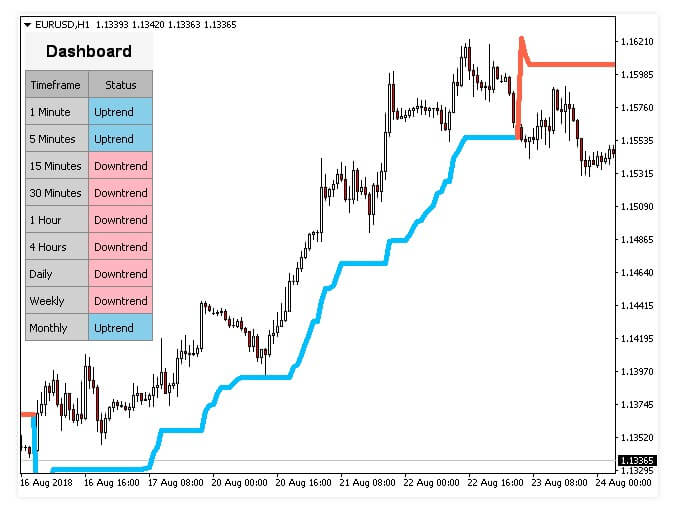 Service Cost
The expert advisor is completely free of charge so you are able to download it for free. As it is free, there are also no demo versions available as they are not needed.
Conclusion
There are currently 9 reviews written by users of the indicator, they have given it an overall rating of 4.5 out of 5 stars.
"LOVE IT! Been looking for this indicator to use in MT4!! Thank you!! (I also use it as 1.5 per balashiva 10.15.19 comment. Works great!!" – A 5-star review.
"Excellent, another quality product from PointZero and Arthur. Thanks" – A 5-star review.
"Good" – A 3-star review.
The majority of the reviews ar every positive, there are also some comments, but the creator does not seem to be replying to them which is a shame. Normally we would advise that you download and try the demo version, but as the indicator is free, there is no harm in downloading it to test it yourself to see how it functions and whether it suits your needs.
This Forex Indicator is currently available in the MQL5 marketplace: https://www.mql5.com/en/market/product/35644