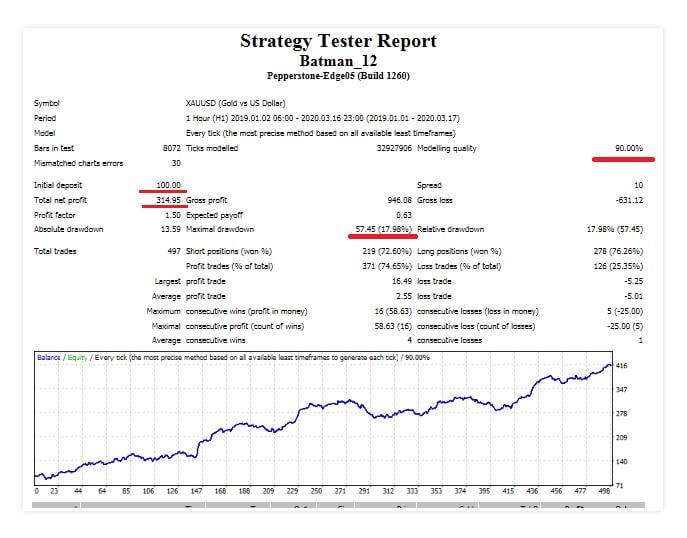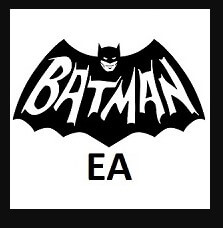 Batman can currently be found on the MQL5 marketplace under the Experts section of the site. It was created by Hieu Tran Van on the 3rd of September 2015, it received its most recent update on the 24th of March 20202 and is currently at version 20.0 of the expert advisor.
Overview
Batman is an expert advisor for the MetaTrader 4 trading platform, it works with the ZigZag indicator and uses a breakout strategy. It will only open up a trade once an actual breakout has occurred and will not speculate on one happening later. It will open a maximum of 2 trades at any one time.
The expert advisor will not use strategies like the MArtingale, hedging, or grid.
The recommended parameters to sue with the expert advisor are:
Pairs: XAUUSD
Time Frame H1
Risk: 2(%) Lot size =2% * Equity/100
Lotvar: 1: Auto lot and Lotvar=0, Lot = FixLot
Breakeven: 1000
MinProfit: 500
Trailing stop: 1000 When profit is equal 100 it will begin to trail
StopLoss: 3000
Take Profit: 0
MaxSpread:20, if Spread widen more than 20, EA delete pending trades and no put pending trades
RollBack: 1000, when Rate returns 1000 (1usd) from High or Low of ZigZag, EA will open pending trades
ZigZag: 18
Indent: Distance of High/Low of ZigZag and Order Open Price: 0 (default), eg 500: High of ZigZag is 1190.00, EA will open buy stop at 1190.50
End Hour/End Week: 23 When the Server time is >=23:00 on Friday, EA will delete all pending orders.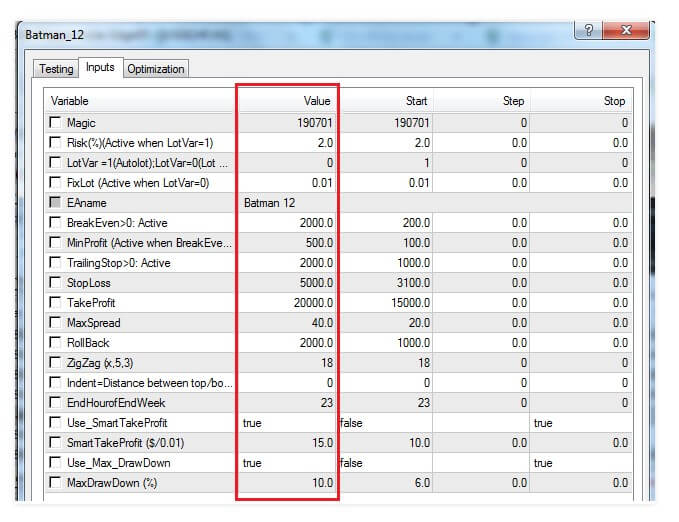 Service Cost
The Batman EA will currently cost you $150 to purchase it outright, this will give you up to 5 activations with no further limitations. If you prefer, you are also able to rent the expert advisor, this will cost you $50 per month to do it that way.
A free demo version is available, as the details of it are not stated on the site, we believe that it may be limited to use with the strategy tester only.
Conclusion
The overall rating for the Batman expert advisor is currently 3 out of 5, this is made up of the 26 available user reviews.
"I bought the batman ea robot three months ago and trade with it on a real account. It was very good working at the beginning but it has lost the last two months. Be careful while trading with it." – A 3-star review.
"I have used this EA for 50 days and I have to say I like it very much. It performs similar to BATMAN signal which you can find in the author's profile. It is a very simple and good EA. It picks up good trades but the trade management depends on you. The author will send you good settings for trade management if you don't like to experiment. Try it on different currency pairs if you have a powerful VPS." – A 5-star review.
"Lost 30% of the account in ONE (!!!) trade today with the recommended setting from the author in Gold! It would be better named Bad(!)man – very angry! Using ECN-Broker and VPS service with ultrahigh Performance (under 2ms latency)" – A 1-star review.
There are a range of positive and negative reviews which shows that the expert advisor may not be as consistent or effective as the creator would like for us to believe, some mentioning profits while others losses, could be due to incorrect settings but we do not feel that half the reviews would be negative if this was the case. There are also over 300 comments, the developer has been replying to them promptly and recently, which shows that they are still willing to support the expert advisor and those that have purchased it.
This Forex Indicator is currently available in the MQL5 marketplace: https://www.mql5.com/en/market/product/11617