Uploaded by Vladimir Gribachev on the 16th of October 2018, Personal Trader can be found within the MQL5 marketplace, it was last updated on the 17th of October 2018 and is currently at version 1.3.
Overview
Personal Trader is an expert advisor that has been designed for the MetaTrader 4 trading platform, the expert advisor works by using the breakdown of extremums during a given period of time.
The EA uses an advanced grid-based system so t will open multiple trades going in the same direction, it claims that this is for risk management purposes. The EA can work as a fully automated system, or it can be set to only look for signals and will then require manual execution of the trades.
The positons that the EA can open and close can be both unidirectional and multidirectional, you are able to customize the EA to suit your needs. The EA also comes with a function to close all positions in a grid at breakeven when there are a lot of open trades.
A few recommendations from the developer:
Before using on real money, test the adviser with minimal risk on a cent trading account
Use a VPS or server with minimal network latency to the broker server
Use the adviser on highly liquid currency pairs, such as EURUSD, GBPUSD, AUDUSD, USDJPY
It is recommended to select parameters for each type of account separately
Minimum deposit – 1000 units of base currency for 0.01 lot
Timeframe H4
There are also a number of parameters available, these include things like whether to use auto trading, the number of bars to count, starting lot sizes, lot multipliers, nin grid step, stop losses, take profits, trailing stops, and more.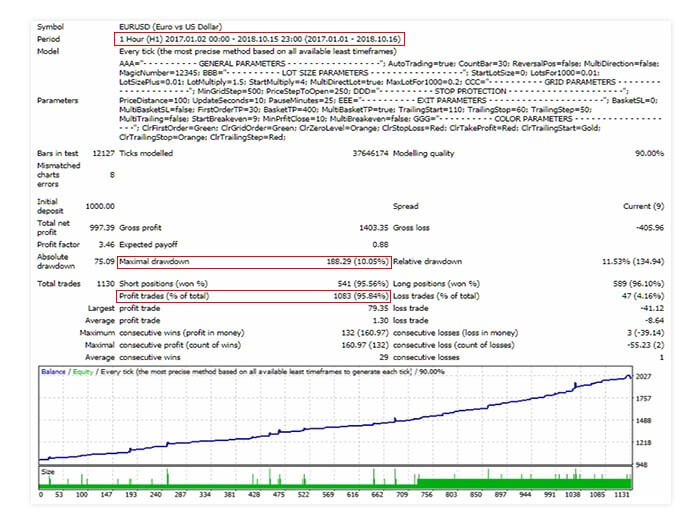 Service Cost
There are few ways to get the expert advisor, the first is to purchase it outright with a one-off payment of $50, this will get you unlimited access to a limitation free version. There is also the option to rent the expert advisor, this will cost you $12.50 per month, or for six months it will cost you $25.
There is also a free demo version available, this will have some limitations attached to it, at the moment we are not sure what they are as they are not stated on the site, as the version is free, it could be worth downloading to try out just to make sure that it does what it is meant to and that you are able to get it set up and running properly before you make a purchase or rental.
Conclusion
There are no user reviews available for this expert advisor which means we do not have any information as to whether it does what it is meant to do, there is also just one comment which his from the developer themselves, so again, so really indication as to the quality of the EA. Due to this, we would strongly suggest trying the free version, you should also send any queries that you may have to the developer, that was you can be sure that the EA works and also that the developer is still supporting the Personal Trader.
This Forex Indicator is currently available in the MQL5 marketplace: https://www.mql5.com/en/market/product/19269