High Trend (also states as High Trend Pro in the description) can be found on the MQL5 marketplace and it is within the indicators section of the site. There may be other indicators with similar names so we have added a link to it below to help avoid any confusion as to which indicator we are looking at. The indicator was created by Evgeniy Scherbina on the 6th of January 2019, it has had a number of updates, the most recent update was on the 4th of July 2019, this brought the indicator up to version 2.87.
Overview
High Trend is an indicator that has been designed for use with the MetaTrader 4 trading platform, it was created to monitor a large number of symbols on up to four different timeframes all at the same time, it will then calculate the strength of their individual signals. The indicator only needs to be added to one chart and is able to monitor multiple at once.
It is recommended that when you use this indicator that you open up a trade once the signal has been confirmed on at least two different timeframes, the indicator will let you know what it has found a strong buy or sell signal. The signal can change quickly depending on the movements of the markets. The indicator also has various notifications such as sounds, push notifications, and emails.
There are a few settings and parameters that can be changed, these include things like the color preset, font, email, push notifications, symbol sources, custom symbols, timeframes, stop losses, take profits, and more.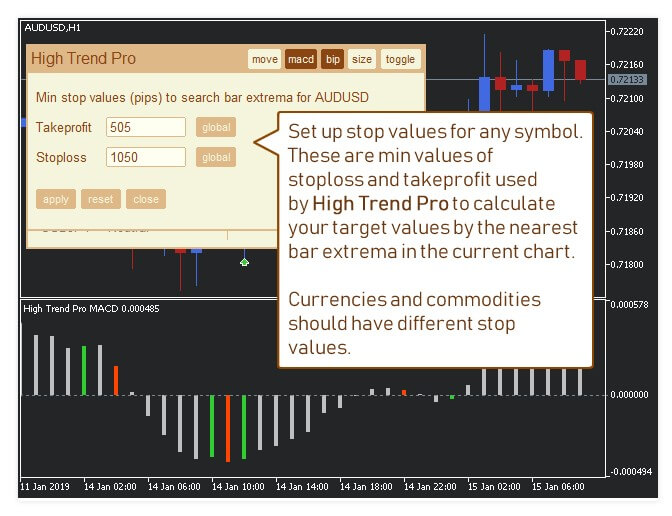 Service Cost
It High Trend indicator will currently cost you $45 to purchase it outright, this will give you an unlimited amount of use with no restrictions. If you would prefer, you are also able to rent the indicator on a monthly basis which will cost you $30 per month. There is also a free demo version available, this is a good way to test out the indicator, this version will have some limitations, however, the site does not indicate what the limitations of the free version are.
Conclusion
At the time of writing, there are not any reviews or comments for the High Trend indicator. Due to there being no reviews available, we would strongly suggest that you download and try out the free demo version of the indicator, it will have some limitations to it, but it will at least give you an idea of how it works and it will allow you to make sure that it does what you need it to do prior to making a purchase or rental. You should also contact the developer with any queries, this was you can be sure that you will be able to receive some support once it has been purchased.
This Forex Indicator is currently available in the MQL5 marketplace: https://www.mql5.com/en/market/product/34485