Customizable Support and Resistance is an indicator that was published in the mql5 marketplace at the end of April 2017. The indicator was created by Emir Revolledo, a developer with 7 products in total who is a self-described trader and programmer. The indicator was last updated to version 1.2 in August of 2017.
Overview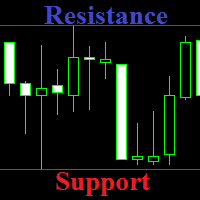 This indicator was designed to work either by itself or in combination with other indicators to provide better trading accuracy. The indicator works on the most popular trading platform MT4 and offers a special level of customization. Traders can choose support and resistance levels from Period 1 to Period infinity with any timeframe that is available. Traders can also manage the alert settings by turning the alarm on or off, or placing time limitations between alerts and setting a number of pips to be alerted at when the price is near the Support or Resistance line.
Service Cost
The indicator is priced on the lower side and the developer offers three pricing options. Traders can buy the indicator with 20 activations for $30 USD, or rent it at a rate of $14.99 for 3 months or $24.99 for one year. Many other indicators are priced around $100, but the developer has managed to keep this one in an affordable range for buying or renting. A free demo is available for testing and it has been downloaded more than 300 times since 2017.
Conclusion
This indicator was designed by an experienced developer with the goal of making trades more accurate. This is especially true when the indicator is combined with other indicators or EAs. We see a good level of customization options but it hasn't received much feedback from users that have tested it so far. The fact that this indicator has only received six comments (some of which are from the developer) and has been around since 2017 shows us that it buying it may be a bit of a gamble, but overall it seems to be a simple indicator that could work well.