Infinity TrendLine Pro is an indicator that can be found within the MQL5 indicator marketplace. They may be others with similar names so we have provided a link to ensure that you are looking at the same indicator that we are. The indicator was first uploaded by Evgenii Aksenov on the 20th of February 2019, it has had a number of updates, the most recent of which was on the 13th of March and this brought it up to version 8.9.
Overview
The Infinite Trendline Pro is an indicator that can be used with the MetaTrader 4 trading platform, there is another version available for the MetaTrader 5 platform too.
The indicator works by analyzing the strength of bulls and bears (buys and sells). It will show you a highlighted trend line including an entry point and recommend take profits and stop losses. It will also provide a signal as to whether you should buy or sell. You can use the indicator on any currency or asset.
There are a number of settings available for the indicator, they can be changed to alter the way it functions, some of these include the calculation type, the amplitude, range bars, take profit settings, calculation periods, whether to shift stop losses, a higher timeframe filter, time filter, and more.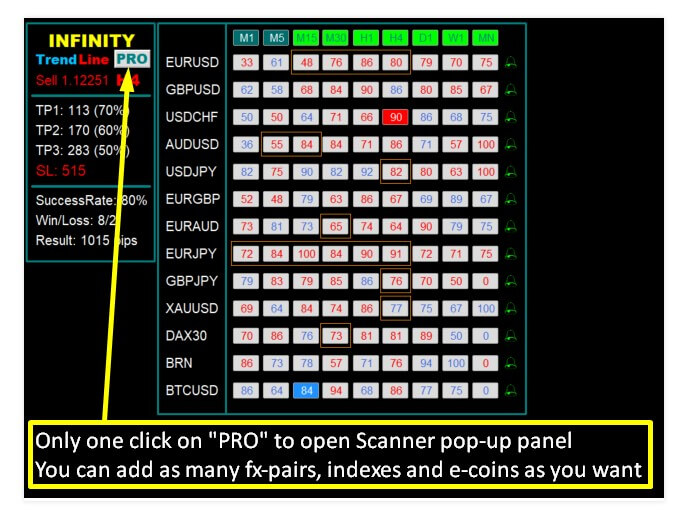 Service Cost
The Infinity Trendline Pro can be purchased outright for $75, unlike many others, there is not an option to rent this indicator. There is a free version available, but there is no information about what the limitations are on this free version.
Conclusion
There are 112 reviews available for this indicator which shows that it is quite well used, the overall rating of the indicator is 5 out of 5 which is a very big positive.
"Quite impressive on this indicator together with TradeUtility for auto or semi-auto trading in most pairs. Will keep on going to test with different parameters" – A 5-star review.
"An excellent indicator, simple to use and the best bit is you make more than what you've paid for it within a couple of trades. Thanks" – A 5-star review.
"Forget signals, this is the only realistic option if you want to make a profit and not simply waste time. Yes, there are gremlins and glitches; but they are few, and, for the main part, this is really nice indicator with excellent support." – A 5-star review.
There are plenty of very positive reviews, there are also a lot of comments, the creator of the indicator is replying to most of them which can show that the support being provided is of high quality. As with any indicator, we would suggest downloading and trying out the free version before making a purchase, this way you can make sure that it is working as intended and that you are able to get it set up correctly.
This Forex Indicator is currently available in the MQL5 marketplace: https://www.mql5.com/en/market/product/36087