The Primus Trading Engine can be found within the indicator section of the MQL5 marketplace, there is a link to it below so you can see exactly which indicator we are looking at. The indicator was first uploaded by its creator Philip Muga on the 21st of August 2018, it has received a number of updates, the most recent were on the 16th of AMrch 2020 and this brought the indicator up to version 2.6.
Overview
The Primus Trading Engine is an indicator designed for the MetaTrader 4 trading platform, its purpose is to combine price action, ratio based indicators, and custom indicators to create a multi-timeframe approach in order to high probability trade setups for forex, CFDs, futures, metals and binary options.
The main features of the indicator:
Price Action Signal-Arrow displayed on a specific bar; NOT buy/sell arrow; DOES NOT repaint; Bullish arrow on a bullish bar, price is likely to go LONG; Bearish arrow on a bearish bar, price is likely to go SHORT; Bullish arrow on a bearish bar, price is likely going LONG momentarily before going SHORT; Bearish arrow on a bullish bar, price is likely going SHORT momentarily before going LONG.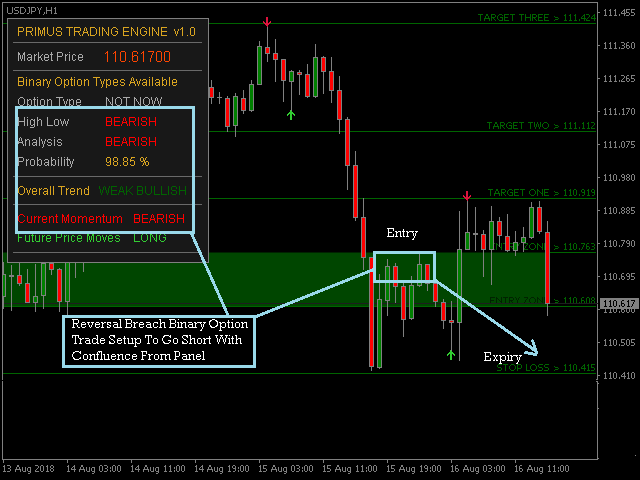 Entry Zone-Dynamic rectangular(Green/Red)box to show future price moves
Green rectangle for LONG moves
Red rectangle for SHORT moves
When there is NO entry zone stay out of the market
Target One-Dynamic low-risk target from the entry zone
Target Two-Dynamic medium risk target from the entry zone
Target Three-Dynamic high-risk target from the entry zone
Stop Loss-Dynamic stop loss from entry zone
Change Focus-When breached future price moves change from LONG to SHORT
The following settings are recommended:
Supports M1,M5,M15,M30,H1 & H4 for Forex,CFD Cash/Futures & Metals
Supports M1,M5 & M15 for Binary Options
Backtest on simulator FIRST then forward test on DEMO for at least 1 MONTH
Trade one setup, one timeframe; Pick one, master one, trade one
Service Cost
The indicator is an expensive one, it will set you back $1,500 to purchase it outright with no limitations. If you do not want to spend that much you are also able to rent the indicator, you can rent in on a monthly basis for $75 per month, three months will cost you $150, 6 months will cost you $250 and to rent it for one year it will cost you $450.
There is a free demo version available to download, this version will have some limitations which are unfortunately not mentioned on the site, even with limitations, due to the price of the indicator we would recommend using the free version to test it out and to see if it has the functions you need.
Conclusion
It is unfortunate that there aren't any reviews of the indicator to see what the people who have purchased it (if any) are finding it, there are plenty of comments, but they are all from the creator adding various bits of information or trade setups. Due to there being no reviews or comments, be sure to download and test the free version, also get in contact with the developer with any questions, this way you can be sure it suits your needs before making quite a hefty purchase or rental.
This Forex service is currently available in the MQL5 marketplace: https://www.mql5.com/en/market/product/30888