AMD Exclusive Two can be found on the MQL5 marketplace within the indicators section. It was uploaded to the marketplace on the 10th of October 2017 by its developer Szymon Palczynski. It received a number of different updates, one of its most recent updates was on the 4th of December 2019 and this brought the indicator up to version 3.60.
Overview
AMD Exclusive Two is a MetaTrader 4 indicator which was designed to be your main trading strategy and tool. It doesn't actually tell us how it will analyze the markets or what it will actually be doing which is a little strange.
Some of the main features include:
Automatic optimization
Overbalance (manual, semi-automatic and automatic)
Main and additional signals
Fibonacci
Pivot
Linear Regression Channel
Mini Tester
Early warning system (yellow cloud on the chart)
3D effect
There are also plenty of parameters that can be altered, these include things like the ID, method of determining the trend, the AMD trend period, command manager, push notifications, colors, and more.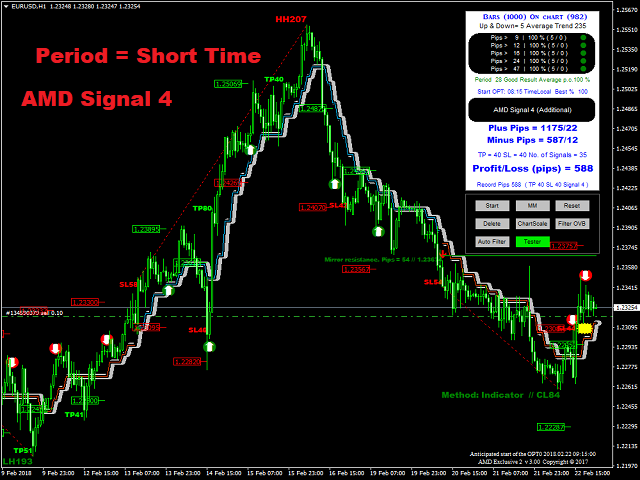 Service Cost
The AMD Exclusive Two indicator can be purchased outright for $88, this will get you 5 activations of the indicator. There is also the option to rent it, this can be done on a monthly basis and will cost you $30 per month to rent. A free demo version is also present, the details are not stated on the site so we do not know what the full limitations of the free version are, however normally when there are no details it will only be usable with the strategy tester within the MT4 platform.
Conclusion
The EA currently has three user reviews giving it an overall rating of 3 out of 5.
"Hi, Sorry to burst the bubble here guys. This indicator is an absolutely disgraceful product. If you email user 204214 (below review) he will tell you he has keys to the system but will never reply to after you purchase the product. if you leave this indicator on the chart the signals it gives are deplorable across all time frames. if you reload the chart they look like a dream indicator again. You understand what I mean. Personally don't waste your time and money in this market place, it's no good with all its false-negative energy and everyone knows it and nothing works and it's a money pit to extract funds from you on the charts and in the market place. Buyer beware!!!!!" – A 1-star review.
"BEST EVER!!! READ MY COMMENTS…LOSER TO HERO" – A 5-star review.
So a mix of reviews, there are also a number of comments from people who are using the indicator, the developer had been replying to a lot of them, there has not bee a comment in 2020 so we would recommend getting in touch with the developer with any questions that you ay have, this way you can be sure that it will do what you need and that it is still being supported before you make a purchase.
This Forex service is currently available in the MQL5 marketplace: https://www.mql5.com/en/market/product/25474