Bermaui Pin Bars and be found within the indicators section of the MQL5 marketplace, we have added a link below to the exact indicator to help avoid any confusion. Muhammad Elbermawi first uploaded the indicator to the MQL5 marketplace on the 2nd of August 2019, it was last updated on the 17th of November 2019, it is currently at version 2.1.
Overview
Bermaui Pin Bars is an indicator for the MetaTrader 4 trading platform, it was created to find Pin Bar price action patterns. The indicator also comes with a multi-timeframe candle direction panel and Bermaui Bands to help you figure out if the current trend it bulling, bearish or neutral.
The main features of the indicator:
Draw Pin Bar patterns on the chart.
Help the user to identify the trend depending on MTF Candles Direction Panel plus Bermaui Bands.
A well-designed color list with two options (Black / White Background).
Sound, email & mobile notifications depending on user's choice.
There are a few parameters that you can also alter, these include the colors, candles, and deviation multipliers.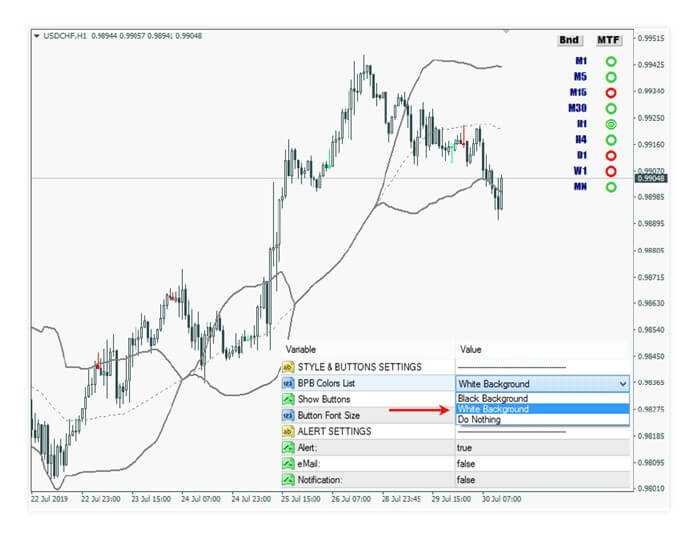 Service Cost
The indicator can be purchase outright for $50 and will come with unlimited access with no limitations. If you would prefer, you can also rent the indicator this will for you $10 per month or $30 for three months of use. There is a free demo version but it will have some limitations which are currently not known to us as they are not stated on the website.
Conclusion
At the time of writing, there are 13 user reviews giving the indicator an overall rating of 5 out of 5.
"Great indicator, better than all the other pin bars indicators I have had in the past, truly amazing work. A tool all serious trader must-have. Thanks" – A 5-star review.
"By now faithful to your products, I have also acquired this .. together with others, great strategy!" – A 5-star review.
"Again excellent work! Very trustful developer, always purchase with confidence." – A 5-star review.
So a lot of positive reviews which is great to see, there are also a number of comments, the developer seems to be trying to reply to most of them which show that he is still supporting the indicator, we would suggest trying out the free version, just to maker sure that the indicator is right for you before you decide to make a purchase or a rental.
This Forex service is currently available in the MQL5 marketplace: https://www.mql5.com/en/market/product/40945