CAP Rebate Trading EA can be found within the M!L5 marketplace under the Experts setting, it was created by Mohammad Ali and was first uploaded to the marketplace on the 12th of March 2020, it has not had any updates, so the software is still lat version 1.0.
Overview
CAP Rebate Trading EA is an expert advisor that was developed for the MetaTrader 4 platform, it is an automated trading EA that uses a high-frequency grid system, this means that it will open up multiple trades in the same direction if the market is moving against your trades, as a high-frequency grid system, it will open up a lot of trades, this can be dangerous as when the markets do not come back in, it can cause a lot of drawdowns and also potentially blow accounts.
The EA was created to work as a way to generate rebates from your broker, either with them directly or via an external rebate program, rebates are often paid when a trade is opened and then closed and part of the spread or commission is paid back to the trader. It should be noted, that a lot of brokers do not like this sort of trading and many have banned it, so you have had your rebates voided if the broker deems that you are trading only for rebates.
The EA will use both grid-based systems as well as hedging so it can work with both a ranging market and a trending market. The EA uses a basket profit system in order to exit out of trades, this means that as the trades go against you, it will open up slightly bigger trades, as the price then comes back in, it will close out all the trades at the same time as they go into profit.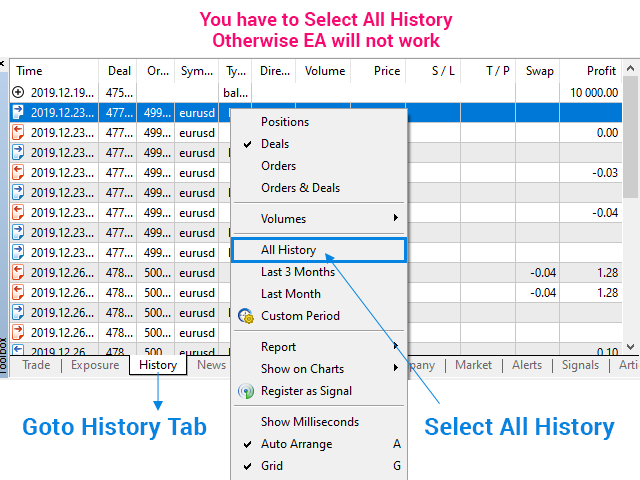 Some of the main features:
Easy to use
The advanced grid system that can be work both ranging and trending market
Works for ECN/non-ECN brokers
Implements a martingale features
Filter trading by forex sessions
Built-in money management
Built-in news filter. EA automatically downloads news data from a news website
There are also plenty of parameters available to alter, these will slightly change the way that the EA functions and can be used to make the EA safer or riskier depending on your own taste. Some of the available options include the option to stop the EA, the initial trade tyle and trade size, whether to use fixed lots or multipliers, the grid size between trades, the maximum lot size, the basket profits and losses in currency and the maximum number of daily trades, there are a few others available too.
Service Cost
The CAP Rebate Trading EA is at a very affordable $30, this is an outright purchase of the Ea that will give you up to 5 activations of the software, unlike many EAs in the MQL5 marketplace, there is no option to rent this one so the purchase is the only option available. There is a free demo version, this is limited to being used with the strategy tester within the MT4 platform only, it cannot be tested on a live account.
Conclusion
There are three user reviews that have been provided by those that have used the EA, they have given it an overall rating of 3 out of 5.
"From the test to a great system Is a very intelligent development camp support and encourage you to develop." – A 5-star review.
"It's not good in trending market" – A 2-star review.
"Not working In US broker" – A 2-star review.
The two different 2-star reviews are a little unfair, it was clear before purchasing that the EA would not work on a US broker due to not following FIFO rules, it was also clear that it would not be good on a trending market, however, the EA should have some built-in defense against this, it claims to have hedging but this review indicates that it may not be working perfectly. There are no comments available so the support fro the developer is not known, you could always drop them a comment to check that they are still supporting the Ea before you make a purchase.
This Forex service is currently available in the MQL5 marketplace: https://www.mql5.com/en/market/product/47005