Happy Monday can be found within the Experts section of the MQL5 marketplace, we have added a link below to the exact expert advisor that we are looking at. The expert adviser was first uploaded on the 9th of January 2020, it has received a few updates since that time and the most recent update was on the 5th of March 2020 and is now version 1.19.
Overview
Happy Monday is an expert advisor that can be used with the MetaTrader 4 trading platform, it is a fully automated expert advisor that can work on the majority of the major currency pairs, it uses price action and other patterns to help identify points of entry at the beginning of the week.
There are a few major features of the expert advisor:
Stable growth curve as a result of a high % of winning trades
Stress-tested on all available history
Automatic GMT adjustment
The minimum deposit: $50 for Strategy А, B and $300 for Strategy C
Easy setup and use
There are three different modes that the expert advisor can be used in:
Strategy А (Best Entries Only) – relatively rare trading, but the quality of the average trade is at it's maximum. No martingale, grid, or hedging is used.
Strategy B (Minimal Filtering) – more frequent trading for those who prefer having more trades. No martingale, grid, or hedging is used.
Strategy C (Recovery Mode) – the EA will recover faster during drawdowns using several averaging trades, which gives a more comfortable growth curve.
There are also a bunch of parameters and settings available which can help alter the way the expert advisor works, some of them include the choice of strategy, starting lot sizes, max lot sizes, disable on holidays when to shut down, to activate trailing stops, average multiplier, trade comments, and many more.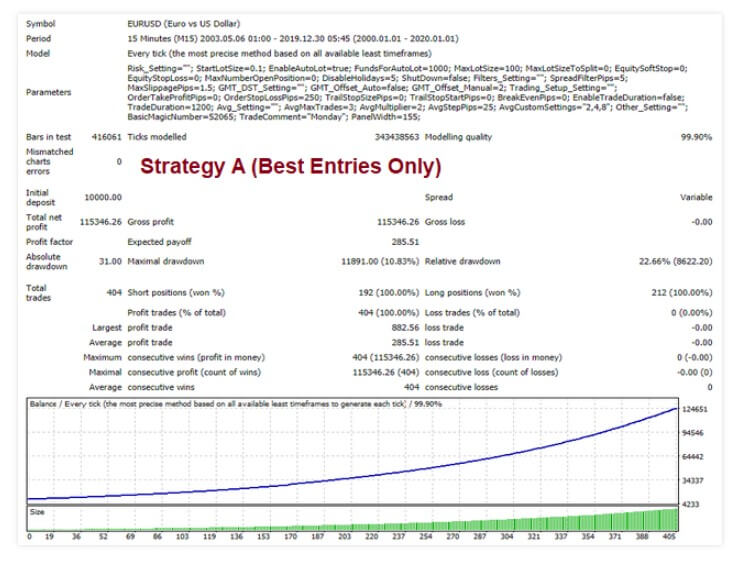 Service Cost
The expert advisor can be purchased of $239, this will give you unlimited access to the expert advisor without any limitations. There is also the option to rent the expert advisor, this can be done for a three month period and will cost you $89. There is also a free version available. However, this will have some limitations, but it is not made clear what the limitations of the free version are.
Conclusion
At the time of writing, there are 7 reviews available for Happy Monday, these are giving it an overall rating of 4 out of 5 stars.
"Too expensive for the results. At least not loosing much, but not winning either." – A 1-star review.
"If a trade goes against this EA it enters a number of martingale hedging trades. Far from being a Monday trader this can extend into Wednesday as it did with me. I have since closed it down. Only a large account could survive this process. I have removed it. Not recommended." – A 1-star review.
"This is a very good expert adviser and I have made money using it." – A 5-star review.
"As always a good product. I always trust the author. Recommended" – A 5-star review.
So there is a mix of one and five-star reviews giving an indication that it is working for some and not for others. There are also 38 comments available, the creator of the expert advisor is replying to them all which shows that he is still actively supporting the expert advisor. We ould suggest that you download the free one, even with limitations, it can give you a better idea of how it works and so you can see if it is the right expert advisor for you prior to making a purchase.
This Forex Indicator is currently available in the MQL5 marketplace: https://www.mql5.com/en/market/product/38828