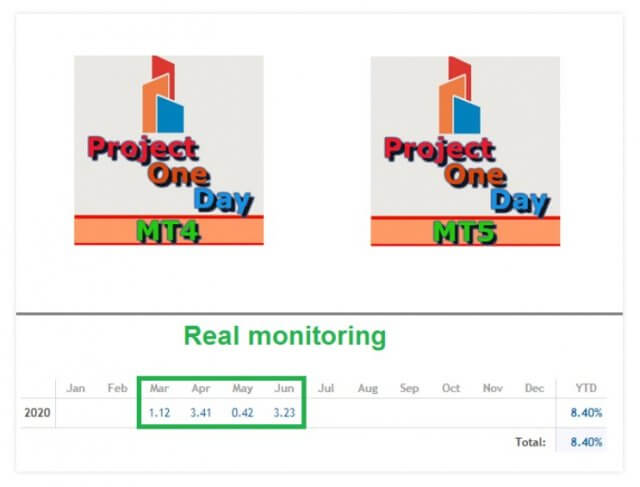 This product is from a development group from Russia who has over 90 published products and 5 signals services on the MQL5 market. However, most of these have not received attention from the market. The developer of Project One Day MT4, Ruslan Pishun, has some expertise with coding and trading too. This EA has been published on the MQL5 market right away with version 3.25, on the 28th of March 2020. This could mean is based on an already developed algorithm, there is no updates log.
Overview
The EA strategy seems to be multi-timeframe and multicurrency adaptive, with no disclosed indicators or formulas that make the system. In the Overview page, you will see some basic recommendations, instructions for backtesting in the MT4 Strategy Tester, and the settings range. Even though this EA is developed for the MetaTrader 4, the MT5 version is also published.
As mentioned, the EA has 3 timeframes for analysis, M5, M15, and M30. We assume that once the indicators integrated for trend confirmation are aligned on all 3 timeframes, a trade is placed. The universal nature of the system, where almost all of the major currency pairs are acceptable for the EA, points to a trend following system and in times when the volatility is higher during the day. Project One Day is suitable to work only during the day trading sessions, as stated. Currency pairs recommended are all major combinations except for some USD pairs, making a total of 26. The EA does not use Martingale, Averaging and other strategies considered risky by most traders.
In addition to the 3 timeframe alignment confirmation, advance Stop Loss, Take Profit and Trailing Stop methods are used. Hidden Stop Loss is optional for traders who want to keep their Stop Loss levels hidden from the broker. Some brokers could be using concentrated Stop Loss levels for manipulation, although this practice is hard to prove. Each trade made by Project One Day has a Stop Loss set. How the EA calculates these levels is not disclosed. Break-Even and Trailing Stops are not present in the settings range and therefore not open for adjustment, limiting traders' ability to customize and optimize the EA to their needs.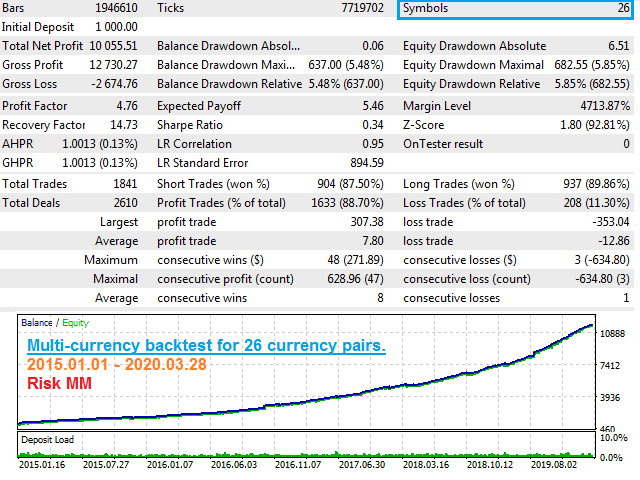 Note that Break-Even and Trailing Stop is one of the most effective methods for Risk management and consequently great exit moments if set to optimal levels. It is not disclosed if there are any indicators for position exit signals, they might even be completely replaced with a Trailing Stop. Partial closing and moving to break even is a very effective combination for Risk management. Scaling out at Take Profit level by 50% and leaving the rest to the Trailing Stop is probably what is used in this EA, and the results from the backtest show low drawdown because of this.
In the settings panel, you will not have a few general parameters not related to trading. You can set what currency pairs will be traded. Once you attach the EA to your MT4 chart, it will trade all currency pairs you have enabled in the settings, there is no need to attach it to every chart. Magic Numbers are enabled for this purpose, to manage each trade made by the EA. Five-digit brokers are supported and if they have suffixes for their symbols you will need to enter it in the settings parameter.
The Autolot feature is integrated and has several options. Traders may use the balance percentage for trade sizing or set new calculations for every balance amount defined by the trader. If for some reason you want a fixed lot, it is also offered in the settings. Slippage and Spread filters are offered with the addition of day selection filter, GMT filter adjustment and working time adjustment within each day. All other trading related parameters are locked out.
There are special backtesting settings for the Strategy Tester in MT4 for this EA. They are mentioned on the Overview page and should be used for testing purposes only. The screenshot of the backtesting results done from 2015 to 2020 show 88.7% trade success rate, tenfold gain on 1000 initial balance and just 5.48% Maximal Drawdown. 1841 trades are made for this period meaning the EA carefully waits for the right conditions to align. Average consecutive wins are 8 times greater than losing and the average profit trade is 7.80 versus -12.86 losing trade. Even though the EA has more significant losing trades when they happen, the drawdown does not indicate any risk to the account.
Service Cost
Project One Day MT4 belongs to low to the mid-price range, comparing to other products. You will be able to buy it for $109. To rent it for 1 month – $31, 3 months – $49 and for one year $79. The demo version has been downloaded 40 times and shows good starting interest by the MQL5 community.
Conclusion
Note that the testing is done on 26 pairs simultaneously with Autolot enabled. On the real account signal, the performance is similar. To copy the signal generated by Project One Day the price is $30. The Maximal Drawdown remains low, 8.1% and the success rate is 92.2%. This signal is new, started when the EA was published so it might not be 100% reliable still, it shows similar results from backtesting.
There are no reviews and in the comments section, but the developer has attached more in-depth performance charts. Overall, Project One Day has great Money Management and probably one of the most reliable Risk Management methods that are reflected in the stats. Unfortunately, there are no parameters for any of these, limiting the transparency and more importantly, customization.
This Forex service can be found at the following web address: https://www.mql5.com/en/market/product/47758