Currency Strength Exotics can be found within the indicators section of the MWQL5 marketplace, we have added a link to the exact indicator below. The indicator was created by Bernhard Schweigert and first uploaded on the 11th of October 2016, it has had a number of updates, the most recent update was on the 16th of January 2020 and it is now at version 1.90.
Overview
Currency Strenght Exotics is an indicator designed to be used with the MetaTrader 4 trading platform. The indicator has been created to specialize in showing the currency strengths of exotic pairs, commodities, indices, and futures.
The indicator works with all time frames and works with assets such as Gold, Silver, Oil, DAX, US30, MXN, TRY, CNH, and more. The indicator will show the strength lines of 8 main currencies (AUD, CAD, CHF, EUR, GBP, JPY, NZD, USD) plus one additional symbol. It helps to tell you the true values, so if XAUUSD (gold/USD) is moving up, it will tell you whether it is Gold that is strong or USD that is weak, you would only trade long if Gold is showing as strong, it will also show currency strength Fibonacci levels.
There are a number of parameters and settings available, these include things like which exotic pairs, to auto get names, suffixes, what lines to draw on the charts, colors, and many more options are available too.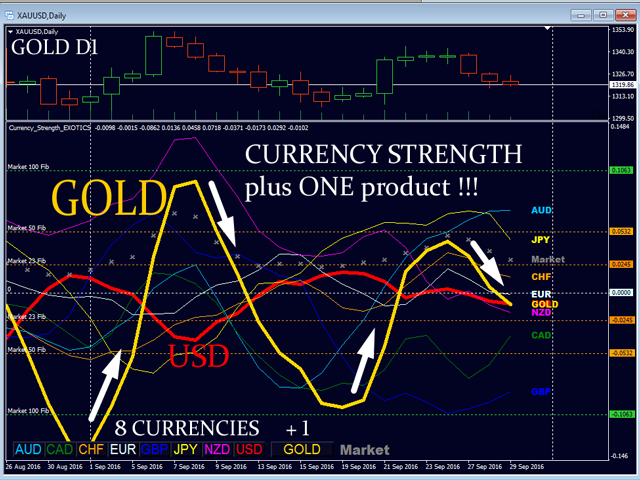 Service Cost
You are not able to purchase the indicator outright, instead, you are required to rent the indicator, you are able to do this over two timeframes, you can rent it for three months which will cost you $98, or you can rent it for one year which will cost you $128 per year. There is a free version available, however, we do not know if there are any limitations to the free version, but we suspect that there will be such as only being able to use it on a demo account.
Conclusion
There are 9 reviews available for the Currency Strength Exotics indicator, all of the reviews are positively giving he indicator an overall rating of 5 out of 5.
"Astonishing indicators. +5 stars!! Still backtesting and will update as I succeed with this strategy. Bernhard helps with everything! So glad I found him. GO Bernhard!" – A 5-star review.
"Bernhard's products are really amazing and easy to use. He is a responsible seller with great service and very quick response. This is a very nice and unique tool to have. I use it on my live account. I tried on Dax, Dow Jones, brent oil, and gold. Wait for a double-gap with USD. H4 shows very good the trend direction and divergences. I definitely recommend the indicator to other traders. Easy 5 stars!" – A 5-star review.
"Great indicator, Great Support, Alarm/Notification on crossing would make this indicator 110%. Works well for me on Gold and Indices." – A 5-star review.
The indicator is getting a lot of very positive review which is a great sign, the comment section also has a number of comments, the creator of the indicator is actively replying to the comments which is great to see. Even though the reviews re all positive, we would still recommend that you download and try out the free version, just to make sure that you are able to get it functional and working as intended prior to making a rental.
This Forex service is currently available at the following web address: https://www.mql5.com/en/market/product/18696